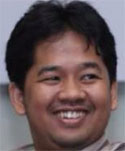 By Saidiman Ahmad
April 16 2014
The legislative election has again shown how political Islam has failed in Indonesia.
This failure, as cited by Olivier Roy in 1992, highlights how Islamic ideology has been eroded day by day in the Muslim world. This does not mean that all Islamic political parties will collapse. They may still dominate the result of the elections, but not because of their Islamic ideology.
Compared to their achievements in 1995, the performance of Islamic political parties in terms of vote percentage has decreased by more than half. In the three last elections, they only gained about 13 to 15 percent of the popular vote. Such parties referred to here are limited to those using an Islamic ideology at their foundation. Even though they have an Islamic community base, the National Awakening Party (PKB) and the National Mandate Party (PAN) cannot be included as Islamic parties because of their basic principles, which include the state ideology of Pancasila instead of Islam.
Islamic political parties have tended to tone down their ideological stance during political campaigns. The Prosperous Justice Party (PKS) even invited a church choir to sing its anthem. It also proposed some non-Muslim figures as legislative candidates, located its national conference in Bali, and so on.
The discourse on an Islamic state has disappeared from all Islamic political parties' campaigns, replaced by issues linked to economic and national independence, bureaucratic reform and the fight against corruption.
Most Indonesians do not support issues on the Islamic political agenda such as the prohibition on women running for president, amputations for thieves and the mandatory wearing of headscarves, as cited by political researchers Saiful Mujani and William Liddle.
The most popular argument about democratization in Indonesia is related to moderate Islam in the country. Greg Fealy and Sally White use the term "indigenized" Islam or "Indonesianised" Islam to show how pre-existing religions and culture in Indonesia infiltrate and shape a new form of Islam — "Indonesian Islam".
The role of Muslim intellectuals has also been identified as a significant element supporting democracy and the idea of freedom. Greg Barton classified several intellectuals as "liberal Muslims", arguing they had developed a progressive form of Islamic political thought that subsequently became the foundation for democratic building in Indonesia.
Another argument relates to the role of Islamic civil society. Michael Buehler, for instance, argues that the fragmentation of Islamic authority in Indonesia's civil society is the main reason why Islam and democracy can live together in the country.
In general, Muslim countries do not have very different experiences in terms of the indigenization of Islam, the fragmentation of Islamic authority and the existence of Muslim liberal scholars.
The difference of Indonesia is that Muslim-democratic scholars spread their ideas about democracy and freedom through organizations. They institutionalize their Islamic progressive ideas. There are four long-established Islamic institutions that can be provided as examples here: Muhammadiyah, Nahdlatul Ulama (NU), State Islamic University (UIN) and the Islamic Students Association (HMI).
Muhammadiyah is a Muslim modernist organization from which several progressive Muslim thinkers have emerged. Muhammadiyah has thousands of schools transmitting the progressive ideas of their leaders. Another scholar of Islam, Nakamura (2012), explains that the establishment of Muhammadiyah was not only representative of the Muslim organization in the modern era, but also as a social and intellectual explosion.
NU, meanwhile, is one of the world's largest Muslim organizations with about 60 million members. Known as a traditionalist organization, NU can accommodate local cultures and has played a big role in moderate Islam in Indonesia, through its many progressive Muslim thinkers and its thousands of Islamic boarding schools (pesantren).The other institutions, the 14 Islamic state universities across the country, have been established since 1963 to accommodate Islamic school alumni (mostly from NU pesantren and Muhammadiyah schools). Since the 1980s, a former rector of the State Institute of Islamic Studies (IAIN) Jakarta, Harun Nasution, introduced Islam and Western philosophy and theology as compulsory courses in those universities.
From this curriculum, critical thinking was injected into mainstream Islamic universities in Indonesia. That explains the production of many critical Muslim thinkers from IAIN/UIN.
The last institution is HMI, the largest student organization in Indonesia. An Indonesian liberal thinker, Nurcholish Madjid, who is also former HMI chairman, wrote a document on the basic values of HMI. This progressive document has become the key at every level of HMI's annual training sessions, involving thousands of members. Many key figures in most political parties are HMI alumni.
Islamic political parties have been losing their ideological articulation since the Islamic academic community moved in a more liberal and progressive direction. The counter argument to the idea of political Islam has not come from the nationalistic or secular community, but mainly from inside Islam itself.
Saidiman Ahmad, a student at the Crawford School of Public Policy at Australian National University, was editor of Pembaharuan tanpa apologia? Esai-esai tentang Ahmad Wahib (Reform without apology?
Source: http://www.thejakartapost.com/news/2014/04/16/indonesian-political-islam-fails-again.html
URL: http://www.newageislam.com/islam-and-politics/saidiman-ahmad/indonesian-political-islam-fails-again/d/66578