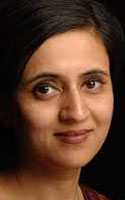 By Sagarika Ghose
April 24, 2019
Rampur town wears a poignant air. Its magnificent Raza library whose elegant minarets are decorated with a gurdwara, church, mandir and masjid, seems forgotten in the scorching political and religious divisions of western UP. Once Maulana Azad's constituency, today caught in a fierce electoral contest, plural Rampur is now polarised Rampur.
Rampur's past and present are a metaphor for the Muslim predicament: individuals who once laid claim to subcontinental plurality and linguistic and cultural commonalities are today caged in exclusively mono-religious identities. A Muslim is now defined exclusively by the minority tag.
This assault is apparently happening in the name of 'Hindu' assertion. Yet Hinduism has always upheld diversities. In fact, it gives centrality to the freedom of the individual (the 'atma') and primary importance to the individual's own search for salvation. Hindutva, by sharp contrast, is an authoritarian political doctrine that relies on overweening state power to crush individual diversities, thus subduing the essence of Hinduism.
Hindutva not only cannot recognise the Muslim, it also can't recognise the atheist, humanist, monist or theist, or anyone who does not follow the state-sanctioned version of majoritarian rituals.
Today Hindutva's overwhelming dominance which promotes state-imposed group identities, has meant that Muslims can only be seen as the 'other'. This approach has also infected 'secular' parties which field Muslim candidates only in constituencies where Muslims comprise 30-40% of the vote because they feel putting up a Muslim candidate immediately polarises the electorate on religious lines and it is only in those constituencies that Muslim candidates can win. What a contrast from Maulana Azad who once fought with Nehru about contesting from Muslim-majority Rampur.
Citizens of India who happen to follow Islam are being systematically shut out of the political system. Social scientist Christophe Jaffrelot shows in 2014 BJP fielded 7 Muslims out of 428 candidates and none got elected. In the 16th Lok Sabha there were no Muslim MPs from UP, Tabassum Hasan was elected only in 2018 in the Kairana bypoll. Congress fielded 31 Muslims in 2009, 27 in 2014. In this election the SP-BSP gathbandhan has fielded only 10 Muslim candidates.
When BSP chief Mayawati or Congress leader Navjot Singh Sidhu urges Muslims not to divide their vote, when Sonia Gandhi at a media conclave last year lamented that BJP has managed to convince people that Congress is a 'Muslim party', when some Congress spokespersons initially refused to speak on Pragya Thakur – terror suspect, who is now BJP candidate from Bhopal – it shows that 'secular' parties are not only unsure about how to stand up to the Hindutva juggernaut, but are playing the same game.
Thus the Muslim is trapped: she is the permanent enemy of Hindutva, the target of mob violence and sanctioned discrimination, and the captive vote bank of the seculars. Maneka Gandhi's shameful statement that if Muslims do not vote for her she will not work for them is akin to creating an officially imposed apartheid.
Neither seculars nor Hindutva have any stake in creating a positive agenda for reform of intercommunity relations or in creating governing structures that put the individual and local communities at the centre of policy making. Neither side wants to do away with state-created monolithic groups. India's Big State – perpetually seeking to maximise its own power – and politicians who want to seize the power of this Big State through patronage of group identities and by leveraging hate and anger, are responsible for the terrible condition India's minorities find themselves in.
How many Congress leaders today have visited the grieving relatives of lynching victims Pehlu Khan or Mohammad Akhlaq? While Rahul Gandhi as Congress president can wear religion on his sleeve, declare his gotra and that he's a Janeu Dhari Brahmin, AIMIM leader Asaduddin Owaisi's Sherwani and cap serve to obscure that he's an informed and articulate parliamentarian. Congress's soft Hindutva has only normalised BJP's hard Hindutva, creating a situation where successful Muslim politicians today must stand forth as 'Dabangs' of their community, like Azam Khan or Owaisi.
Muslims, indeed all minorities, must be defined chiefly by fear and grievance. In Maharashtra, the Dalit-Muslim alliance forged by Prakash Ambedkar and Owaisi, rising on the back of Dalit alienation post Koregaon Bhima violence is a reactive mobilisation to Hindutva dominance, not an alternative manifesto for change in both communities. Do Muslims matter anymore as individuals who worry about jobs, health, justice, children's education and security for business? The Muslim has been de-humanised by Hindutva and de-individualised by seculars. The state which expands its power by patronising a range of groups and their 'sole spokesmen' (Maulanas and priests of various hues) is the chief creator of identity politics based on religion.
What's the way out? The liberal solution is to empower diverse local communities (what Vaclav Havel called the "parallel polis") and roll back the Big State. Excessive state patronage alienates everybody: those who have it want more, those who feel left out become violent and trigger a backlash. A Rampur resident said: "Hindutva people torment and attack us, seculars herd us into vote banks. What we want is to be left alone in an environment of rule of law where we get justice and opportunities."
For Hindutva, the Muslim is the perfect 'enemy' in the overall project to destroy the diversity of Hinduism itself. For seculars, once the Muslim vote has been secured, nothing more needs to be done. Modern India needs new definitions: not 'Hindus' and 'Muslims' but citizens who freely follow Hinduism, Islam, humanism, atheism, communism, et al, their freedoms recognised by politicians and guaranteed by rule of law.
Source: timesofindia.indiatimes.com/blogs/bloody-mary/the-othered-muslim-demonised-or-treated-as-captive-vote-bank-the-muslim-as-citizen-is-disappearing/
URL: http://www.newageislam.com/islam-and-politics/sagarika-ghose/modern-india-needs-new-definitions--not-'hindus'-and-'muslims'-but-citizens-who-freely-follow-hinduism,-islam,-humanism,-atheism-and-communism/d/118410