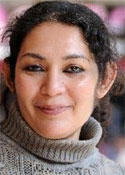 By Saba Naqvi
May 2, 2019
How do Muslims respond to being the community against whom political mobilisation continues in the course of this general election? First, let it be stated categorically that the vote against BJP comes not from fear but from the desire to remain in the participatory process of Indian democracy.
Second, there is no monolithic response and it varies from regions and states depending on political equations there. Take Hyderabad city for instance, the seat that has been held by Asaduddin Owaisi's AIMIM since 1984.
He calmly walks through the lanes of the city microphone in hand, saying vote for the Majlis as that would be a vote for "Vatan" – a word that translates into native country and home. Owaisi has a well thought out doctrine against secular parties demanding Muslim votes by invoking the fear of what will happen if they don't. In Telangana, in any case, Muslim profiling is not an issue at this point.
It is, however, quite true that Muslims in many parts now do not vote for what they want but against what they do not want. In 2019 too we have a long and growing list of campaigners telling Muslims to vote as a bloc and not to "waste" their vote.
Let's shift to UP that is under BJP rule, where communal speech is par for the course, riots and lynchings have happened. With Muslims here invoked as the 'Other' against whom Hindus must unite, does the rule of increasing fear apply?
Not quite. There are several complex layers to the responses of the community. It is Shab-e-Baraat night in Moradabad and at midnight, all the lanes and by-lanes around the Juma masjid are twinkling with lights and thronged with milling crowds. The city is about to vote in three days so every conversation takes a political turn. Owner of Insha Allah kebab corner is doing good business and says he will vote, but like most people will decide the night before.
In a room where people come and go, we sip tea and enjoy savouries at midnight. Gathered are a local journalist, a bank employee, an SP worker, a businessman, an educationist, a social worker. There is a debate in the seat with a 46% Muslim population about whom to vote for as both Congress and the SP-BSP alliance have put up Muslim candidates.
The alliance candidate is stronger, the Congress nominee a novelty as he is a young poet whom people have gathered to hear. But the majority view is that 2019 is a Gathbandhan versus BJP election. Therefore those who feel inclined to vote for Congress are being advised against doing so.
In the streets there are fierce political debates going on in Nukkad meetings. There are loud arguments made against some people, including a visiting SP MLA, trying to push them to vote in a particular direction. There is laughter too as one participant jokes: Too bad BJP does not campaign among Muslims or else the argument could have been extended.
So, was a fear of BJP determining their vote? The answer is no. The average Muslim is under the influence of competing local interests and when the main secular parties of the state were divided, so were their votes. That's what happened in 2014 when this entire belt was won by BJP. This time SP and BSP have united and so there will be more one-sided voting by minorities.
There are other nuances to the minorities' lived experiences five years down the line with a BJP government both at the Centre and the state. Now that both Modi and Yogi have come, says one, the only big difference is that buffalo beef costs Rs 20 more as the police take a cut. After a shortfall, supply has now normalised. But there are days, they all say, that get ruined by WhatsApp forwards of lynchings.
Moradabad, like many UP towns, has an economy – in this case the brass industry – where Hindus and Muslims need each other. They lead separate lives but no one wants violence to explode as it did in Muzaffarnagar in 2013.
Equally, in seats where their numbers are large Muslims have no palpable sense of fear but a belief (perhaps false) that if push comes to shove they can give as good as they get. I have repeatedly been told in these parts that "activists" and "secular" people like me should not worry about them.
At Moradabad's famous Gulshan-e-Karim restaurant, the owner is blasé – nothing will happen, life will go on, whosoever wins the seat. In neighbouring Rampur, a local journalist says that in the town (52% Muslim) nothing has changed with BJP coming to power in the state. In Bareilly, young Muslim men said again, don't worry, we are used to this and it will pass. They had grown up in the urban ghetto where skirmishes have taken place: curfew is imposed for a few hours and then life and business return to normal.
In conclusion, Muslims feel safe in their localities and there are well-documented studies of them following a process of self-segregation that is moving out of neighbourhoods and towns where their numbers are small.
BJP is now a reality and people have learnt to carry on with their regular lives. Some have even signed up for welfare schemes of the Modi government. BJP being in power does, however, diminish their ability to approach the people's representative. They will vote in large numbers in many places as they want to remain citizens whose vote counts.
DISCLAIMER: Views expressed above are the author's own.
Source: timesofindia.indiatimes.com/blogs/toi-edit-page/hyderabad-days-moradabad-nights-muslims-are-voting-not-from-fear-but-because-they-want-to-make-their-vote-count/
URL: http://newageislam.com/islam-and-politics/saba-naqvi/is-a-fear-of-bjp-determining-muslims-vote?-the-answer-is-'no'/d/118482