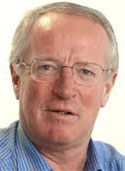 By Robert Fisk
November 07, 2013
This was part of Egypt's post-revolutionary tragedy, an elected leader standing on charges of incitement to kill, an accusation that — if proved to the satisfaction of the court — could cost him his life
We all knew what Mohamed Mursi, Egypt's ousted President, would say as he faced his judges for the first time today. And he said it. "I am the President of the Republic," he shouted. As the court descended into uproar, Egyptian journalists — never ones to avoid participating in their own news stories — shrieked at Mursi and six of his co-accused over and over: "Execute them, execute them."
The police — there were hundreds of them, in white uniforms, plain clothes, some chain-smoking, others wearing flak jackets — did nothing to end this circus.
At one point, lawyers for the Muslim Brotherhood defendants were fighting on the court benches with Egyptian reporters and policemen, while Mursi and his former comrades — who had met for the first time since the military coup in July — watched placidly from within their iron cage.
It would be easy to joke about this carnival of a court, its cops pleading with mobs of reporters and advocates to stop shouting and fighting while Egypt's former President — for that is what he is, despite his protests — stood in his business suit, grey-bearded, occasionally bear-hugging his fellow prisoners, all behind black bars at the end of the wood-panelled courtroom.
This was part of Egypt's post-revolutionary tragedy, an elected leader standing on charges of incitement to kill, an accusation that — if proved to the satisfaction of the court — could cost him his life.
Though no one believes it will. The journalists would not have bayed for his hanging if they thought he would be sentenced to death, just as Mursi himself would never have claimed he was still the President of Egypt if he really believed he was.
But that is what this historically unprecedented hearing was all about; whether post-revolutionary Egypt can have a working democracy, whether Arab governments can represent their entire nations, or whether the people who struggled, and still struggle so bravely for their dignity and freedom must now clap their hands in weary unison at the appearance of Egypt's armed forces chief, General Abdel Fattah Al Sisi.
The portents were not good today. The police were on their best behaviour. They shook our hands, smiled a lot, took our passports and mobile phones, and handed out laminated plastic identity numbers, prowled respectfully through files, books and handbags.
It was only when we reached the courthouse that we realised we were to share the courtroom experience with yet more cops.
Hundreds of them filled the front seats, the side aisles, the dais behind the judge's chair, with another three dozen crammed into an adjacent iron cage just in case Mohamed Mursi stretched out angel's wings and flew through the bars.
Mursi had not been seen in public since the coup, but he looked fit enough, maybe a trifle plumper, speaking animatedly to his colleagues who were wearing prisoners' white jump suits.
His party crony Mohamed Al Beltagi was there and we could see Essam Al Erian, the deputy Brotherhood leader.
I think it was the latter — the shrieking in the courtroom made such identities difficult — who shouted that a criminal court should not be trying their case, and that the hearing was "illegal… unfair, unjust, unconstitutional". Erian went on bellowing that all the defendants had been "tortured" and deprived of all lawyers since their arrest.
The lawyers themselves complained that they had been given no time to prepare their cases. They demanded to know why plainclothes men suddenly emerged behind the judge with cameras, and why the police spent their time taking photographs of those lawyers working for Mursi and his fellow prisoners. Judge Ahmed Sabry Youssef chose not to explain.
At one point, lawyers for Mursi and his colleagues brandished the four-finger "Rabaa" symbol of the Brotherhood opposition, along with sketches of a pro-Brotherhood journalist who was killed in Tahrir square. They were met by hoots of derision by Egyptian reporters and some of the police.
The judge read out the name of Mohamed Mursi — his middle name denotes that his father was also called Mohamed — and of course it was for him we had all come to this very odd court. When Mursi interrupted Judge Youssef, his voice sounded loud and confident.
"I am the President of the Republic," he stated. "The coup is a crime. The court is held responsible for this crime. Everything that is happening here is a cover for the coup. It's a tragedy that Egypt's great judiciary should be a cover for the coup."
If a court could show the divisions of a nation, this one did. Mursi might have sound legal grounds to object to the hearing but, alas, an awful lot of people believe he should never have been elected, that he never acted as their President and was thrown from power in ignominy last July because he was planning a coup of his own.
Outside the academy, a great city of cops on the former desert around New Cairo, the riot police were fixing gas canisters to their guns opposite hundreds of pro-Mursi demonstrators.
A gang of armed thugs — of the government variety — began to chase men across a car park. Court adjourned, as they say, until 8 January.
Source: http://www.timesofoman.com/Columns/Article-1469.aspx#
URL: http://www.newageislam.com/islam-and-politics/robert-fisk/mursi-s-trial-shows-how-deep-egypt-s-tragedy-is/d/14365