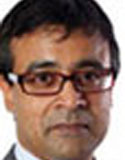 By Praveen Swami
Jul 23, 2013
Early in the summer of 2004, a group of young men gathered for a retreat at one of the sprawling villas that line the cheerfully-named Jolly Beach, the pride of the small south Indian fishing town of Bhatkal. They swam, went for hikes into the woods, honed their archery skills, and occasionally indulged in some target practice with an air gun. Local residents later recalled hearing small explosions, but assumed the men were setting off fireworks.
No one paid much attention: the men didn't even get a mention in the local police station diary. No one knew, of course, that they were seeing the birth of the jihadist networks we now call the Indian Mujahideen.
For the past several days, Indian politicians have been locked in a furious debate over Congress leader Shakeel Ahmad's claims that those men were driven to violence by the 2002 communal carnage in Gujarat. Bharatiya Janata Party leader Arun Jaitley has lashed out at Ahmad for suggesting the terrorist group is an "an organisation of aggrieved riot victims".
He's right: it's far too simplistic to say that the 2002 communal riots in Gujarat led to the making of the Indian Mujahideen. Yet, there's no escaping the fact that its rise is inextricably linked to India's ugly history of communal carnage — carnage that both the Congress and BJP have, by turns, engineered and been complicit in.
The Founding Brotherhood
Minutes before bombs went off at courthouse buildings in Uttar Pradesh on 27 November 2007, the Indian Mujahideen gave its first account of itself, in an e-mail sent to media organisations nationwide. It spoke of the "wounds given by the idol worshippers to the Indian Muslims". "They demolished our Babri Masjid", it argued, "and killed our brothers, children and raped our sisters, especially in Maharashtra, and this all happened with the support of [the] Congress party."
"If you want to be a successful person in India", the manifesto went on, "then you should be (an) idol worshipper and kill Muslims."
That e-mail, investigators believe, was authored by the man who hosted the Jolly Beach gathering: Karachi-based fugitive jihadist Iqbal Shanbandri, now better known as Iqbal Bhatkal, whose home town. Iqbal, along with his brother Riyaz, is alleged to be the Indian Mujahideen's top commander.
Few facts are known about the brothers' lives, but the visible pieces do tell us something about the shape of the puzzle. The Shahbandri brothers' father, Ismail, left Bhatkal for Mumbai in the 1970s. He set up a successful leather-tanning works in the city's Kurla area, and bought an apartment on Tulsi Pipe Road. Riyaz Shahbandri studied at upscale English-medium schools, and later picked up a civil engineering degree from Mumbai's Saboo Siddiqui College. For his part, Iqbal studied Unani medicine — and developed a growing interest in the Tablighi Jamaat, a pietist proselytising order which has millions of adherents globally.
In 2001, the brothers were introduced to the Students Islamic Movement of India (Simi) through Riyaz's brother-in-law to be, Shafiq Ahmad. They would both go on to become key members of a radical fringe, which thought Simi wasn't doing enough to walk its own Jihadi talk.
Founded in the wake of the Emergency, Simi's polemic became increasingly vitriolic after the Babri Masjid was demolished. In 1996, it put up posters calling on god to send an avatar of the 11th century warlord Mahmud Ghaznavi to avenge the destruction of the mosque. In the wake of 9/11, Simi cadre hailed Osama bin-Laden as a "true Mujahid," and celebrating the demolition of the Bamiyan Buddhas by the Taliban regime in Afghanistan.
Yoginder Sikand, a scholar who has carefully studied SIMI, suggests that such polemic may have given "its supporters a sense of power and agency which they were denied in their actual lives".
From his testimony to the police, we know Sadiq Israr Sheikh was, like the Shahbandri brothers, looking for more than words. Born in 1978 to working-class parents from the north Indian town of Azamgarh, Sheikh had grown up in Mumbai's Cheetah Camp housing project. In 1996, he began attending Simi gatherings — polite tea-and-biscuits affairs that he would eventually storm out of, frustrated by endless discussion.
Late in 2001, he ran into a distant relative, Salim Islahi — the son of a Jamaat-e-Islami-inked cleric who was himself expelled from the organisation for his extremism. Islahi, later killed by police, allegedly arranged for Sheikh to travel to Pakistan for training in September 2001.
Another friend from the meetings at Cheetah Camp, Abdul Subhan Qureshi, also made the journey at the same time. Educated at the Catholic-run Antonio D'Souza High School, Qureshi became a computer engineer in 1996. He was active in Simi, for a time editing its magazine, Islamic Movement. In 2001, Qureshi submitted a letter of resignation to his employers at Wipro, saying he intended to "devote one complete year to pursue religious and spiritual matters". He ended up in Pakistan.
Each of these men, on their return, were able to recruit significant numbers of volunteers: Sheikh's Azamgarh contacts provided much of the manpower for the operations, Riyaz Shahbandri the explosives, and his brother Ismail a pool of couriers and communications experts from Pune and Mumbai. Even as this network was being built, though, the tide of war was rising.
The tide of war: In February 2000, Lashkar-e-Taiba chief Hafiz Muhammad Saeed had proclaimed that his war against India was reaching a new phase. Kargil, where India and Pakistan had gone to war in 1999, had been the first component of this new campaign; the wave of Fidayeen suicide-squad attacks the organisation had unleashed in Jammu and Kashmir and outside it thereafter was the second. "Very soon," Saeed promised, "we will be launching a third round".
Men like the Shahbandri brothers, Qureshi and Sheikh were already in the Lashkar's training camps before the Gujarat pogrom began. They were helped to fund their journey by the gang lord Asif Reza Khan.
Yet, from the autumn of 2002, ever-growing numbers of recruits would join them. Networks sprang up in different cities, with members who often didn't know each other. Peedical Abdul Shibly and Yahya Kamakutty, both highly successful computer professionals, are alleged to have prepared to carry out attacks in Bangalore. Feroze Ghaswala, another IM recruit, told police he volunteered for joining jihad training after witnessing the mass burial of 40 Gujarat riot victims. Kerala men trained in the mountains of Jammu and Kashmir with the Lashkar-e-Taiba. Zabiuddin Ansari, from Maharashtra, famously ended up in the 26/11 control room.
For these new recruits, Gujarat was clearly a central concern. "Here", read the Indian Mujahideen's July 2008 manifesto, released shortly before bombs went off in Ahmedabad, "we begin the answer to your tyranny and oppression, raising the illustrious banner of jihad". "You have provoked the Mujahideen to massacre you and your five-and-a-half crore multitude of pathetic infidels who tortured us in the post-Godhra riots asking 'where is your Allah'? Here He Is."
Yet, the Indian Mujahideen was only the most lethal of a cluster of networks. It never, notably, used the name to denote an organisation. In the 2007 manifesto, it said this: "We are not any foreign Mujahideen nor even we have any attachment with neighbouring countries". "We are purely Indian". In a later manifesto, the group called themselves "the home-grown Jihadi militia of Islam".
It wasn't the first such "home-grown militia". In the midst of the long, searing summer of hate that tore apart the industrial city of Bhiwandi in 1985, a small group of Islamists met to discuss means to defend their community from communal attacks. Muhammad Azam Ghauri, Mohammad Tufail Husaini and Abdul Karim paraded their recruits around the grounds of the Young Men's Christian Association in Mumbai's Mominpura.
Like at Jolly Beach, no one paid much attention. No one then knew, of course, that they were witnessing the birth of the modern jihadist movement in India: the bombing of dozens of trains on 6 December 1993, the first anniversary of the demolition of the Babri Masjid.
The historian Ayesha Jalal has shown the notion of jihad was an important ideological theme in both pre-colonial and colonial India. The eighteenth-century theological Shah Waliullah, for example, wrote to Muslim rulers and notables calling for measures against Hindus and followers of the Shia faith. In 1857, Indian insurgents fighting imperial British troops included among their ranks numbers of self-described Jihadis, including at least one regiment of suicide ghazis, who vowed to fight until they met death at the hands of the infidel.
The Indian Mujahideen manifesto released after the 2008 Delhi bombings invokes this long tradition: "We have carried out this attack in the memory of two most eminent Mujahids of India: Sayyed Ahmed Shaheed and Shah Ismail Shaheed, who had raised the glorious banner of Jihad against the disbelievers in this very city of Delhi.
Like all other modern ideologies, political Islam offers believers a roadmap for action. It hasn't drawn nearly as many Indian Muslims as the Congress, the Left and perhaps even the BJP — but its durability points to deep tears in our social fabric.
Pakistan's intelligence services and its jihadist proxies exploited the social dysfunctions these forces represented – and will continue to do so until India's political life finds a means to heal the schism.
Source: http://www.firstpost.com/india/was-the-indian-mujahideen-made-by-the-2002-gujarat-riots-979913.html
URL: http://www.newageislam.com/islam-and-politics/praveen-swami/was-the-indian-mujahideen-made-by-the-2002-gujarat-riots?/d/12746