Muslims Have Grown As a Community
Main Points:
1. Only 46% Muslims say they will prefer a Muslim candidate in an election.
2. 41% Muslims says that they will vote for a more eligible non-Muslim candidate.
3. Muslim community now takes its decision on voting on regional considerations.
----
By New Age Islam Staff Writer
2 November 2021
Mr Hilal Ahmad discusses the pros and cons of Muslim leadership in India after Independence. The myth that Muslims always vote for a Muslim candidate if given a choice and that Muslims always follow the dictate of their religious leaders in elections has been proven wrong by the recently held survey of CSDS-Lokniti APU to look into the Muslim mind on their voting pattern. The survey done in 24 states on 48000 respondents. The survey brought out two realities. One, Muslims do not vote en masse on communal line but prefer a better candidate. The survey shows that 46 % Muslims will vote a Muslim candidate but 41 per cent Muslims will prefer an eligible non-Muslim candidate.
Secondly, the survey proves the myth wrong that Muslims follow the election time fatwa of religious leaders in favour of a particular party or candidate. In the 1980a, Maulana Abdullah Bukhari would assure a political party success by issuing fatwas in its favour and the Muslims would vote en masse for it. But that period is over. Not only because the latter day religious leaders do not wield so much clout over Muslims but also because the communal politics of the Bhartiya Janata Party, Hilal Ahmad says, has changed the entire political scenario as even secular parties do not want to give tickets to Muslim candidates. Therefore, Muslims seems to be without a political leadership in the present day India. But on the other hand, being without a religious leader has made Muslims more responsible as they consider the regional needs and compulsions while going to vote and this has helped them. For example, in the recently held West Bengal Assembly elections, Muslims voted en masse in favour of a secular party though, Abbas Siddiquee and Asaduddin Owaisi, two faces of Muslim-centric politics also fielded their candidates.
This was possible because, Muslims of India now rely more on the views and opinions of independent intellectuals, journalists and political activists. They have matured a lot and have learnt to live without a religious leadership. They have grown as a community. Hilal Ahmad's article, 'Imagined Realities' delves into this issue.
-----
Imagined Realities: Some Facets Of Muslim Leadership In India

By Hilal Ahmad
30.10.21
Muslim political leadership is one of the most misunderstood questions of our public life. A strong assumption — that there is a homogeneous Muslim community that does not have leaders, or the right kind of leaders, who can make the community modern, rational, secular and nationalist — continues to survive as the ultimate truth. Ironically, this strange belief is very powerful. Serious public intellectuals, journalists, and a section of scholars evoke the rigid Jinnah versus Azad binary as a criterion to evaluate the politics of contemporary Muslim leaders (such as Asaduddin Owaisi) as if nothing has changed in the last 75 years.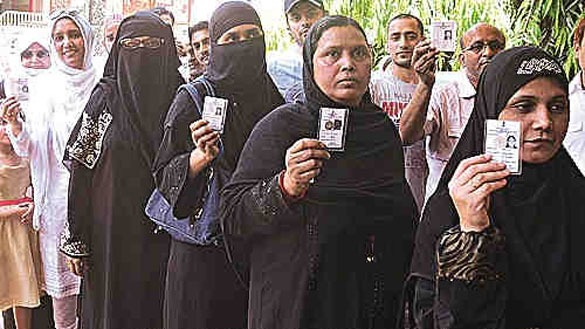 Representational image.
File photo
-----
The declining numbers of Muslim MPs and MLAs in the Lok Sabha and state assemblies are often cited to justify this kind of oversimplified explanation. The rise of Hindutva politics led by the Bharatiya Janata Party has given a new shift to this assertion. It is now claimed that the non-BJP parties are also not interested in giving tickets to Muslim candidates. As a result, there are only 27 Muslim MPs in the present Lok Sabha. This figure is slightly better than that of the previous Lok Sabha, which had only 23 Muslim MPs. This political decline, we are told, is inextricably linked to Muslim marginalization.
No one can deny the significance of Muslim presence in legislative bodies. However, it does not mean that there is an organic relationship between Muslim MPs/MLAs and common Muslims. The hypothesis that if an opportunity is given to Muslim voters, they will eventually vote for a Muslim candidate is factually incorrect. Muslim communities vote in a highly diversified manner and their Islamic faith is one of the factors that influence their political preferences.
Similarly, the popular imagination that Muslim MPs/MLAs function as Muslim delegates inside legislative assemblies is not entirely appropriate. Muslim elected leaders do raise Muslim-specific concerns and, in a way, contribute significantly to the inclusive character of legislative discussions. However, they also abide by the established norms of politics and behave like a typical Neta. The official position of the party turns out to be the source of their political arguments, statements, and interventions.
To explain these complexities, I propose an alternative analytical framework. In my view, two very basic features of Indian Muslim identity need to be acknowledged: i. the substantial sociological, cultural, and regional diversity that make Muslims a highly heterogeneous religious group and ii. the imagined and symbolic Muslim homogeneity that transforms them into a visible opponent of Hindutva.
These crucial features of Muslimness provoke us to ask a few simple questions. What do Muslim communities think of Muslims leaders? What are their expectations? Do Muslims behave as a political community? Do they follow the advice given to them by Muslim religious elites/ulema or pressure groups such as the All India Muslim Majlis-e-Mushawarat? Is it alright to reduce the idea of Muslim leadership merely to elected MPs and MLAs? Is there any possibility to think of various kinds of Muslim leaders?
Let me begin with the first set of questions. The CSDS Lokniti-APU's three round, survey-based study, Politics and Society between Elections (2017-2019), explores several important questions to map out people's perceptions of political elites. This comprehensive study covers 24 states with a nationally representative sample of more than 48000 respondents. From our point of view, one particular question was very relevant: "Suppose there are two leaders from same political party and equally competent to get your work done. If one is from your religion while the other from a different religion. Whom would you be willing to contact first?"
One finds a mixed response on this issue. Religious communities, it seems, do not overwhelmingly express trust in their leaders. This national pattern also corresponds to the Muslim views. A sizeable number of Muslim respondents (46 per cent) said that they would prefer to contact a Muslim leader. Interestingly, an equally powerful segment of Muslims (41 per cent) did not find this issue very pressing. For them, the religion of a leader did not bother them at all.
Two crucial inferences can be drawn from these findings. It appears that Muslim communities recognize the significance of Muslim elected leaders simply to tackle everyday encounters with the administrative power structure. Secondly, and perhaps more importantly, this expectation is not overstated by a significant Muslim section. Muslim leaders are envisaged primarily as professional politicians who follow the usual rule of the game.
This brings us to the second important issue: the role of the ulema in politics. Various studies conducted by the CSDS-Lokniti confirm that Muslims do not want the religious elite to support any political party. The "Religious Attitude and Behaviour Survey 2015" is very relevant here. This study tells us that a significant majority of Muslims do not want the ulema to indulge in electoral mobilization.
Two examples are useful to elaborate this finding. The AIMMM decided to intervene in the electoral politics as a Muslim representative body in the mid-1960s. It published a nine-point People's Manifesto to evolve an electoral strategy for Muslim voters for the 1967 general election. The Majlis resolution called upon the Muslim voters to vote for candidates irrespective of their religion, community, or party. It extended its formal support to 135 candidates in different states for the parliamentary elections. This formal electoral appeal to Muslims paved the way for what is now called strategic voting.
A systematic analysis of the 1967 election demonstrates that out of 135 Majlis-supported candidates, only 42 managed to win elections. One also finds a similar trend in the state assemblies. The Majlis-supported candidates did not do well in most of the cases. Their performances were not up to the mark even in the Muslim-dominated constituencies.
The political role played by the imam of Jama Masjid, Abdullah Bukhari, in the 1980s, especially his 'election fatwa', encourages us to also validate this point. Indira Gandhi discovered Bukhari as a Muslim leader in the early 1970s and nurtured his political aspirations. Bukhari, on his part, made full use of this political patronage. He transformed the historic Jama Masjid into a symbolic centre of Muslim politics to bargain with political parties.
Bukhari consciously issued election statements (which were incidentally described as fatwas by the media) in support of the most powerful party/coalition: the Janata Party in 1977, the Congress in 1980 and in 1984, the Janata Dal in 1989 and the Congress, once again, in 1991. This strategy legitimized his status as the political Imam-e-Hind and consolidated the media-friendly argument that Muslims always follow the advice of the Ulema and vote as a bloc.
A closer analysis of these trends would suggest that Muslim leadership is a highly-diversified phenomenon. There are three distinct types of Muslim leaders, who perform very specific functions in different contexts.
The Muslim elite is the first important category. An individual or a set of individuals, who acquire authority and influence over other members of their immediate Muslim community (communities) in a particular context primarily based on their social-educational status and class-caste position, may be described as Muslim elites. These privileged Muslims make use of their powerful Muslim presence to sustain the internal power structure among Muslim communities.
The Muslim politician is a different category of leaders. These are the individuals who mobilize, or claim to mobilize, other members of the Muslim community (communities) in a particular context for a specific political purpose. Aspirant Muslim politicians and elected MPs/MLAs belong to this segment.
Finally, there are Muslim influencers/activists. They engage with known or unknown Muslim-related issues and assert their presence in the media-driven public discourse.
There is a need to explore the circulation of these three types of Muslim leaders at the grassroots level to understand the actual operational aspects of everyday Indian Muslim politics, especially in the present Hindutva-dominated context. Otherwise, we wouldn't be able to get rid of the Jinnah-Azad syndrome.
-----
Hilal Ahmed is Associate Professor, CSDS, New Delhi
Source: The Telegraph Online
URL: https://www.newageislam.com/islam-politics/religious-leadership-muslims/d/125694
New Age Islam, Islam Online, Islamic Website, African Muslim News, Arab World News, South Asia News, Indian Muslim News, World Muslim News, Women in Islam, Islamic Feminism, Arab Women, Women In Arab, Islamophobia in America, Muslim Women in West, Islam Women and Feminism