New Age Islam Special Correspondent
25 November 2019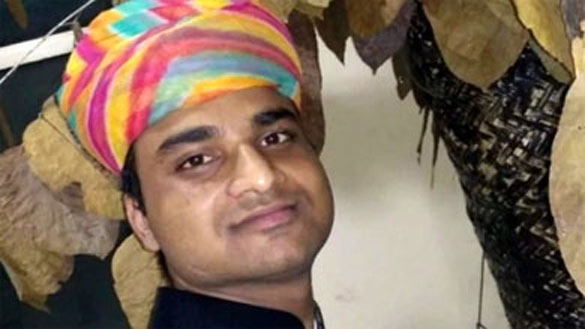 Dr Firoz Khan Sanskrit a teacher at Banaras Hindu University
----
While the uproar on Dr Firoz Khan's appointment as Sanskrit teacher at Banaras Hindu University (BHU) refuses to die down, some critical questions need to be posed to both Hindus and Muslims concerned with this issue. First to our Muslim brethren:
Before we look into the thematic issues, let's keep in view that most Hindus and nearly all Muslims stand with Khan's academic credentials, integrity and his teaching rights, and have defended him avidly. Even many of the BHU students have marched yesterday in solidarity with Khan. Hundreds of students reportedly on Wednesday came out in his support and loudly spoke out: "We are with you," and "Language has no religion," at the rally in support of Mr. Khan, held from the Lanka gate to the Ravidas Gate near the university campus.
But the main contention made by the student protestors against Dr Firoz Khan's appointment is that the appointment is not about teaching the language (Sanskrit) but the religion (Dharma). Their protest is supposedly against the appointment of a Muslim professor in the Sanskrit Vidya Dharma Vigyan in the Banaras Hindu University (BHU) which is not about the language but it rather relates to the purely divinity-based Hindu theology known as 'Dharma Vigyan'. "We have no problem with a qualified Muslim scholar teaching Sanskrit language and literature. However, it is about teaching certain rituals and chants (hymns) where a proper Brahmin (Purohit) is required", the protestors argued. If the case is believed to be so, the question arises: Will Islamic Studies departments in AMU, JMI, MANU and Hamdard universities (all central universities except the late which is deemed), allow non-Muslim scholars to teach Islamic theology?
This is just an introspective question! In the Aligarh Muslim University, the Faculty of Theology has two distinct departments; Sunni Theology (Sunni Diniyaat) and Shia Theology (Shia Diniyaat). Teachers in these purely theological Islamic branches are respectively Sunni and Shia. Now an honest question would be to ask the theologians at the AMU whether they would also be willing to break this exclusivity.
Examples of theological integration and inclusivity have surfaced in the Arab countries where Islamic studies centres and academic institutions have hired the qualified Christian, Jewish and sometimes even Hindu scholars on Islamic studies. Top Sunni seminary in the world Jamia al-Azhar has often invited the Vatican to deliver address to work together to fight religious extremism. But while Muslims in UAE, Jordan and Egypt—for instance—are progressing to the extent of constructing Churches, Synagogues and Temples for non-Muslims, let alone inviting and hiring non-Muslim scholars, Indian Muslims are still not ready to turn their back on religion, theology and divinity. It seems Muslims in India only learn how to don an Arabic dress like Jubba or wear Burqa, but not how to progress on constructive lines in the modern times!
Now Some Pertinent Questions To The Hindu Brethren:
Bigotry is not Dharma. At a time when the country is fed up of people who want to divide the religious communities, and even the educated, urban population doesn't seem to uphold the cause of communal harmony, Firoz Khan teaching Sanskrit in Banaras and Gopalika Antharjanam, a Brahmin scholar teaching Arabic in Kerala is the best thing that could happen. Significantly, Dr Firoz Khan is not just a Sanskrit scholar but also a man well-rooted in the Indian culture and ethos as candidly clear from lots of his work and life experience. He was the only Muslim student in his batch when he opted Sanskrit. In fact, he is an example of genuine mutual respect and appointing him would be the way forward to stem the tide of communalism. We need Lakhs more such interfaith scholars and teachers in this country. But regrettably, a language-based exclusivity is stemming from the growing misconception that Sanskrit is Hindu and Arabic or Urdu are Muslim. In a country known historically for Sarva Dharma Sama Bhava (Paths followed by all religions are equal), people are now studying each other's faith traditions and creeds, not to understand but to criticize each other. What was actually supposed to be the subject matter of "Comparative Religion' has now turned into "Competitive Religion". The question to all Indians and particularly to the student protestors at the BHU is that is this the way we moved forward as a pluralistic country in our age-old Vedic history?
Another major contention by the students against the appoint of Dr Khan is that it would be an attempt to dilute the efforts of Madan Mohan Malviya, the BHU founder and noted Indian educationist. This argument has been flagged often by the angry students and social media handlers. But to their utter surprise, Malviya's writings suggest otherwise. They candidly show that a Muslim scholar as Sanskrit professor is not antithetical to the BHU principles but very much in harmony with the university's foundational objectives. The grandson of Madan Mohan Malviya and the varsity's current chancellor Justice (retd) Girdhar Malviya told the media: "Had Malviya ji been alive, he would have immediately appointed Dr Firoz Khan."
In fact, the BHU can break the theological barrier which has been erected in several Indian central universities. It would be good start for all theology departments. Let's not forget that the Brahmin woman scholar, Gopalika Antharjanam taught Arabic in Kerala for 29 years of service. When she began to teach in 1987, there was an uproar. People would ask "How come a Brahmin would teach Arabic?". Similarly, Firoz Khan was the only Muslim student in his school in the Sanskrit batch. Both stories will have to win against all odds in the modern India for it to remain as pluralistic and multicultural as it was lived in ancient times.
If a Hindu becomes a scholar on Islam, (s)he will understand that the Holy Qur'an mentions the words "Zubur al-Awwalin" (texts of the most ancient) which Dara Shikoh said is the Upanishads and the Vedic scriptures. Similarly, if a Muslim becomes an expert on the Vedas, (s)he will discover that Vasundhara Kutumbakam ('the world is one family') is the deep conviction of Indian civilisation symbolizing that Indians have always considered the entire world "as one united family". While Dara Shukoh is one of the most eminent Muslim figures in the Indian history for his translation of the Upanishads and several Vedic texts into Persian and for promoting a genuine scriptural understanding, Emperor Akbar and most of the Mughals appointed the Rajput to high posts. The Kachhwaha Rajput of Amber held the highest military posts in the Mughal army.
URL: https://www.newageislam.com/islam-politics/dr-firoz-khan-sanskrit-professor/d/120356
New Age Islam, Islam Online, Islamic Website, African Muslim News, Arab World News, South Asia News, Indian Muslim News, World Muslim News, Women in Islam, Islamic Feminism, Arab Women, Women In Arab, Islamophobia in America, Muslim Women in West, Islam Women and Feminism