Biden: To Achieve Peace, Palestinians Should Acknowledge The Right Of Israel As An Independent Jewish State To Exist
Main Points:
1. Two-State Solution was the only way to ensure Israel's future as a Jewish and democratic state.
2. Two-State Solution is the only way to give Palestinians the state they were entitled to.
3. France and India have backed a 2-State Solution for Israel and Palestine, the two stake holders have not expressed their agreement on it.
------
New Age Islam Special Correspondent
27 May 2021
Soon after the cease-fire between Israel and Hamas came into effect on May 21, 2021, the US President Joe Biden said that the Two-State Solution for Israel and Palestine was the only solution for a lasting peace in the region and that he would build a major package with other countries to help rebuild Gaza. Biden also said that to achieve peace, Palestinians should acknowledge the right of Israel as an independent Jewish state to exist.
Speaking in a press conference on May 23, the US Secretary of State Anthony Blinken said that ultimately the Two-State Solution was the only way to ensure Israel's future as a Jewish and democratic state and of course the only way to give Palestinians the state they were entitled to.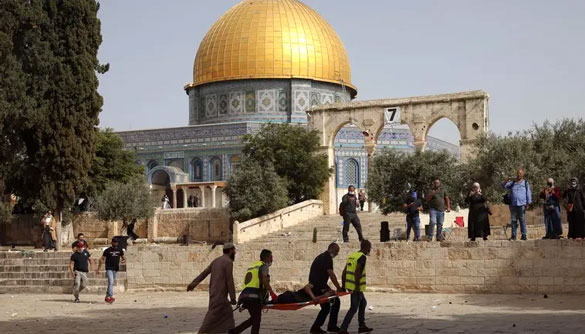 Palestinians evacuate a wounded man during clashes with Israeli security forces in front of the Dome of the Rock Mosque at the Al Aqsa Mosque compound in Jerusalem's Old City Monday, May 10, 2021. Israeli police clashed with Palestinian protesters at a flashpoint Jerusalem holy site on Monday, the latest in a series of confrontations that is pushing the contested city to the brink of eruption. Palestinian medics said at least 180 Palestinians were hurt in the violence at the Al-Aqsa... Mahmoud Illean
-----
This is the first time in decades of hostilities between Hamas and Israel that the US leaders have started to speak of a two-state solution and of the entitlement of a state for Palestinians and of equal rights of Palestinians. In the same conference Blinken said that the reconstruction, rebuilding what has been lost, engaging both sides in trying to start to make real improvements in the lives of people so that Israelis and Palestinians can live with equal measures of security, peace and dignity had to start now.
But is such a solution feasible and even acceptable to both Hamas and Israel and whether the US is sincere in seeking a viable and just solution of the conflict or will it only be an excercise to create a small portion of land for Palestinians as Palestine and thrust a stooge like Mahmoud Abbas as its President?
It is evident from what Blinken has said that the process of reconstruction of Gaza will only be a ploy to unsettle Hamas in Gaza because he said that the reconstruction and rebuilding of Gaza will be co-ordinated with an "independent authority" (meaning Palestinian Authority headed by Mahmoud Abbas) and not with a "quasi-government authority" (meaning Hamas).
-------------------------------------------------------------------------------
Also Read: Baitul Muqaddas-Masjid-e-Aqsa complex: Why are we Muslims so obsessed with it as our Qiibla-e-Awwal contrary to Qur'anic teachings?
-------------------------------------------------------------------------------
Secondly, though France and India have backed a 2-State Solution for Israel and Palestine, the two stake holders have not expressed their agreement on it. While Israeli Prime Minister Bibi Netanyahu ( as Biden fondly calls him) is silent on the proposal, Hamas has very harshly rejected it. In a recent statement on Al Jazeera TV senior Hamas official Mahmoud Al Zahhar said that the land of Palestine was not suitable for a two-state solution and that the land of Palestine was an Arab and Islamic land and they will liberate it with the help of Iran, Syria and Hezbollah as they are enemies of Hamas' enemy and they will co-operate with Iran, Syria and Hezbollah on all levels. He advised Benjamin Netanyahu to go and live with his father in the US.
This statement speaks of the hard stand Hamas has on the proposed 2-State Solution. Hamas's only position is that Israel should evacuate the land of Palestine and that they will fully liberate it from Israel.
On the other hand, Benjamin Netanyahu had earlier expressed his plans over Palestine. During the 2019 poll campaigns, he had pledged to expand Israeli sovereignty over the occupied West Bank. Previously he had flirted with the idea of annexation of Judea and Samaria ( West Bank) as part of an apparent drive to prevent the creation of a Palestinian state.
During the same time, Israeli newspaper Haaretz had conducted a poll on the issue of annexation of West Bank in which 42% of Jews had supported Israel's proposed annexation of West Bank. Encouraged by the public support Bibi had said that he might reoccupy Gaza Strip.
With this kind of hysteria that Benjamin Netanyahu and the Israeli media has created among the Jews of Israel, it seems almost impossible that Benjamin Netanyahu and other politicians of Israel will agree to the 2-State Solution because even if Hamas agrees to come to the negotiation table, it will be Israel who would need to make concessions and any concession will jeopardise his political career. And any negotiation or agreement without involving Hamas will not hold ground and will fail.
Therefore, Israel will also not accept the 2-State Solution. Wy this is not possible on the part of Netanyahu or any Israeli head of state has been very precisely and crisply summarised by Bernard Chazelle in his article titled "Why Israel won't accept a Two State Solution. He writes:
"A peace agreement would require Israel to agree on 'dismantling 120 settlements; relocating 110.000 settlers: swapping pre-67 land for settlement blocks already in Israeli hands; rerouting the separation barrier; ceding control over 40% of West Bank; sharing Jerusalem as a capital:; letting in 10-50 thousand refugees; giving away vital water rights; returning the Golan to Syria ( no comprehensive peace without it); engaging Hamas; facing violent domestic opposition; endangering careers and lives of Israeli leaders; last but not the least, admitting that two-thirds of Israel's history has been a monumental blunder.'
In short, for a Two-State Solution Israel has to surrender a large part of Israel which is not possible even for Netanyahu. Perhaps the Two -State Solution conjured up by Biden's mind is based on a small part of West Bank ruled by Mahmoud Abbas or any other stooge like Najibullah as Russia had in Afghanistan or US has Ashraf Ghani in Afghanistan or others in Egypt, Iraq and Libya.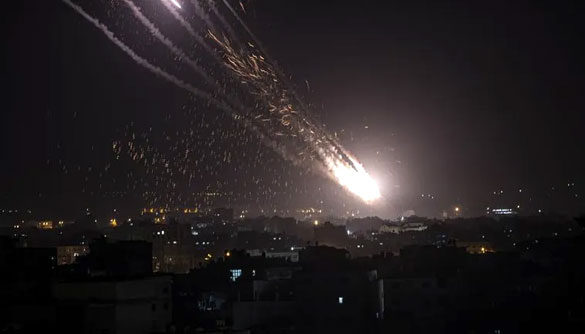 Rockets are launched from the Gaza Strip towards Israel, Monday, May. 10, 2021. Hamas militants fired dozens of rockets into Israel on Monday, including a barrage that set off air raid sirens as far away as Jerusalem, after hundreds of Palestinians were hurt in clashes with Israeli police at a flashpoint religious site in the contested holy city. (AP Photo/Khalil Hamra) Khalil Hamra
-----
That's not possible in Palestine as power equations in and Palestine and Middle East are changing fast. Hamas has emerged as a formidable force in the recent conflict and Iran has emerged as a fulcrum point in this conflict. Syria and Hezbollah are also with Hamas. Rockets and technological support provided to Hamas by Iran started reaching and hitting Israel's military and nuclear sites. Therefore, Israel faces a tougher resistance in Palestine now.
This is the reason the US is also trying to persuade Bibi to agree on the 2-State Solution and talking of equal rights to Arabs in Israel. The US and Israel have always followed the strategy of fighting wars in enemy territories incurring limited damage and loss to their own country and citizens. For the first time, Hamas with the help of Iran took the war to Israel's doorsteps. Hence the talk of peace, equality, dignity and right to exist.
URL: https://www.newageislam.com/islam-politics/biden-palestine-israel-hamas-two-state/d/124892
New Age Islam
,
Islam Online
,
Islamic Website
,
African Muslim News
,
Arab World News
,
South Asia News
,
Indian Muslim News
,
World Muslim News
,
Women in Islam
,
Islamic Feminism
,
Arab Women
,
Women In Arab
,
Islamophobia in America
,
Muslim Women in West
,
Islam Women and Feminism