By New Age Islam Special Correspondent
7 April 2021
While the world denounces China on its persecution of Uyghur Muslims, China brazenly defends it as only anti-terrorism and deradicalisation process ad denies that Uyghurs are being tortured and killed and their women are sterilised, tortured, raped and even killed. According to reports 1.5 to 3 million Uyghur Muslims, Kazakhs, Kyrgyz, Turk and even Christian ethnic minority people are being held in detention camps in Xinjiang since 2017 under the government of Xi Jinping.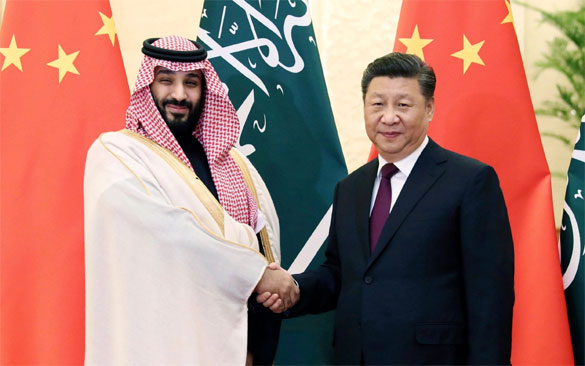 Saudi crown prince defends China's right to put Uighur Muslims
--------
But the irony of fate of these hapeless Uyghurs is that many of the Muslim countries have not only turned a blind eye to their plight but have also supported or defended China.
Recently, the persecution of Uyghurs again assumed centrestage in global political arena when on March 21, 2021 the US, UK and Canada released a joint statement condemning China's persecution of Uyghurs. The statement said:
"We the foreign ministers of Canada, United Kingdom and the United States Secretary of State are united in our deep and ongoing concern regarding China's human rights violations and abuses in Xinjiang."
Four days later, Turkey's Foreign Minister Mevlut Cavusoglu conveyed "sensitivity" regarding the treatment meted out to Uyghur Turks during his meeting with his Chinese counterpart on 26 March in Ankara. Protests were held in Istanbul where Turks shouted slogans "Dictator China" and "Stop Uyghur genocide, close the camps".
To counter the criticisms and protests by the US, UK, Canada and Turkey, China took the help of its Arab allies. The government owned news network of Saudi Arabia Al Arabiya published a long interview of Chinese Foreign Minister Wang Yi on 27 March, 2021. In the interview, Mr Yi justifies his government's inhuman treatment of Uyghurs. He says:
"Fundamentally, the issues related to Xinjiang are about the fight against violence, terrorism and separatism. There was a time when Xinjiang was a target of frequent violent and terrorist activities which generally undermined the right to survival and development entitled to all ethnic groups living there. In recent years, putting the well being of the people front and center, the Xinjiang region responded actively to the call of the UN, drew on the useful practices of many countries and redoubled prevention, counter terrorism and deradicalisation efforts."
He further says, " Between 2010 and 2018, Xinjiang Uyghur population grew from 10.17 million to 12.72, an increase of over 25%, much faster than the 2% growth of Han population in Xinjiang during the same period. How can it be "ethnic genocide"?
He also argues,"On the contrary, we find that some western countries have implemented the policy of dissolving the indigenous population in their official narrative. As a result, many children were forced to concert to Christianity and learn English."
But the FM of China fails to give example of detention camps for cimmunists or Muslims in European countries. He also forgets that Muslims are entitled to the right to preach and profess their religion in European countries. Their women are not sterilised or forced to undergo abortions.
Surprisingly, the reporter of Al Arabiya does not ask Chinese Foreign Minister about Uyghur detention camps, torture of men and women in these camps, forced abortions, rape and sterilisation of Uyghur women in and outside the detention camps. It seems that the Saudi Arabia government gives China a platform to defend itself.
According to reports, 1.5 to 3 million Uyghur Muslims and people of other ethnic minorities have been held in these detention camps. According to a report by Associated Press in June 2020, "The State regularly subjects minority women to pregnancy checks and forces intrauterine devices, sterilisation and even abortion on hundreds of thousands".
The foreign minister of China gave the statitistics of population growth of Uyghur Muslims from 2010 to 2018. It is clear that the Xi Jinping government built detention camps in 2017 with the purpose of stopping the growth of Muslim population. He did not say how many Uyghur Muslim women have been sterilised and forced to undergo abortion, raped, tortured and killed in order to bring about a demographic change in Xinjiang since 2017.
The Xi Jinping government claims that it is only taking steps to curb terrorism and radicalisation in the Muslim population of Xinjiang. But a political economist in the University of California Victor Shihi had said in 2019 that the mass internments were unnenessary because no active insurgencies existed, only isolated terrorist incidents.".
Turkey and European countries have repeatedly accused China of detaining and torturing Uyghurs in the province of Xinjiang.But many Muslim countries have defended and supported China on the issue of Uyghur persecution and Saudi Arabia is one of them. The Chinese Embassy in India, on its website claimed that "In the recently concluded session of the UN Human Rights Council, 21 Arab and Islamic countries spoke up for justice in support of China." Currently 39 countries denounce China and 45 countries defend it on the issue of Uyghur persecution. Out of these 45 ciuntries, 21 are Muslim countries. Saudi Arabia has trade ties with China and so defends it; Pakistan needs China to keep India at bay in Afghanistan while Iran needs China to protect itself from the US agression. Turkey critises China but only coveys its "sensitivity" on the Uyghur issue. Amid all this sycophancy, insensitivity and hypocrisy of the Arab and Islamic countries, Uyghur Muslims have been going through all the torture, humiliation and persecution under the Chinese regime.
URL: https://www.newageislam.com/islam-politics/new-age-islam-correspondent/arab-islamic-countries-defend-china-uyghur-persecution/d/124661
New Age Islam, Islam Online, Islamic Website, African Muslim News, Arab World News, South Asia News, Indian Muslim News, World Muslim News, Women in Islam, Islamic Feminism, Arab Women, Women In Arab, Islamophobia in America, Muslim Women in West, Islam Women and Feminism