Jews Show That All Jews Don't Support Persecution Of Palestinians
Main Points:
1. Rabbis, Jewish authors and human rights activists want peaceful co-existence with Arab Muslims of Israel.
2. Jews form human chain with Arab Muslims.
3. Jews criticise Benjamin Netanyahu for inciting hatred and violence.
----
New Age Islam Special Correspondent
24 May 2021
The 11-day Israel-Palestine War that ended on Friday 21 May witnessed death and destruction on both sides apart from a rise in hatred and acrimony between the Arab Muslims and Jews of Israel. As the hostilities between Hamas and Israeli army intensified, communal tension between Arab Muslims who constitute about 20 per cent of Israel's population and the majority Jews also escalated within Israel that culminated in a civil war in Israel. Riots between Jews and Arab Muslims took place in mixed populations in Jaffa, Acres, Nazareth, Bat Yam, Lod and Jerusalem. Many Jews and Arab Muslims were killed in these riots and properties were destroyed. This created an internal threat for Israel. The government of Israel had to clamp emergency in these areas.
But a large section of the Jews of Israel was not happy over Israel's aggression against the Palestinians of Gaza and were pained at the death and destruction in Gaza Strip. At the same time, a large section of Arab Muslims also felt that Hamas' rocket attacks were also not going to produce any solutions.
-------------------------------------------------------------------------------
Also Read: Baitul Muqaddas-Masjid-e-Aqsa complex: Why are we Muslims so obsessed with it as our Qiibla-e-Awwal contrary to Qur'anic teachings?
-------------------------------------------------------------------------------
Therefore, as the war began and the Arabs and Jews fought in the streets, peace and human rights activists from both the communities, Rabbis, writers and journalists along with thousands of peace-loving people came on the streets calling for an end to violence and war. They stressed the need for a peaceful co-existence and end to war and violence. Peace rallies were organised in towns across Israel and Jews and Muslims hugged each other and formed a human chain. They held signs like "Love thy neighbour as thyself" and "All together".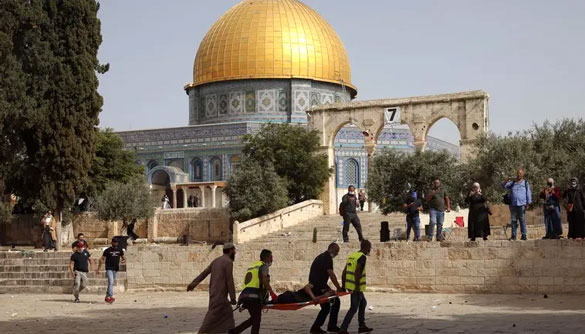 Two groups Standing Together and Breaking the Silence had mostly organised the rallies that were participated by both the Muslim and Jew intellectuals and common people. Apart from them organisations like Rabbis for Human Rights, Women Wage Peace and Tag Meir took part in the peace rallies. On 19 May these organisations formed a long human peace chain in Jerusalem.
Booker Prize winning author of Israel David Grossman who lost his son during Israel Lebanon war in 2006 was one of the prominent figures in these anti-war protests. In the pro-peace rally organised in Tel Aviv on 22 May he criticised the policies of the Benjamin Netanyahu's government.
He said, "We Israelis still refuse to realise the time is over in which our power can force a reality that's convenient for us and only for us, for our needs and interests."
Sally Abed of Standing Together said,
"I refuse to go back to the routine of institutionalised discrimination, of police violence, of political arrests and limited citizenship."
The riots were the result of the long suppressed frustration of Arab Muslims of Israel due to the Zionist government's discrimination against them in all spheres of life. During the last few years of Benjamin Netanyahu's government, some laws were introduced that treated Arab Muslims as second class citizens. They had limited citizenship and living in Israel was getting increasingly difficult for them. Their houses were demolished by the local government for incomplete documents. The attacks on Palestinians in Jerusalem and their planned eviction from Sheikh Jarrah broke their patience and they came out on the streets in solidarity with them.
The riots became a huge embarrassment for Benjamin Netanyahu as peaceful section of Jews came out in support of Palestinians and condemned and criticised atrocities of Israeli government on them. Avi Dabush, the director general of Rabbis for Human Rights said that the 'silent majority' of Arabs and Jews wanted peaceful co-existence. "We're at war and I live in a town that's been badly hit but what's even more dangerous at this moment to a certain extent is what's happening within Israeli society between Jews and Arabs", he told France 24.
Similarly Dubi Moran, a representative of an NGO Windows-Channels for Communication that has both Muslim and Jews as members also echoed the same views. He feels the frustration, fear and hate that the Arab Muslims of Israel have been going through.
The medical staff of hospitals across the country also called for calm and shared photos of communal harmony and solidarity.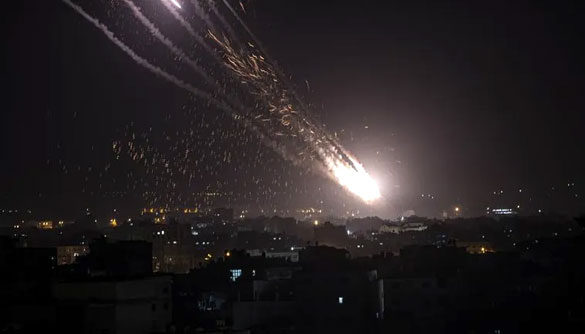 An important aspect of the pro-peace initiatives of the Israeli people was that some responsible members of the media also played an important part in de-escalating communal tensions in the country. The widely circulated daily of Israel Haaretz carried its editorial on May 18 titled, "Arabs and Jewish citizens of Israel, let's live together." This is something from which the media in India should learn as they promoted communal hatred during the Covid-19 and during riots.
It can therefore be said that while diplomatic pressure created by the international community was instrumental in the ceasefire between Israel and Hamas, the social pressure created by the peace-loving Jewish community also made a big difference.
URL: https://www.newageislam.com/islam-politics/israel-palestine-peace-loving-arab-jews-co-existence/d/124869
New Age Islam
,
Islam Online
,
Islamic Website
,
African Muslim News
,
Arab World News
,
South Asia News
,
Indian Muslim News
,
World Muslim News
,
Women in Islam
,
Islamic Feminism
,
Arab Women
,
Women In Arab
,
Islamophobia in America
,
Muslim Women in West
,
Islam Women and Feminism