New Age Islam News Bureau
11 Sept 2017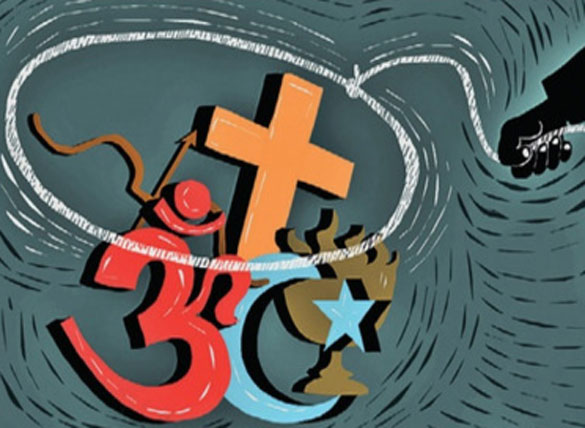 • How Ambedkar and others pushed for a uniform code before Partition
• How the clause on a Uniform Civil Code was rendered toothless
• Uniform code will hurt harmony, minorities argued to make a case for
• How Muslim fears were allayed, and the UCC became a directive
principle
• True secularism demands a Uniform Civil Code
Compiled by New Age Edit Bureau
URL: https://www.newageislam.com/islam-politics/one-nation-one-code-four/d/112490
----------
One Nation One Code: How Ambedkar and others pushed for a uniform code before Partition
Vaibhav Purandare | Updated: Sep 5, 2017
MUMBAI: With communal conflict raging outside, the Constituent Assembly had to take a call on individual rights, the place of religion, and minority insecurity.
Barely 24 hours after Jawaharlal Nehru's 'tryst with destiny' speech, Claude Auchinleck, designated as supreme commander of the Indian and Pakistani armies, informed Lord or 'Dickie' Mountbatten, earlier viceroy and now governor-general, that India was in a state of civil war.
The situation in the subcontinent had turned combustible ever since the Muslim League had passed its 1940 'Pakistan' resolution, and Mohammed Ali Jinnah had raised communal tempers so much by 1946 that violence had broken out in many parts. With Partition and Independence had come mass migration and terrible slaughter. Hardly the perfect setting for India's Constituent Assembly, first convened in December 1946, to calmly focus on its job of framing a new Constitution.
Its members even had difficulty reaching the Assembly chamber for its fifth session in August 1947; with the bloodbath raging in both Old and New Delhi, they needed special curfew passes.
Yet this Constitutionmaking body, dominated by Congress, with non-Congressmen like B R Ambedkar the exceptions, was keen to transform India's political revolution into a social one and to create a document enabling social (and as part of it, economic) progress and fostering national unity and stability. It rejected at the outset the idea of a `Gandhian Constitution' (based on the village as a key unit of national life) and decided to accept the parliamentary government model adopted by leading Western nations.Fundamental rights and Directive Principles of State Policy (the latter inspired by the Irish Constitution) were to be the soul of this Constitution. But if the balancing of individual rights and the common good or `group interests' was a ticklish issue in a largely tradition-bound, caste-ridden and now communally-split society, there was an even more delicate matter to deal with - the status of religion. The Assembly was clear that India would have no state religion - it would be secular. But whether secularism in the Indian context meant `total separation of church and state' as in some Western societies or 'equal respect for all religions' was to be decided. Those in favour of 'equal respect' won, as India was deeply religious, and the Fundamental Rights SubCommittee, one of the Assembly's key panels, put in a clause on the freedom to practise religion.
One of its members, Rajkumari Amrit Kaur, however objected to this, saying `free practice' could legitimise 'anti-social practices' such as Sati, purdah and devdasi customs and nullify laws such as the one favouring widow-remarriage (the Constitution eventually adopted a provision saying the right to practice religion should not prevent the state from enacting social reform laws). The battle related to faith had begun soon after the Assembly was formed, and it became fierce when, during the discussion on citizenship, the matter of a uniform civil code was first raised. This was in February-March 1947, that is, in fact, some months before freedom came and months after communal violence had begun.
The rights sub-committee had 12 members. When it first met in February, it had in front of it drafts on rights prepared by some of its members like Ambedkar, K M Munshi, K T Shah and Sardar Harnam Singh, and also by the constitutional adviser B N Rau and the Congress Experts Committee, a party panel that had prepared a draft for the Assembly's 'guidance'. The drafts of at least two members - Ambedkar and Munshi - included a clause on a common civil code as a justiciable right, meaning it would be enforceable by courts. Till the early 19th century, religion had pretty much ruled the life of Indians. Following demands from Hindu social reformers, though, the British had gradually outlawed certain practices and, in 1946, readied a draft for reform of Hindu laws. Yet the majority of faith-based practices were left untouched, and in the case of Muslim personal law, the colonial power, always eager to divide and rule, had not intervened at all.
There were two opinions on this sensitive subject among Indian leaders at the time. One was that personal laws had to go at once in order to create a casteless, classless and united society on the basis of equality, direct elections and universal suffrage. The other was the view of Nehru and some other Congress leaders and, therefore, highly influential. Nehru and these netas felt the Muslims, who were facing the brunt of communal violence in many Hindumajority areas, had genuine fears, and the Constitution would have to allay these and provide the minority community a sense of security.This meant not touching their personal laws or the laws of the Sikhs, who were also affected by violence in the Punjab (claimed during Partition talks by both India and Pakistan; eventually it was divided).
As the Congress wanted to project itself as a secular outfit representative of all Indians, Jinnah's allegations from 1939 onwards that Congress governments in the provinces had "interfered with their (Muslims') religious and social life, and trampled upon their economic and political rights," established "a Hindu Raj" and "emboldened Hindus to ill-treat Muslims" must have worked on the minds of Nehru and other leaders too. So must have the Communist Party of India's 1943 resolution accepting "the essence of the demand for Pakistan" which praised Jinnah and sought to paint Congress as a party with a religious bias. Here was a non-Muslim and an avowedly antithetical-to religion party too backing the League and its religionbased demand and branding Congress that had led the freedom movement.
Would the personal laws then stay or go, and did a uniform code stand any chance? The rights subcommittee debates would determine that, followed by the decision of the Assembly's advisory committee, headed by Sardar Patel, and then a consideration of the entire Draft Constitution by the Assembly.
-----
ONE NATION ONE CODE - How the clause on a Uniform Civil Code was rendered toothless
Vaibhav Purandare
The second of a four-part series on Constituent Assembly debates on the Code
Though they were all lawyers, Bhimrao Ambedkar, Kanhai yalal Munshi and Minoo Masani did not quite share an ideology. Ambedkar was an iconoclast committed to the uplift of Dalits, Munshi a conservative and believer in India's cultural renaissance, and Masani a democratic socialist who later embraced the liberal economy and, along with Munshi, joined the Swatantra Party . What they had in common, though, was that they were all prolific writers and firm advocates of a Uniform Civil Code as a fundamental right for all Indians.
When the Constituent Assembly began its proceedings in the run-up to Independence, they were the first ones, as part of the Fundamental Rights Sub-Committee, to make an onslaught on personal laws and orthodox practices and insist that all 400 million Indians of the time be governed by a single civil code.
In March 1947, Ambedkar and Munshi placed their individual drafts before the 12-member panel which included such a code as a justiciable right ­ that is, a right that free India's courts could enforce Ambedkar stated all citizens must be able "to claim full and equal benefit of all laws and proceedings for the security of persons and property as is enjoyed by other subjects regardless of any usage or custom based on religion and be subject to like punishment, pains and penalties and to none other".In the same month, he publicly issued a memorandum on his idea of the Constitution that said "no person shall be permitted to refuse any obligation of citizenship on the ground of caste, creed or religion". This was as unequivocal as it could get: personal laws had to be a thing of the past.
Munshi wrote, "No civil or criminal court shall, in adjudicating any matter or executing any order, recognise any custom or usage imposing any civil disability on any person on the ground of his caste, status, religion, race or language". Minoo Masani said it was the state's duty to bring in a uniform code so "these watertight compartments" (personal laws) could go.
The recommendation received the support of the two women on the panel ­ Hansa Mehta and Rajkumari Amrit Kaur ­ but was still outvoted, not so much because the members disapproved of it but because they felt the matter was "beyond the subcommittee's competence". But only a couple of days later, the panel voted for inclusion of the clause in a new section of rights that was to be now created. To be called Directive Principles of State Policy, this section would contain rights not enforceable by courts. It was intended as a "guide" for the state, and the provision framed by the panel read: "The state shall endeavour to secure for the citizens a unifor m civil code". No timeframe, no deadline, and of course, no legal recourse.
The sub-committee explained in its draft report submitted to the advisory committee that "rights not capable of, or suitable for, enforcement by legal action, were named non-justiciable". It cited the example of a clause which called upon the state to "endeavour to secure a decent standard of life for all workers" and said it was impossible for a worker to establish, and for a court to prove, that such a right had been violated. A unifor m code was not so vague a notion; it had obviously been deemed `not suitable' for enforcement.
Why? "The reason... was not, as it might at first appear, the wish to avoid a clash with Hindu orthodoxy , but a sensitivity, particularly on Nehru's part, to the fears of the Muslims and the Sikhs," wrote the Indian Constitution's famous historian, Granville Austin.
Nehru had concerns that Muslims had bought Jinnah's claim that Congress rule meant "Hindu domination", and he saw the Muslim League's boycott of the assembly as one more reason why the statute-making body, largely comprising Congress leaders, must appear all-Indian and reflect the party's position about safeguards for minorities.The League had won all seats reserved for Muslims in the central assembly polls of 1946, while Congress had won 91% of the others; and in the provincial elections the League had bagged 439 of 494 `Muslim' seats while Congress had clinched most of the rest. Besides, communal riots had singed Bengal in August '46 after Jinnah's call for `Direct Action', with mainly Hindus as victims, and had later spread to Bihar and Punjab, where Muslims and Sikhs had been targeted. Nehru visited Bihar and was "appalled by the brutality of Hindu mobs".
By March 1947 ­ when the rights panel met to discuss drafts ­ the Congress Working Committee had realised Bengal and Punjab may have to be split, and by June the Indian leaders had accepted Mountbatten's Partition plan, including the date of transfer of power which he had brought forward from June 1948 to mid-August '47. While Nehru said in his broadcast to Indians in June that he had "no joy" because of the planned division and violence, and while Congress's dream of one nation-state lay shattered, "on the other hand it gave it the prospect of a strong state with the potential for major socio-economic change, and acknowledged the legitimacy of the Constituent Assembly as the constitution-making body for much of India", wrote his biographer, Judith Brown.
The feisty women on the rights sub-committee, Amrit Kaur and Hansa Mehta, along with Masani, wrote a letter to Sardar Patel, head of the advisory committee, in July '47, saying the clause on a uniform code be moved to the section on justiciable rights as "one of the factors keeping India back from advancing to nationhood was the existence of personal laws". The letter also addressed the question of Muslim fears saying "in view of the changes that have taken place since (meaning approval of Partition) and the keen desire that is now felt for a more homogenous and closely-knit Indian nation", the advisory committee should consider the matter afresh.
The minorities sub-committee, which also examined the matter, said a common code should be made "entirely voluntary" and suggested the clause on it in the Directive Principles be reworked accordingly .
When the advisory committee met, it supported Kaur and Mehta's recommendation that the Principles, though not cognisable by courts, be considered "fundamental principles of governance" and said so in its supplementary report submitted to the assembly on August 25, '47. But the clause on superseding personal laws stayed in the nonenforceable section.
The drafting committee, chaired by Ambedkar, accepted the provisions approved by the Patel-headed panel and made them a part of the Draft Constitution of 1948. The debate on justiciable and nonjusticiable rights would take place as priority in the assembly in November '48, when Ambedkar would place his draft before the House for consideration. As it turned out, the provision on a secular civil law would prove to be highly contentious.
------
ONE NATION ONE CODE - Uniform code will hurt harmony, minorities argued to make a case for personal law
Vaibhav Purandare
The third of a four-part series on Constituent Assembly debates
Amulti-community group in the Constitu ent Assembly that included a Dalit (B R Ambedkar), a devout Hindu (K M Munshi), a Parsi (Minoo Masani), a second-generation Sikh who converted to Christianity (Rajkumari Amrit Kaur) and a Gujarati Nagar Brahmin (Hansa Mehta) had hopes that a Uniform Civil Code would be incorporated in the Indian Constitution as a fundamental right and not merely as one of the non-justiciable Directive Principles of State Policy . At the same time, another group, wholly Muslim, was determined to vigorously put forth its case for the exact opposite: it wanted personal laws to be treated as a fundamental right and therefore enforceable in any court of law.
Soon after the Assembly started debating Ambedkar's Draft Constitution in November 1948, three amendments to the clause on the Code included in the Directives were tabled by five Muslim members -Mohammed Ismail Khan, Naziruddin Ahmad, Mahboob Ali Baig, B Pocker Sahib and KTM Ahmed -with a view to ensuring that no community would be made to give up its own laws if it didn't wish to. In what The Times of India of November 24, 1948, described as "a series of full-blooded speeches," these five (earlier part of the Muslim League Assembly Party), posing "as spokesmen of the minority community ," denounced the provision of a common law as "tyrannical".Their refrain all through the impassioned debate was that if the British had not touched religious laws, especially those related to marriage and inheritance, "for 175 years," what was the need for the newly-independent Indian nation-state to do so? One key argument they made was that Article 35 (related to the UCC) clashed with Article 19 that gave all citizens the right to practise religion and said if it were enacted, it would tantamount to "interfering" in the ways of living of communities. "The personal law was so much dear and near to certain religious communities," Mahboob Ali Baig said, and "as far as the Mussalmans are concerned, their laws of succession, inheritance, marriage and divorce are completely dependent on their religion." B Pocker Sahib said if these "religious rights and practices" were infringed upon, it would be "tyrannical." Any uniformity in legislation would serve just one purpose, he stressed -it would "murder the consciences of people and make them feel they are being trampled upon."
Mohammed Ismail Khan felt that though the Assem bly's intention seemed to be "to secure harmony through uniformity ," given the recent communal troubles and the Partition that India had gone through, it would actually "bring discontent" and hurt harmony . Agreeing with him fully, Naziruddin Ahmad warned of widening "misunderstanding and resentment" and echoed his co-religionist members' view that "what the British in 175 years failed to do or were afraid to do... we should not give power to the State to do all at once."
In a reply to a statement made by member M Ananthasayanam Ayyangar that marriage in Islam was in the nature of a contract, Baig underlined the primacy of religion, saying, "I know that very well, but this contract is enjoined on the Mussalmans by the Quran and if it is not followed, a marriage is not legal at all. For 1,350 years this law has been practised by Muslims and recognised by all authorities in all states. If today Mr Ayyangar is going to say that some other method of proving marriage is going to be introduced, we refuse to abide by it because it is not according to our religion. It is not according to the code laid down for us for all times."
B Pocker Sahib sought to expand the ambit of the argument, saying that many Hindu groups too had objected to a common law and had used "stronger language" against it. But even if the majority community was in favour of Article 35, he emphasised, it had to be "condemned" because the majority could not ride roughshod over minority rights but had a duty "to secure the sacred rights of every minority ."
Two Muslim members, Ahmad and Hussain Imam were, in addition, convinced the time was just not right to bring in a binding legislation for all of India. It could be introduced only when mass illiteracy had been wiped out, people had "advanced," and their economic conditions improved, they stated. Would it not be odd to apply the same kind of law for "the advanced people of Bombay" and for parts of the country which were "very , very backward," they asked. Besides, the progress towards a uniform code should be "gradual and with the consent of the people concerned" so that religious laws were not affected, they insisted. Mohammed Ismail Khan also said the matter was not all about Muslims. Of course, several European constitutions (such as Yugoslavia's, for instance) allowed Muslims to follow their own laws, but they dealt mainly with minority rights. The amendment he had proposed, he said, referred not to minorities alone but to all, including the majority, and thus aimed at securing everybody's rights.
--------
ONE NATION ONE CODE - How Muslim fears were allayed, and the UCC became a directive principle
Vaibhav Purandare
Fourth and last in a series on the Constituent Assembly debates on a Uniform Civil Code
After many Muslim members in the Con stituent Assembly had vociferously opposed the Uniform Civil Code, it was the turn of proponents of the `one nation, one law' idea to mount their opposition to personal laws held sacrosanct by a mostly tradition-bound Indian society .
They had a lot to think of before attacking religious customs. November 1948, when the debate on the clause in the Draft Constitution took place, was a sensitive time in terms of HinduMuslim ties. Though Partition-linked violence had stopped, the scars were fresh, thousands still dispossessed, and tensions hardly below the surface. Pakistan's act of sending Pathan invaders into Kashmir in October 1947, and PM Nehru's reference of the matter to the UN had complicated matters; Gandhi had been assassinated in January by a Hindu from Pune who felt that while Hindu grievances had gone unaddressed, the Mahatma had gone on a fast for release of Rs 55 crore from RBI's cash balances to Pakistan; the Nehru-Patel divide was growing (Patel was Deputy PM), with many within the Congress, including Nehru's friend PD Tandon and JB Kripalani, thinking the PM was disregarding the fears of Hindu refugees while "rallying minorities"; Nehru was uneasy with what he saw as increasing Hindu sentiment within his own party; and the Muslims who had refused to go to Pakistan hoped for assurances on safety as they feared a reaction from Hindus upset with brutalities inflicted on their co-religionists who had fled Lahore and Karachi.
The Muslim Assembly members had argued a common code would be "tyrannical," violate their basic right to practise religion (Article 19), infringe on immutable personal laws which had for ages been an integral part of their religion, "trample upon" minority rights and hurt communal harmony. They had asked why free India wanted to change these laws when the British hadn't and cited the opposition of some Hindu groups to the provision, saying it was not they alone who had a problem with it.
Three Assembly members ­ Alladi Krishnaswami Ayyar from Madras and K M Munshi and B R Ambedkar from Bombay (Ambedkar, drafting committee head, was now also law minister) ­ responded to each of these points in detail.
Munshi said that Article 19 allowed the state to enact social reform laws while protecting the freedom to practise religion, so it was not being contravened. A common code certainly wasn't tyrannical to minorities, in his view; civil laws framed in "advanced Muslim countries" like Turkey and Egypt had not allowed minorities to retain their laws, and in Europe, all groups had to submit to secular laws.
In India, he added, the Khojas and Kutchi Memons had followed Hindu customs for generations but were brought within the ambit of the Shariat Act "unwillingly" by the Central legislature in 1937."Where were the rights of minority then?" he asked.
His point, however, was larger: to unify the country , personal law had to be divorced from religion. Urging his "Muslim friends" to forego an "isolationist outlook," Munshi said, "Religion must be restricted to spheres which legitimately appertain to religion, and the rest of life must be regulated, unified and modified in a such a manner that we may evolve, as early as possible, a strong and consolidated nation." He questioned the link between faith and community laws. Most provisions of the Hindu code draft (of 1946) ran counter to Manu and Yagnyavalkya's injunctions as social relations and inheritance were matters for secular legislation. Hindu laws discriminated against women and would not allow for elevating their position, so you could never give them equality though it was a fundamental right, he noted.
The idea that personal law was part of religion was "fostered" and "perpetuated" by the British and British courts, Munshi said, explaining why the British had retained community rules. "We must, therefore, outgrow it," he stressed.Ayyar said cries of "religion in danger" and of lack of amity if a code were made binding were meaningless because the clause was "aimed at amity" and welding India into one nation. "Is this country always to be kept as a series of competing communities?" he asked.Those backing Hindu law reform had also taken a leaf from the Muslims and from other legal systems, he said, and asked why "our Muslim friends" needed to have greater faith in the British than in a democracy that respected all religious beliefs. No Parliament or legislature would try to interfere with religious tenets, he felt, because, "after all, the only community willing to adapt itself to changing times seems to be the majority community in the country ."
Ambedkar, who spoke next, said he was "surprised" a Muslim member had asked if a uniform code was possible and desirable in a vast country. "We have in this country a uniform code of laws covering almost every aspect of human relationship," he pointed out. "We have a uniform and complete criminal code... We have the law of transfer of property...I can cite innumerable enactments which would prove that this country has practically a civil code, uniform in its content and applicable to the whole of the country."
Refuting the claim that Muslim personal law was immutable, he said until 1935 Muslims in the North-West Fron tier Province were not subject to Shariat, and those in the United Provinces, Central Provinces and Bombay were "governed by Hindu law in the matter of succession."
In North Malabar, he said, they had even followed the matriarchal Marumakkathayam law.
At the same time, Ambedkar wanted to give the Muslims an assurance. There was nothing in the draft Article 35 to support the view that once it was framed, the state would enforce a uniform code upon all citizens merely because they were citizens. It was perfectly possible, he said, that a future Parliament may make a provision that, as a beginning, the code would apply only to those who declared they were prepared to be bound by it. So initially the code "may be purely voluntary ," he said.
Ambedkar was making a compromise in view of the national situation. His position became clearer a few days later, when he said he didn't understand "why religion should be given this vast, expansive jurisdiction so as to cover the whole of life and to prevent the legislature from encroaching upon that field."
He said "we must all remember ­ including members of the Muslim community who have spoken on this subject, though one can appreciate their feelings very well that sovereignty is always limited... because (it) must reconcile itself to sentiments of different communities."
Yet he, Munshi and Ayyar were relieved when, immediately after the heated debate, amendments to Article 35 moved by five Muslim members were negative by the Assembly and a uniform code incorporated into the Constitution. And there it stays today as a Directive Principle, neither enforceable by law nor voluntary , a letter that is yet to be brought to life.Next|Laws for women, not against Muslims
Times of India
-----
True secularism demands a Uniform Civil Code
Ratan Sharda | Updated: Sep 11, 2017
NEW DELHI: Laws should be equal for all citizens irrespective of religion, caste or gender.
The courts of India have been prodding successive governments to bring in a Uniform Civil Code (UCC) as enshrined in Article 44 of Indian Constitution. They raised this issue in 1985, 1995, 2015 and now again, while overturning triple talaq as bad in law. The triple talaq issue is definitely not about religion, it was about gender justice.
Many people wonder, what could have stopped Pandit Nehru from pushing the Uniform Civil Code through when he had massive support from within and outside the party in the 1950s?
Why did he stop at the Hindu Code Bill? The simple answer is lack of political courage. This was the reason why UCC became a part of the Constitution's Directive Principles, stating, "The State shall endeavour to secure for citizens a uniform civil code throughout the territory of India." It was a grave mistake not to do what was needed to reinforce the idea of an egalitarian democratic society. The golden hour was lost.
Champions of minority rights claim the UCC is an RSS conspiracy. They are blind to the fact that none of the members of the Constituent Assembly were RSS members. The courts that gave rulings against shariah or asked for a UCC were not controlled by the RSS. Let us not colour this debate by bringing in the RSS or Hindutva.
Contrary to public perception, the RSS was not in favour of a Uniform Civil Code or Hindu Code Bill being implemented by force. In an inter view to K R Malkani in August 1972, Guruji Golwalkar, who moulded RSS thought for 33 years, said, "If our objections to Muslim practices are on humanitarian grounds, then that becomes a valid objection.A reformist's attitude in this matter is alright. But a mechanical leveller's attitude would not be correct. Let the Muslims evolve their old laws." Thus, the UCC is a highly desirable goal for the RSS, but the urge for reforms should ideal ly come from various communities.
From the authority of learned Muslim scholars I can say that the Shariah is not a divine god-given law.
The codification of Shariah, based on the Quran and Hadis (which were recorded over 2030 decades after the Prophet's death) began at the time of Khalifa, nearly 30 years after death of Prophet Mohammed and was a work in progress for nearly 100 years. 90 percent of these laws have not come from Quran and they reflect the traditions of Arabic societies of those times. It is not uniform across all sects of Mus lims. It has been modified as per the local culture in different countries. Most Islamic countries have outlawed many clauses in the Shariah.
The way Muslim women have come out strongly against malpractices in the name of Shariah tells us that the urge for reforms is unstoppable now. The intransigence of orthodox clergy and their raising the bogey of religious freedom to force their patriarchal attitude built on a 1400-year-old Arabian tribal culture through unrepresentative bodies like AIMPLB tells us that the legislative path is the best way to bring in a UCC.
In a TV debate on NDTV in October 2015, where I was also on the panel, Father Shankar of Delhi Diocese said that though Catholics have their laws, they are clear that they must obey the laws of the land where they reside. He said that Christians would have no problem with the Uniform Civil Code. He rightly asked, where is this code? It has not been defined anywhere.
There is no case for the Hindu Code Bill being imposed as UCC. It may also have many infirmities. If a UCC means Hindus losing benefits like Hindu Undivided Family or extending this benefit to other communities, let it be. If it means equal inheritance rights for women, contrary to different rules in different communities, it would be great.If a UCC means easy divorce and an equal right for women to divorce, it is welcome.If a UCC means the easy adoption of children for families of any religion, it would be a great service to social well-being.
Simply put, the need for a Uniform Civil Code flows from the very definition of secularism. Secularism by Western definition is based on the sepa ration of church (religion) and state (government). If we go by the secular Indian ethos, respect for individual faiths is inherent in the Indian psyche.But it should not mean abandoning `Dharma' in its pristine definition. Dharma holds society together through the ethical rule of law, not religion. It means justice for all.Only a society based on this Indian concept of `Dharma' or `Dhamma' can hold together and be just to its people.
Laws should be equal for all citizens irrespective of religion, caste or gender. In a secular democratic country , no religious law can be above the Constitution. If we can accept uniform criminal laws, then we should be ready to accept uniform civil laws. They don't impinge upon one's religion.
The miasma of civil laws has made lives very painful for people seeking justice. There is an urgent need to demystify civil laws for common people to seek easy and fast justice, just as there is a need to simplify outdated criminal laws.What is the use of laws if they mete out justice to a poor Shah Bano in three decades, or release an innocent person after 10-20 years in jail as undertrial? What is the use of laws that require a costly advocate to decipher them for a poor litigant and allow the cases to be dragged on for years, which break the willpower of the litigant rather than give justice?
Let us discuss and work towards a Uniform Civil Code, shorn of religious rhetoric, based on universal principles of equality before law.
(Article by invitation: The writer is an RSS thinker and author of the book 'Secrets of RSS')
timesofindia.indiatimes.com/india/true-secularism-demands-a-uniform-civil-code/articleshow/60455808.cms
URL: https://www.newageislam.com/islam-politics/one-nation-one-code-four/d/112490