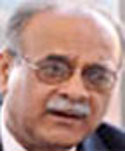 By Najam Sethi
27 Dec 2013
According to conventional political wisdom, a newly elected government should take all the hard and unpopular decisions in the first few months of assuming office so that these decisions can begin to yield fruit within a couple of years and can then be relished before the next elections. This reasoning is based on evidence that people have short memories and voting is based exclusively on the feel-good-or-bad factor at the time of elections.
By this yardstick, the Zardari regime failed abysmally – it shied away from taking tough decisions after coming to power; offered only increasing hardship by way of economic performance, national security and political stability; and was duly swept out earlier this year. Nawaz Sharif is faring better in his first 200 days in office.
Mr Sharif has set the right priorities. Topmost on his agenda is to try and rebuild stable and mutually beneficial relations with India, Afghanistan and America so that Pakistan's economy and civil society can benefit from the peace dividends of aid, trade and commerce in the future instead of being buffeted by proxy wars and cross-border terrorism as in the past. A number of significant steps have been taken: the DGMOs of India and Pakistan have met after 14 years to try and stabilize the Line of Control and minimize the chances of knee-jerk conflict as witnessed recently; there is a new commitment to help stabilize and unite Afghanistan without any vested-interest interference or manipulation from Pakistan as in the past; and Mr Sharif is working rationally to put the US-Pak relationship on the rails again. His meetings with Minister Prime Manmohan Singh, President Hamid Karzai and President Barack Obama have broken the ice.
The second task is to try and fix the economy. Mr Sharif has done well to focus on the energy issue first because without energy the engines of the economy won't work. In the short term, the circular debt was plugged by printing money; in the medium and long term, efforts are afoot to tap electricity from India, gas from Turkmenistan and Iran, solar from Europe, and tender for LNG supplies. He has also earmarked over two dozen state-owned corporations for privatization; auction of 3G licensing is on the anvil; preferential tariff concessions have been obtained from the EU for textiles; the IMF has come on board with a $7+ billion balance of payments support; the US has released $1.5 billion in Coalition Support Fund payments and several hundred million dollars in Kerry-Lugar assistance; China is weighing in with investments in transport, mining, exploration and nuclear energy; and Turkey is lending a hand in developing municipal services.
Mr Sharif has also speeded up homework on law and order and terrorism. The anti-terrorist law is being tightened by the proposed promulgation of the Protection of Pakistan Bill; a counter-terrorism force is being set up; the Rangers are cleaning up Karachi; the Balochistan government is being encouraged to engage the insurgent-separatists in reconciliation talks; and the military has got a free hand to use force in quelling local terrorism in Waziristan.
But all these initiatives will fall by the wayside if some strategic roadblocks are not swiftly removed. The first is tax collection. The government's attempt to bring tax thieves to book is feeble and misplaced. One cannot expect an unreformed, corrupt, incompetent and inefficient tax administration to stop greedy and dishonest people from evading tax. It is looking especially shameful in view of the wealth and tax details of parliamentarians published in the media. One cannot expect lay folk to cough up unless they see their leaders going first. The fact that Mr Sharif is not prepared to impose GST on retail and services rankles the most. Without it, and the documentation that goes with it, the tax-GDP institutional ratio is never going to improve significantly.
The second is the impasse with the US over ISAF supply routes. Letting opposition leader Imran Khan set the agenda for the government's foreign and anti-terrorism policy after the elections is a big mistake. It could provoke a backlash on both fronts that could jeopardize the government's diplomatic and security interests. ISAF supplies must be resumed and the Tehrik-e-Taliban Pakistan must be degraded forcefully.
Mr Sharif's bid to woo investment via tax breaks to certain businesses is not likely to amount to much in the current environment; like his earlier "yellow" schemes, the Rs 100 billion youth loan scheme is poised to fail because of the difficulty of obtaining reliable guarantors; the replacement of the Counter-Terrorism Department of the provincial police with a federal Counter-Terrorism Force run by retired military officers is misplaced concreteness since all effective intelligence work is done by the police everywhere. Finally, a bad showing in the next local body elections in Punjab – by credible allegations of electoral fraud or by significantly losing ground to the Pakistan Tehrik-e-Insaf – will throw a spanner in the works.
Nawaz Sharif's team needs to get a grip over strategy and get tough on tactics.
Saource: http://www.thefridaytimes.com/tft/200-days/#sthash.ImcCPfbU.dpuf
URL: http://www.newageislam.com/islam-and-politics/najam-sethi/pakistan--200-days-of-nawaz-sharif-vs-asif-ali-zardari/d/35039