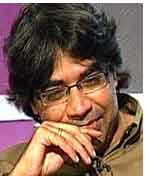 By Nadeem F. Paracha
2013/03/14
'Did you hear?' An office colleague came rushing towards me on the day Karachi began to shut down due to aerial firing in many areas of this Godforsaken city.
'Hear what?' I asked.
'Farooq Sattar has been shot!' said the colleague, going almost pale in the face.
He was taken aback when I let out a cynical chuckle: 'Where?'
'I don't know. But he was shot a few minutes ago,' he explained, still going pale and at the same time intrigued by my cynical posture.
'I mean, where was he shot – on Facebook or Twitter?' I asked.
It was on Twitter that the news of the MQM leader being shot was proudly broken.
I knew it was nonsense the moment I heard Sattar's name. Because this was at least the third time he had been 'shot' in the last five years and each time the 'news' left shops and offices closing and people scampering home.
Yes, there was commotion and some 'unknown miscreants' resorted to aerial firing in many areas and forced many shops in the city to close down, but louder still was the nonsense that arrived in the shape of tweets on Twitter.
By mid-afternoon (on Twitter), Sattar had gone on from succumbing to gunshot wounds to simply dying from a heart attack!
It was amazing to note that men and women tweeting this simply refused to bother switching on the local news channels that were saying absolutely nothing of the sort.
Then, very conveniently, Sattar's name vanished from the animated 'OMG' tweets about the 'deteriorating situation' and replaced with that of MQM chief, Altaf Hussain.
Now it was him who had died of a heart attack. No, said another tweet. He hadn't died but was arrested by the Scotland Yard for the murder of Imran Farooq.
I kept checking the TV channels and all they were reporting were shops being closed due to aerial firing.
Things finally settled down when some MQM leaders appeared on TV and announced that they would be holding an indefinite strike in Karachi against the killing of Shias in the Abbas Town bombing.
There was Sattar talking to some media men and I saw no bullet holes on his body and nor was he clutching his chest, gasping for air.
As the city settled back to normality when the MQM finally took back its decision to strike, it seems many on Twitter were somewhat disappointed.
What an anti-climax to what seemed to be such an exciting day to Tweet and Facebook.
Not quite. Because some time near midnight a little fire broke out in the kitchen of one of Karachi's most popular restaurants, 'Bar B. Q. Tonight.'
Dozens of such fires erupt in kitchens of restaurants and are almost immediately taken care of. The same happened at Bar B. Q. Tonight as well.
But since the restaurant is in close proximity to President Zardari's personal resident, the Bilawal House, in the Clifton area of Karachi, TV channels began to run a ticker about a fire in the restaurant.
True to our TV channels more-than-sensational form, the ticker began with the words, 'Aag lag gai!' (Fire erupts!).
One immediately followed the rest of the ticker that went on to say a fire had erupted at a famous restaurant near Bilawal House and that the customers were being escorted out.
The ticker ran for about 10 minutes but no video report of the incident appeared.
Since I am a regular take-out customer of the mentioned eatery, I decided to call and find out.
But before I could even start dialling the restaurant's number on my cell phone, the ticker changed. It now said 'Aag bujj gai!' (Fire extinguished!).
That was it.
But I did call. The guy on the other end was as calm and courteous as ever: 'Hello, Bar. B. Q. Tonight, how may I help you?'
He was all set to take my order when I asked him about the fire. He didn't know.
I told him who I was and he recognised me as one of their regular customers: 'Jee, jee Paracha Sahib, konsi aag?' (Yes, Mr. Paracha, but what fire?').
I told him about the TV ticker and he asked me to hold on. A minute later he returned to the phone to tell me that a small fire did erupt in one of the kitchens of the restaurant and a few people were moved away from that area.
The fire was extinguished within 10 minutes. He was surprised that the incident had become news: 'These sorts of fires are common in the kitchens of restaurants all over the world!' He laughed. 'So, what would you like to order tonight?'
Of course, on Twitter the 'fire incident' had taken a life of its own.
'OMG! BBQ Tonight set on fire!' screamed one tweet.
Retweet, retweet, re-tweet. OMG! OMG! OMG!
'Was Bilawal House the real target?' asked one.
'No,' another clarified. 'BBQ Tonight is owned by a PML-N guy. The fire was set off by MQM.'
And all this was going on even an hour after the supposedly devastating fire had been extinguished.
Then, one of the persons who had tweeted that Bar B. Q. Tonight had been set on fire suddenly changed track and retweeted this: 'Just got call from friend. She was chased by guys in black car who tried to kidnap her. She was breathing heavily.'
Huh?
_______
Monger land
In one of the chapters in Aitzaz Ahsan's The Indus Saga — perhaps the finest book written on the history of the region we call Pakistan — he makes an interesting point about our habit of blaming foreign/ hidden forces and of rumour-mongering.
Ahsan marks the starting point of this custom to be the period between the decline of the Mughal Empire and the arrival of the British colonialists.
It is during this time that Ahsan claims people of this region developed the habit of accusing malicious outsiders working with the 'corrupt rulers in Delhi' for all the economic and political misery that the people faced and of taking and making rumours to substantiate such theories.
Well, today it seems this habit is not only alive, but thriving; perhaps a lot more fervently than ever, which is kind of strange.
It is strange because in the last decade or so the media has been almost entirely free in Pakistan and along with the internet, provides enough opportunities for one to investigate the validity of conspiracy theories and rumours.
But, of course, where's the fun in doing this, no? Especially when one can actually reflect one's political and social wishes and desires by generating and/or highlighting rumours and then get an adrenaline rush after watching the rumour turn into 'news.'
The fact remains that Pakistan continues to be a fertile ground for the spreading of some of the most absurd rumours.
And I think Aitzaz is right. It's been this way in this region for ages.
_____
All this reminds me of something that my late father once told me.
He was a Masters student of Psychology at the Karachi University in the early 1960s.
In 1962 when protests had erupted on the campus against some of the Ayub Khan regime's educational policies, my father's class decided to conduct an experiment in rumour-mongering and hearsay.
A group of students belonging to the university's Psychology Department decided to visit the campus canteen and announce that one of their colleagues, Muneeb Arif, had passed away.
Muneeb was an unassuming and little-known student in my father's class and since he was the one who was absent that day, his name was used in the experiment.
The Psychology group sat having tea at the canteen and discussing Muneeb's sad demise. But they were loud enough to attract the attention of some students at a nearby table.
'Who passed away?' one of the students asked.
'Muneeb,' a Psychology student responded, with a sad face.
'Was he in your class?' the other students enquired.
'Yes. He passed away last night.'
'What happened? How did he die?'
The Psychology group did not answer the last question. They just got up and left.
After an hour they all went back to the canteen. They approached the canteen owner: 'Did you hear about Muneeb?'
The owner shook his head: 'Yes. Poor boy. Did the police catch the culprit?'
'Culprit?' My father probed.
'Yes,' said the canteen owner. 'I heard he was hit by a bus.'
'Heard from whom?' my father enquired.
'Some students were talking about it. They said he was hit by a bus while crossing Bandar Road (now M A. Jinnah Road).'
After another hour the Psychology group went to the Arts Lobby. Some of them talked to the students whom they did not know.
'Hello. I heard a student was killed by a bus?' One of them asked an Arts student.
'Yes. Muneeb,' the student replied.
'What happened?'
'He was picked up by the police, tortured and thrown on Bandar Road. A bus ran over him when he tried to get up,' the student told him.
'Was Muneeb a political activist?'
'I'm sure he was,' the student replied. 'Otherwise why would the police pick him up and torture him?'
According to my father, who in those days was heading the left-wing National Students Federation (NSF) with Meraj Muhammad Khan at the University, Muneeb had absolutely nothing to do with politics and was completely apolitical.
Another student at the Arts Lobby told the group that Muneeb wasn't picked up by the police, but by NSF hooligans.
'He was a Jamaat worker,' he explained. Jamaat being Islami Jamiat Taleba (IJT), the student-wing of the fundamentalist Jamat-i-Islami and an opponent of the NSF at the university.
'He was picked up by some NSF guys and killed! His body was dumped on Bandar Road,' he informed.
The group then convened back at the canteen to exchange their individual notes on the experiment. In the canteen they were approached by the owner.
'You NSF guys killed Muneeb?' He asked, pointing at my father and two other members of the group who were associated with the student organisation.
'Who told you that?' My father asked. But before he could answer, Muneeb entered the canteen with a shocked look on his face.
He at once joined his department colleagues at the table.
'Muneeb?' one of the members of the group exclaimed.
'You won't believe what I just saw,' said Muneeb.
'But we thought you didn't come to the university today.' said my father.
'I had a bit of fever. So I got late,' Muneeb explained. 'But wait till you hear this: At the gate I saw four guys carrying hockey sticks and looking very angry. They were on two bikes. One of them almost banged into my bike. He said, 'move'! I asked him, 'bhai, jaldi kya hai?' (Brother, why are you in such a hurry?).
He said one of their party members from the Psychology Department had been killed by NSF guys. I told him I was from that department and who was it that was killed? And do you know what they said?'
'What?' One of my father's friends giggled.
'They said the guy who got killed, his name was Muneeb Arif!'
They all burst out laughing, leaving Muneeb totally perplexed. Then they told him about their experiment.
He wasn't amused.
'Did you tell them that you were Muneeb Arif?' My father asked.
'Yes, I did,' said Muneeb. 'But they just refused to listen. And where on earth were they going?'
By the next day the whole saga had become a joke but not for Muneeb. He told my father that in the evening of the day the experiment was conducted, some men and women from the Chemistry and History departments landed at the gate of his home.
'I opened the door and there were these boys and girls wanting to see my father,' Muneeb told him.
'I asked them what for, and they said they wanted to offer their condolences for the death of his son. I told him I was his son but they said they were talking about my father's other son. The one who was killed by a bus …'
'… On Bunder Road,' my father tried to complete the story.
'No,' said Muneeb. 'On Burns Road.'
______
Muneeb Arif, after passing his CSS Exams in 1965, became a bureaucrat in the Income Tax Department and remained there till his retirement in the early 1990s. He passed away in 2002.
______
Nadeem F. Paracha is a cultural critic and senior columnist for Dawn Newspaper and Dawn.com
Source: http://dawn.com/2013/03/14/cry-wolf-and-let-slip-the-birds-of-twitter/
URL: http://newageislam.com/islam-and-politics/nadeem-f-paracha/cry-wolf-and-let-slip-the-birds-of-twitter/d/10774