By Mumtaz Aalam Rizvi, Inquilab Bureau
(Translation: New Age Islam Edit Desk)
New Delhi 25 May 2016

Photo of the headline of the concerned news published in Inquilab, New Delhi
----------
For decades, Millat-e-Islamia (Muslim community) has been raising its voice against the communal tendencies of RSS, VHP and Bajrang Dal. But now, for the first time, even Hindu organisations have raised alarm on their activities and have demanded strictest actions against such organisations which are disturbing the peaceful environment of the country.
Vishwa Hindu Parishad (VHP) and Bajrang Dal have organised a camp in Ayodhya (the city of the demolished Babri Masjid) where people are being trained in using swords, rifles and Lathis (long, heavy iron-bound bamboo sticks used as weapons, especially by police in South Asia). It has also been announced that after Ayodhya such deadly camps will be organised at Sultanpur, Gorakhpur, Pilibhit and Fatahpur etc. It has created an atmosphere of tension in not only Uttar Pradesh but throughout the nation.
Shankaracharya Adhoksha Nand Maharaj says, whenever BJP has come in power in the Centre, such communal organisations get active and raise their heads. He says, "Such communal forces know that no action will be taken against them hence they get involved in spreading communal tension".
He further says: "It looks like it is their endeavour to transform India into Syria and Libya. In the way some Islamic terrorist organisations have created an atmosphere of terror in the Muslim countries, Indian communal organisations, like VHP, RSS and Bajrang Dal are also trying to destroy the social fabric of India". He asserted, "Central and State governments must be in the knowledge of what these communal organisations are doing. Hence the harshest steps should be taken against them".
Shankaracharya is of the opinion that if parties like Bajrang Dal are not reined in they will ruin the social fabric of the country and all the development work will come to a standstill".
Well known social worker Swami Agnivesh says, "I do not know who are being trained and who is training them, but if it is so the Central government must take immediate action as it is very dangerous."
Swami Chakrpani Maharaj, President of Akhil Bhartiya Hindu Mahasabha wondered while talking to Inquilab Bureau, "the question is why such things start raising their heads just as the elections are round the corner".
Chakrpani Maharaj said, Organisations like RSS, VHP and Bajrang Dal create tension and the atmosphere becomes communally charged so that vote polarisation is possible".
Swami Ji wondered, "What kind of training is being given and against whom? If VHP and Bajrang Dal want to construct Ram Mandir, they have their government at the centre; they should promulgate law, set-up fast courts in this regard, but no, these things will not be done because they just have to do politics". He said if a temple is constructed by killing the sensitivities of a particular community, it will not be tolerated. Swami Chakrpani Maharaj said: "The first thing needed in the society is peace. People want to live in a peaceful environment but organisations like Bajrang Dal always communalise the society and spread tension and the governments remain mute spectators. All those who are responsible for tension in the society are the enemies of the humanity and peace". He further said, "It is necessary to take harsh actions against them to take the country on the path of development.
----
Will India Tolerate if Muslims also are Trained in Using Deadly Weapons, Questions Uttam Sharma, Convenor Pragatisheel Morcha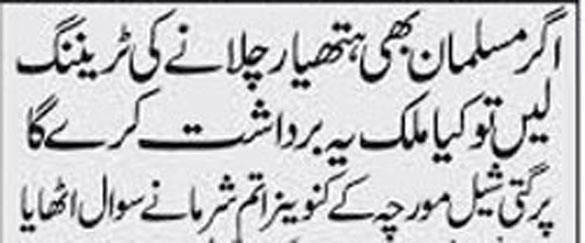 Photo of the headline of the concerned news published in Inquilab, New Delhi
---------
Varanasi (INN): Uttam Sharma, Convenor Pragatisheel Morcha has expressed his anguish and concern on the training camps organised and run by Bajrang Dal in Ayodhya to train people in using deadly weapons.
He said, "Such camps are unconstitutional and illegal and government should take immediate actions against such unsocial elements. In the guise of organising such training camps, communal hatred and tension is being sown. This is very much clear as the people who are shown as terrorists during the training are shown wearing Muslim caps and they are also shown having beards". He says, "Such activities of the Bajrang Dal and other such organisations point to what their original objective is.
Talking on phone with the Inquilab bureau, Uttam Sharma raised a question that, "If Muslims also organise such camps will the country tolerate it"? He requested the government to take strict action against such organisations and at the earliest.
URL: https://www.newageislam.com/islam-and-politics/mumtaz-aalam-rizvi,-tr-new-age-islam/conspiracy-of-turning-india-into-syria-and-libya?-hindu-religious-leaders-denounce-bajrang-dal's-weapons-training-camps,-call-for-strict-action/d/107420