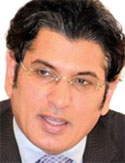 By Mohammed Fahad Al-Harthi
29 July 2014
Many Arab countries have sickly, anemic political systems that are sorely in need of rehabilitation if not outright regeneration.
The lackluster and often non-existent development on this front has resulted in revolutions in some countries and stifling crises in others.
Leaders in these countries are simply too deluded to recognize the realities on the ground.
This has created neo-fascist, totalitarian states that are ultimately doomed to fail, as history has shown without exception throughout the centuries.
These leaders embody the megalomaniac tendencies of those like Louis XIV who once declared: "I am the state."
The current developments in Libya, Iraq, Syria and Yemen reveal that governments there want to form inextricable links between themselves and the state and prolong their time in power.
Life is all about organic growth. By holding back this natural evolutionary process in the political sphere, leaders create stunted systems marked by unemployment and social injustice.
By prioritizing security above all else, they condemn generations to life without hopes and dreams. This includes irreparable damage to the middle classes running small and medium businesses, which play an important role in economic development and modernization.
In addition, leaders in the Arab world have failed to grasp the implications of the growing youth demographic in their countries. The aspirations of these young people are fueling the move for change. Unfortunately, the gap between the leaders and this generation is widening, pushing countries into the danger zone.
It is also important to note the lexicon of the struggles in this part of the planet over the years. Words such as "reform" coined by Arab intellectuals in the late nineteenth century eventually gave way to "revolution" and "liberation" in the periods when Arabs sought independence from the colonial powers. Now "reform" is back in vogue, in the aftermath of the failure of post-independence governments.
Some regimes are offering cosmetic changes to their people, under a mask of modernity and progress, in a bid to dampen popular anger and frustration. Other governments are equally deceptive by raising the specter of the Israeli bogeyman to provide cover for their lack of freedom, justice, economic development and political participation. The cynical Syrian regime has done this but has not fired one bullet in the direction of Israel. In similar fashion, the late Iraqi leader Saddam Hussein threatened to burn half of Israel, but instead attacked Kuwait.
Arab leaders are sadly mistaken if they believe that they can fool their people all the time. As rapid technological developments expand social media, there is increasingly little place to hide. Arabs have been pushed out of their traditional modes of thinking and become much more politically aware.
The revolutions in Tunisia and Egypt have proven the effectiveness of the Internet in mobilizing and educating people, rejecting the stultifying old ways and views of certain journalists and officials.
The road to a bright future is not a difficult one. It starts with reforming political systems with an emphasis on developing educated, independently minded Arabs who can contribute to their nations' economic growth. It is a matter of adapting to changing circumstances and interests, much like the world powers are doing right now. The foundation of this success lies within.
Mohammed Fahad al-Harthi is the editor-in-chief of Sayidaty and al-Jamila magazines. A prominent journalist who worked with Asharq al-Awsat in London and Arab News in KSA, al-Harthi later moved on to establish al-Eqtisadiah newspaper in KSA, in which he rose the position of Editorial Manager. He was appointed editor-in-chief for Arajol magazine in 1997. He won the Gulf Excellence award in 1992.
Source: http://english.alarabiya.net/en/views/2014/07/29/Reviving-the-Arab-world-s-anemic-political-systems.html
URL: http://www.newageislam.com/islam-and-politics/mohammed-fahad-al-harthi/reviving-the-arab-world's-anemic-political-systems/d/98347