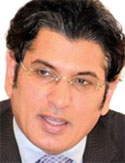 By Mohammed Fahad al-Harthi
16 October 2014
There appears to be a debate currently taking place on how those living in the Gulf States are viewed by their fellow Arab brothers and sisters in other countries in the region.
One cannot ignore the fact that there appears to be a significant number of Arabs who are not enamoured with us, and have even labelled us "Gulfies," which doesn't appear to be a term of endearment. This rift is probably the result of poor communication and a lack of interaction, on all sides.
This article is not trying to apportion blame. It is an attempt to shed light on this matter, gain some understanding, and possibly identify solutions that would benefit Arabs wherever they live.
Some Arabs appear to view their brethren in the Gulf States quite negatively despite the large numbers of them employed in the region, which has helped to boost struggling economies. There has even been the quite bizarre situation where there was less sympathy for Kuwait when it was invaded. Quite the opposite, there appeared to be warmer feelings toward the aggressor.
No one can deny the Gulf States' moral commitment toward fellow Arab nations, as revealed by statistics on economic assistance.
External Aid
Saudi Arabia leads the world in granting external aid to others, in relation to its gross domestic product (GDP). The Kingdom has not even heeded the United Nations' advice to not let aid exceed 0.7 percent of its GDP. This country has given out over SR283 billion, or over 4 percent of its GDP, from 1973 to 2000, mostly to Arab countries.
The Kingdom is not alone. The United Arab Emirates (UAE) was the world's leading donor country of official development assistance (ODA) in 2013 with the highest Official Development Assistance/Gross National Income ratio, after it was ranked 19th in 2012.
Gulf nations have not boasted about this aid because it is not culturally acceptable to do so, and not in the spirit it was given. However, they are now discussing how to keep track of this assistance because it has been channelled to areas where there is a great deal of corruption. This would simply follow international best practice. Other countries have stringent methods of transparency and accountability attached to their aid.
Apart from financial aid, the Gulf states have consistently played the role of mediator in various conflict zones over the decades, including those involving Egypt and Syria, Iraq and Syria, Libya and Egypt, Sudan and Egypt, Morocco and Algeria, and in internal Palestinian disputes.
Similarly, the UAE has consistently tried to help resolve disputes to ensure a stable region. History will always remember Sheikh Zayed bin Nahyan's role in helping to ease tension among Arabs. Like the UAE, the other Gulf States have been motivated by the principles of Arab loyalty, Islamic morality and the need for consensus.
The complex conditions in this region has seen the Gulf states playing a more important role in other Arab countries, resulting in certain aggrieved parties launching vicious attacks on them through the media.
This requires Gulf States to focus on constantly communicating what their intentions are, in an open and transparent manner. This includes ensuring proper oversight over the aid they have been distributing so generously.
It goes without saying that differences Arabs have now are temporary and a result of political positions. Governments come and go, but Arabs should keep in mind that they share the same history and language, and ultimately the same future.
Mohammed Fahad al-Harthi is the editor-in-chief of Sayidaty and al-Jamila magazines. A prominent journalist who worked with Asharq al-Awsat in London and Arab News in KSA, al-Harthi later moved on to establish al-Eqtisadiah newspaper in KSA, in which he rose the position of Editorial Manager. He was appointed editor-in-chief for Arajol magazine in 1997. He won the Gulf Excellence award in 1992.
Source: http://english.alarabiya.net/en/views/2014/10/16/Does-the-Arab-world-hate-the-Gulf-.html
URL: http://www.newageislam.com/islam-and-politics/mohammed-fahad-al-harthi/does-the-arab-world-hate-us,-the-gulfies?/d/99593