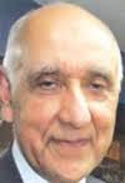 By Mohammed Azhar Ali Khan
23 August 2013
Canada's Muslims, hailing from around the world, are charting their own way of practising their religion in this welcoming country.
Take Eid prayers. When we came to Ottawa Muslims numbered just a few. We prayed in churches, schools or rented halls and met the entire community. Now the prayers are held all over the city and in several shifts.
Relatives from Pakistan visited us this year. They were delighted when we took them to Eid prayers. In many Muslim countries women do most of the cooking in Ramadan and for Eid but are excluded from the congregational prayers. Here women pray in the back, listen solemnly to the Khutba and then greet families and friends in an exuberant splash of brotherhood. Children play with friends and enjoy the bazaar that follows.
My late mother and now my mother-in-law eagerly participated, going in a wheel-chair.
During Ramadan, Taraweeh and all-night prayers are held regularly. Most mosques provide free food to Muslims, and others, at night. Families invite friends for Iftar. It's a time when the community truly comes together.
But the Canada Bangladesh Muslim Community (CBMC) is a pioneer in using Ramadan to instill pride in their children as Muslim, Canadian and of Bangladeshi origin. At their Iftar they invite Muslim community leaders, prominent Canadians such as the mayor and the Bangladeshi community to a function designed to inspire the youth.
The event is arranged at a Ukrainian church. People sit on chairs and simple Iftar is distributed in paper boxes. After the Maghrib prayers the children — from a few years old to teen-agers — are called to the stage and their achievements are lauded. Clad in colorful clothes they beam with pride as they are recognized. The topic this year for the essay contests was the Childhood of the Prophet Muhammad (peace be upon him) and Inventions of Muslim Scientists.
Different contests are arranged for children depending on their age. In addition, students who have excelled in school or college — in academics or extra-curricular activities — are honored. The function, anchored by Zamil Zaman, a federal public servant, has been going on for 19 years.
The entire community helps Mr. Zaman. This year the volunteers numbered 46, over the years more than 1,000 have done so. More than 500 students have participated so far, 26 have been recognized as students of the year, and 80 have tried the essay contests.
Trophies are given to the champions and first runners up but all participants get prizes.
This year the community honored elders too — Dr. Syed Sajjad Rahman for his leadership for ten years, Saima Zaman and Zill ur Rahman for arranging a blood donation clinic in cooperation with Bilal Masjid, Saquiba Rahman for coordinating the volunteers for the last two years and Amin Khan for his publicity and IT work for 19 years.
After the prizes are given everyone shares a simple meal followed by Taraweeh.
Another unique function I cherish each Ramadan is the Iftar arranged by the Abother Al Ghaffari mosque, the first Shia mosque in eastern Ontario. It is led by Imam Sheikh Mumtaz Ali, one of the most highly respected and admired scholars in Canada's capital.
Like most Ottawa mosques, the Abother Al Ghaffari mosque hosts Iftar and dinner every evening during Ramadan. But once a month they invite all Muslims and particularly their community leaders and imams to join them for prayers and food. Not every leader accepts — each mosque has its own functions.
But it's a gathering that I find inspiring and uplifting. It highlights the love, brotherhood, humility and the compassion of Islam that the Holy Qur'an and the sayings and examples of the Prophet (pbuh) teach us. We go to the Al Ghaffari mosque, greet and embrace each other, talk and pray. Somebody recites the Holy Quran and everyone listens.
At Maghrib the hosts offer their Sunni brothers dates, yogurt and soft drinks. The Shias end their fast a bit later. Then both offer Maghrib prayers together. Sometimes Imam Sheikh Mumtaz Ali leads the prayers and all of us follow him. More often, he asks a Sunni imam to lead the prayers and he, and all others, pray behind the guest.
This year he requested Imam Sheikh Samy Metwally of the Ottawa Muslim Association to lead the prayers. After Maghrib Shias pray Isha while Sunnis pray Sunnats and Nafils.
We then have dinner, sweets and tea or coffee together. Then we part because everyone wants to offer Taraweeh prayers where he normally does.
The Al Ghaffari Iftar exhilarates me as I see Sunni and Shia Imams, leaders and common Muslims unite as brothers joined by belief in Allah, His prophets, His angels, His books, His omnipotence, the Day of Judgment and in Muhammad (pbuh) as the last prophet. I pray that the hate-mongers elsewhere will understand and abide by the message of Islam and the example of the Prophet (pbuh) and live as models for everyone.
Mohammed Azhar Ali Khan is a retired Canadian journalist, civil servant and refugee judge.
Source; http://www.saudigazette.com.sa/index.cfm?method=home.regcon&contentid=20130823177825
URL: http://www.newageislam.com/islam-and-politics/mohammed-azhar-ali-khan/canadian-islam-charting-its-own-way/d/13162