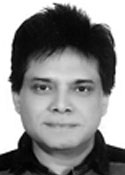 By Moazzam Husain
03 April, 2014
TO diagnose Saudi Arabia's fear instincts, one would have to travel back to 1979. That year saw the Iranian revolution, and Ayatollah Khomeini's subsequent talk of 'exporting' the revolution which has left Saudi Arabia with an exaggerated fear of Shia expansionism.
That same year, hundreds of armed extremists seized the Grand Mosque at Makkah. Shortly afterwards, two brigades, roughly 10,000 Pakistani troops, were deployed to Saudi Arabia under a bilateral joint military agreement aimed at protecting the Saudi monarchy.
One part of Saudi Arabia's anxiety stems from its perception of a growing Shia footprint which now includes the Bashar al Assad regime in Syria, the Hezbollah militia's strength in Lebanon, the Maliki government in Iraq, and the three years of Shia led pro-democracy protests in Bahrain.
Saudi Arabia is also suspicious of its own Shia population in the Eastern Province, where it fears the radical Hezbollah al-Hejaz is active.
At the same time, it is nervous about any domestic unrest that may be inspired by the Arab Spring uprisings. This nervousness was apparent when it announced a generous financial support package for its own population in 2011.
It is particularly wary of the mobilising capacity of the Muslim Brotherhood, whose political Islamism and grassroots activism are anathema to the House of Saud, whose grip on power comes from keeping religion under its own tight control and patronage.
And even as Egypt's military junta has ousted the Brotherhood's government (and received billions of dollars in Saudi largesse), it has stoked much Islamist resentment in the Arab world.
In the clearest sign of this fear, Saudi Arabia has recently declared the Brotherhood as a terrorist organisation and passed new anti-terror laws that Amnesty International regards as a tool to crush peaceful expression.
Saudi Arabia also faces a radical Islamist threat from Al Qaeda in the Arabian Peninsula which is now lodged in Yemen. It is entirely plausible that AQAP has been making every effort to penetrate Saudi Arabia's state institutions and security forces.
Saudi Arabia promoted the Syrian rebellion against Bashar al Assad. That proxy war has reached a stalemate. The rebellion has been hijacked by jihadist groups who have turned on each other.
The fighting is out of anybody's control and now Riyadh fears the fire may spread. Many Saudi fighters who had joined the rebellion could become the link between underground Saudi Islamist groups and jihadist groups fighting in Syria. In a royal decree announced last month, Saudi Arabia has banned its citizens from participating in the Syrian civil war.
A prolonged conflict in Syria could also spill over into Egypt where an Islamist movement against the military junta is in early stages. That would further complicate the Kingdom's threat matrix.
The recent quiet sidelining of Prince Bandar bin Sultan, head of Saudi intelligence (and the mastermind of the campaign to overthrow Assad), is the clearest sign of this reordering of threat priorities. He is no longer to be in charge of Saudi policy on Syria which will now be handled by Interior Minister Prince Mohamad bin Nayef. Nayef's skill set? Counterterrorism work against Al Qaeda.
Saudi Arabia may yearn for an early end to the war and the establishment of a transitional government in Syria, but is this objective realistic? Would Assad's ouster necessarily end this war? Are the Russians going to stand by and watch the demise of their only ally in the Arab world? How will they likely respond to anti-Assad rebels receiving shoulder-fired anti-tank and anti-aircraft (and possibly even heavier) weapons, that Pakistan has been showcasing at its IDEAS defence exhibitions?
How will Iran respond as these weapons arrive in Jordan for subsequent issuance to selected rebel groups? There may well be an end user agreement; but do we really intend to monitor and enforce it? Are our trainers and other mercenaries also expected to arrive in Syria? And as the situation further complicates, will our friends in the Gulf expect other quid pro quo?
Some reports indicate that the Saudis are considering a standby force ready to put down Islamist and Shia uprisings whenever and wherever they may appear in the Gulf.
Such questions need to be pondered by our policymakers before further entangling us in this crisis. The parliament is the forum for such debates and policy appraisals.
Our representatives may also want to revisit the reasons why recently the US had hesitated to arm the rebels. They may similarly want to evaluate other risks and repercussions of this engagement. It's time to open the windows and let in that fresh air.
Moazzam Husain studied Middle East politics at the American University in Cairo.
Source: https://www.dawn.com/news/1097337/playing-with-fire
URL: http://newageislam.com/islam-and-politics/moazzam-husain/playing-with-fire--diagnose-saudi-arabia's-fear-instincts/d/66397