By Maulana Syed Mohammed Ashraf Kichhouchhawi
June 30, 2013
"The terrorism burned Pakistan and the Islamic countries, we could not throw India in the same flames of Wahhabism and or Salafism," Maulana Syed Mohammed Ashraf Kichhouchhawi, General Secretary of All India Ulema and Mashaikh Board told the hundreds of scholars, Muslims intellectuals, Sufi clerics and common people in UP, India, today. He was speaking at the 8th general annual meeting of the Board.

Maulana Ashraf said that this is no doubt the prerogative of any independent and sovereign government to frame its foreign policy and business strategy. We appreciate that this century demands oil/energy security more strengthened to cope with the requirement of ever growing India. We, as patriotic citizens, have faith in the wisdom of the government but it is alarming to note that India is not only importing oil from Saudi Arabia but also importing an extremist Saudi/Wahhabi ideology which is totally against our ethos and very much detrimental to the national interests including internal security. To keep the Saudis in good humour and remain in their good books for all times to come, successive governments have embarked upon a dangerous path and committed a blunder. This is injurious to national security of India and global peace. Handing over management of Muslim affairs in the hands of Saudi/Wahhabi elements on behest of the Saudi/Wahhabi regime and making them an engine of propagation of Wahhabism will in no way serve the country or the community.
The general annual meeting in Khanqah Shaikh ul Alam Rudauli Sharif, Distt. Faizabad (UP) taken very serious note of the supremacy gained by Saudi/ Wahabi individuals and organizations on one hand, who are creating chaos in the society and the government of India is knowingly ignoring their presence and practices and Salafis/Ahle Hadith on other hand who are preparing a new generation of insurgents/mercenaries that would eventually work to destroy the national fabric in the days to come.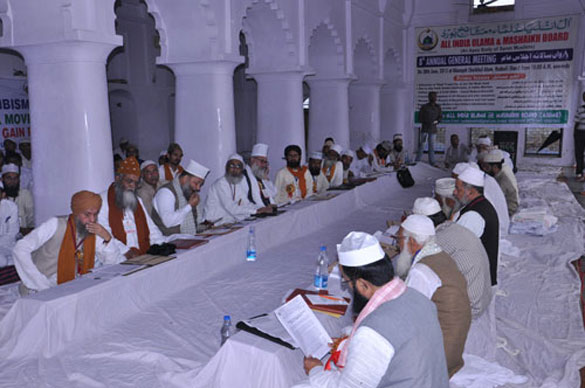 AIUMB Summit at Rudauli (Faizabad, Uttar Pradesh, India)
--------
Maulana Ashraf said this Salafis/Jamiat e Ahle Hadith group of Saudi/guided/dictated/funded Muslims have a history of being used as insurgents /mercenaries in the name of jihad and on behest of forces working to destabilize any society politically. They adopt different names in different nations. In Afghanistan/Pakistan they are Taliban, while in Egypt they are Akhwan ul Muslamoon and in some other places they carry some other locally recognized names. They are very carefully being organized by the Kingdom of Saudi Arabia. Not only are they getting Saudi funds through regular sources like F.C.R.A. but also Hawala Money that is filling their coffers. The real threat to the security of India by Salafis might not be immediate but the India after two decades will have to bear the brunt of this Salafism.
The General Secretary said that the K.S.A. not only funds Salafis but also provides them active guidance through radical Saudi clerics. There are more or less a dozen government appointed so called Imams in Haram Sharif and they take turns in visiting India to lend their religious leadership/ guidance to the Salafi /Wahhabis in India. Abdur Rahman Al Sudais is treated as a state guest and given public reception at places like Ram Lila Ground and thus under government patronage the Salafis are creating their space in Muslim society which never accepted Saudi leadership in religious or political life of the country. The more sensitive part of the story is that the Salafis are carrying out their agenda of killing non-salafis in other disturbed Muslim nations, fighting to dislodge governments in the Islamic countries which have refused to adopt Wahabi/Salafi ideology in their national lives and dismantling tombs of Sufi Muslims in all those Muslim nations where they have been able to manage political power.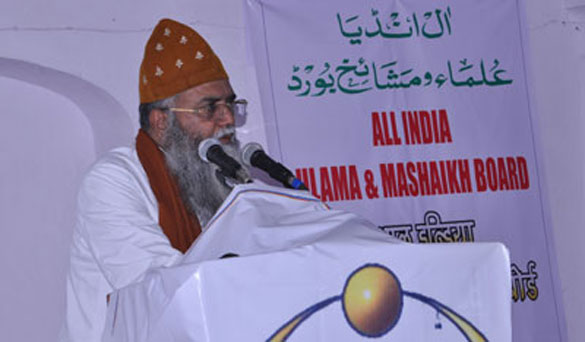 Syed Mehdi Miyan Chishti, Patron in Chief of the board and the Gaddi Nashin of Ajmer Dargah said that the pious land of India could not be polluted by the unholy hands of anti India elements. He called all likeminded people to gather against the anti national. Mehdi Miyan asked youth to join hands for the sake of Sufism.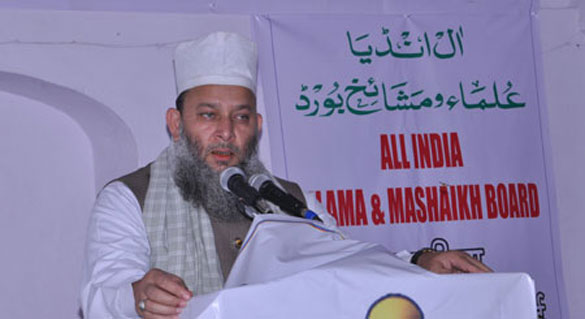 Syed Mohammed Mehmood Ashraf, National President of All India Ulema and Mashaikh Board demanded that The Salafi elements must be made accountable for their activities, government of India and State Governments must be made aware of the goings on so that national security is not compromised for energy security and steps are taken to ensure that India, the home of second largest Muslim population of the world, is not made to suffer due to negligence or underestimating the dangers hidden in the Salafism.
The AIUMB in presence of several hundreds of Sunni Sufi Muslims, Mashaikh, clerics and intellectuals took note of a number of alarming aspects of the control given to Saudi/Wahabi/Salafi institutions and individuals over Muslim issues and came to a conclusion that Wahabism /Salafism has gathered lot of influence in the government circles and is shrewd enough to hide its main agenda of radicalizing youth and propagating a culture of intolerance in the Indian society and hence the Indian Muslims are very much worried about the consequences of this process and the A.G.M. of AIUMB demands that the activities of Saudi/Wahabi/Salafi elements be curbed immediately.
Syed Babar Ashraf, National Secretary of the board said that wherever Saudi/Wahabi/Salafi ideology is successful in penetrating in the socio political arena it has created political chaos, even rebellion against the established governments working for the welfare of their people and destroyed peace in those nations. Pakistan, Afghanistan, Tunisia, Libya, Egypt, Mali, Syria and now Turkey are all socially disturbed and politically destabilized due to Saudi/Wahabi interference in their internal affairs. The government of India is wise enough to understand the pattern, behaviour and agenda of Saudi/Wahabi /Salafi elements who are being welcomed in political class, administrative circles and bureaucracy. Syed Babar recalled that AIUMB demands the rise of extremism in India be viewed through this angle that the government authorities are creating space for Saudi/Wahabi elements in policy making, program implementation and project co-ordination and this way marginalizing the Indian Muslims which constitutes more than 80% of the population of Indian Muslims who are by know totally alienated from the main stream.
Syed Shah Ammar Ahmed Ahmadi Nayyar Miyan, head of Uttar Pradesh Chief of the board said that Indian Sufi Muslims should get their proper share in the representation in the establishment. He demanded that the representation in the Uttar Pradesh government for the Sufi Muslims is yet to grant.
Chief Mufti of the Board Syed Waseem Ashraf said Indian must alert by the threat of Saudi promoted Wahabi/Salafi ideology. He said that we cannot take it for granted the internal security of the nation in the name of energy security. He said that India is having the second largest population in the world and we cannot be unaware about the Wahabi/Salafi threat.
The present members of the Board passed a resolution to send it to the Union Government adhere as many as 50 points about the internal security, threat to social fabric, terrorism, Waqf, Muslim representation, Wahabi/Salafi ideology and the working and many more.
Board discussed about the countering Wahabism. AIUMB needs to address the problem of countering Wahabism which is thriving over the petrodollars of Saudi Arabia with the active help of Union governments since late seventies, who have as a policy offered the Saudi guided/dictated/ funded Wahabism access to corridors of power, administrative circles and bureaucratic desks and now they are well equipped and also know how well they can manage their finances and also get monetary benefit from the union and state government through management of Non Governmental Organizations (NGOs).
AIUMB demands that sources of funding of these elements be identified and scrutinized to save the country from the real danger coming from Saudi regime so that board can be ready to face their assaults and also be able to anticipate what steps they might take to inflict more damage to the Sunni/Sufi Culture and to the composite culture of India.
URL: https://www.newageislam.com/islam-and-politics/maulana-syed-mohammed-ashraf-kichhouchhawi/save-india-from-wahabism/salafism,-which-burnt-pakistan-and-the-islamic-world,-demands-all-india-ulema-and-mashaikh-board/d/12364