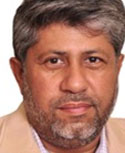 By Mansoor Jafar
8 July 2014
After an aborted foreign invasion by the then USSR and later, destructive attacks on Afghanistan by the United States, Kabul finally chanced upon what political pundits termed a "good day" in its history when a foreign qualified academician-turned-politician Ashraf Ghani made his way to the presidential palace with his Lebanese wife on Monday.
Ashraf Ghani carved out a respected international career during decades in exile, gaining a PhD in anthropology from Columbia University in the U.S. before joining the World Bank.
Ghani also made a bid for power in 2009 - giving up his U.S. citizenship in order to do so - but ended up only winning about three per cent of the vote. In 2014, he was one of two candidates to make it through to the presidential run-off.
An ethnic Pashtun from the influential Ahmadzai tribe, Ghani went on to become chancellor of Kabul University in 2005 and a senior adviser to President Hamid Karzai in 2011.
He has played an instrumental role in negotiations with the U.S. and NATO over how Afghanistan will be governed once foreign troops withdraw later this year.
Some argue that his time spent abroad means that he has not had sufficient time to build up a power base in Afghanistan, but the number of votes he won in April appears to contradict this.
Akin to Nouri al-Maliki
The second-attempt victory of Ashraf Ghani in the Afghan presidential election reminds me of the post-Saddam era in Iraq when a foreign qualified and self-exiled Nouri al-Maliki took the reins of power with pomp and circumstance.
Interesting commonality between the Afghan president-elect and Nouri al-Maliki has alarmed many political commentators.
Foreign qualified Nouri al-Maliki also returned to Iraq from self-exile after the U.S.-led invasion in 2003 that overthrew Saddam Hussein and his party Dawah soon emerged as a major political force - with Maliki among its vanguard.
He resisted pressure from Washington to request an extension of U.S. troop presence in the country, and presided over the formal end of the U.S. military presence in Iraq.
He helped draft Iraq's new constitution and was a member of a committee, set up by the U.S., tasked with purging Iraq of its Baathist legacy.
However, despite his alliance narrowly winning the 2014 parliamentary election, he has struggled to contain a new tide of violence which has seen several cities slip from Iraqi government control.
Sudden Emergence of ISIS
But the sudden emergence of the Islamic State of Iraq and Syria (ISIS) and its declaration of a "Caliphate" by erasing nationalist boundaries between Muslim countries were described as the most significant development in the Muslim resistance since 9/11.
After the declaration of the ISIS Caliphate, the Sunni resistance groups in Iraq and Syria – who displayed brutality in establishing control and were branded as worse than al-Qaeda – issued maps of the future Islamic state and demanded Muslims around the world to declare allegiance to them by eliminating the present day borders.
Within weeks, ISIS has carved out a large chunk of territory that has effectively erased the border between Iraq and Syria and laid the foundations of its Islamic-state.
Though the slogan of building Caliphates is nothing new in Middle East as it has kept figuring in the "Arab Spring" over the past years, the fall of many key cities of Iraq and Syria to an unknown group of fighters without much resistance from the government forces adds an element of genuine alarm. It is feared the group could take control of many more cities in the coming days.
No doubt, ISIS emerged from the ashes of the U.S. invasion and the aftermath of implementing blood-ridden conspiracies to divide Iraq on the basis of sects and ethnicity. Sometimes called the new version of al-Qaeda, as it is mostly comprised of native Arab fighters, the formation of ISIS is also a direct reaction of the systematic killings of Sunnis by the Nouri al-Maliki led puppet regime in northern Iraq. In being a U.S.-puppet, Maliki has badly failed to take the reins in his hands but continued to carry out U.S. and Iranian dictates in order to consolidate his grip on the affairs of state.
Many fingers have been pointing towards the U.S. and its allies, accusing them of secretly aiding ISIS which is evident from its use of U.S. weaponry and logistics, in an attempt to cover up its own failure in maintaining the security of Iraq and pass over the blame to ISIS and remnants of al-Qaeda.
There is a consensus on the fact that the militant groups like al-Qaeda and ISIS are a natural product of the U.S.' dubious maneuvers in the Muslim world during times of peace and war, and its disastrous failure to implement its own plans for the invaded territories. The U.S. hunger for enforcing democracy in Muslim world, even at the cost killing millions of innocent civilians, and to divide the conquered states on ethnic and sectarian lines to achieve that aim, seems to have outgrown common sense and reason.
Misadventures and Future Concerns
The misadventures of Nouri al-Maliki pose a strange but likely analogy regarding the Afghan president-elect, Ashraf Ghani. Both are U.S.-influenced, sort of new comers in their ravaged societies and have American agenda dictates to carry out within the parameters of the war on terror.
One wonders what would happen if Ashraf Ghani met the same fate following U.S. withdrawal as Nouri al-Maliki is facing right now. What if the U.S.-trained army of Afghanistan would flee from the advancing Taliban in the near future, like the Iraqi Army has done against ISIS despite Washington boasting about imparting them solid training and supplying them with sophisticated arms.
There is another likely analogy that might come our way. Abu Bakar al-Baghdadi has been declared as the Khalifah, or leader, of the Islamic State (IS). (The abbreviation of ISIS has now been further shortened to IS by the group).
There is a strong likelihood that another Islamic Caliph led by Mulla Omer would emerge soon after defeating the U.S.-trained Afghan army. That might lead to a situation where both the Islamic states might find themselves against each other in a struggle to decide who should be the Caliph, since there can only be one.
The question of the boundaries of the Islamic state may not be a big problem but both the Islamic states might have to fight a war to find the solution to the issue of who should be the Caliph between Abu Bakar al-Baghdadi and Mulla Omer. Is Afghan President-Elect Afshaf Ghani geared up to respond this? Mansoor Jafar is Editor of Al Arabiya Urdu based in Islamabad.
Source: http://english.alarabiya.net/en/views/news/world/2014/07/08/In-Afghanistan-danger-of-another-Caliph-looms-large-.html
URL: http://www.newageislam.com/islam-and-politics/mansoor-jafar/in-afghanistan,-danger-of-another-'caliph'-looms-large/d/97993