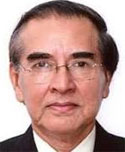 By Mahfuz Anam
March 12, 2015
It was a murder announced well in advance. An important suspect, Shafiur Rahman Farabi, now in custody, told his Facebook friends a year ago — on February 9, 2014 — that Avijit Roy lived in the US, "So it won't be possible to kill him now. He can be killed when he returns." He then followed up with Avijit's family photos and his US address and asked his friends regarding Avijit's whereabouts. Farabi was arrested two years ago and released on bail within six months. He immediately resumed his incitement to kill all bloggers who supported "free thought". In a post soon after his release, he wrote, "To me, atheists are nothing but insects, and it is best for insects to die."
Farabi and Avijit had debated issues of free thought and religious fundamentalism on social media. It soon turned into death threats from Farabi, and Avijit stopped all communication. Then Farabi started sending him death threats by text messages. It was against this backdrop that Avijit decided to visit Bangladesh with his wife. His visit was more than a family affair, as he planned to launch three of his latest books at the country's biggest book fair, held to commemorate the Language Movement of 1952, now celebrated as the International Mother Language Day on February 21. He underestimated the militants' threats and paid with his life.
In 2004, one of Bangladesh's most famous writers, Humayun Azad, was brutally attacked in a similar fashion. He survived the attack, but died later in Germany. On February 15, 2013, there was the murder of blogger Rajib Haider, following the first ever social media-triggered student uprising in favour of the war crimes trial.
According to the police, there are 12 extremist Islamist outfits currently banned. These are: Harkat-ul-Jihad Islami (HuJI) Bangladesh, Jamaat-ul-Mujahideen Bangladesh (JMB), Jagrata Muslim Janata Bangladesh (JMJB), Shahadat-e-al Haqima (SAH), Hizbut Touhid, Islami Samaj, Ulema Anjuman al Baiyinaat, Hizb-ut Tahrir, Islamic Democratic Party, Touhid Trust, Tamir ud-Deen and Alla'r Dal. These groups operate under different names at different times. There are at least a dozen other groups of smaller following that have not yet been banned but surface from time to time.
The government has succeeded in arresting a significant number of extremists. Yet, according to police estimates, 270 of them remain at large and are wanted in different cases. Between 2008 and now, 478 JMB men have been tried in 177 cases. Of them, 51 top leaders of the banned outfits have been sentenced to death, 178 given life terms and 245 jailed for different terms.
Extremism gained a significant foothold in Bangladesh in the early 2000s. It's most dramatic face was called "Bangla Bhai", who formed a vigilante group, carrying out "death sentences" and hanging corpses from trees to create fear. As an operational commander of the JMB, he had acquired enough power to dominate the country's north. Surprisingly, the then prime minister, Khaleda Zia — who co-opted two ministers from the Jamaat-e-Islami in her cabinet who are now being tried for war crimes — had denied the existence of "Bangla Bhai" and called him a media creation.
In August 2005, there was an unprecedented scale of terror attacks. The JMB simultaneously blasted at least 459 bombs in 63 of Bangladesh's 64 districts. Although the blasts killed only two people, the impact was enormous. The nation was stunned by the meticulously timed bombings and the outfit's countrywide network. The patrons in government kept defending the JMB. All of this helped the group to gain ground. Within three months, it struck again and killed two judges, following up with more bombings and killings. In 2007, six top militants, including the JMB's supreme leader Abdur Rahman and "Bangla Bhai", were executed for the assassination of the judges. Scores of JMB operatives also landed in jail, which seriously weakened the banned outfit.
Returning to power in end-2008, Sheikh Hasina's government commenced in earnest to combat extremism and succeeded in making significant headway from 2009 to 2013. However, the revival of a political rivalry that soon became intense, as well as the pre-poll violence from October 2013 till the election in January 2014, created a new opportunity for the extremists to regroup. During this period, law enforcers and the bulk of crime fighters had become fully engaged in tackling the political crisis. Many of the arrested militants walked out of jail on bail, while more militant groups emerged, such as the one that claimed responsibility for Avijit's murder — Ansarullah Bangla. Meanwhile, social media had become an effective tool to not only preach but also issue death threats to those holding views on religious practices different from the extremists'.
A fatal flaw in the government's action to counter militancy so far is that it has been based mainly on law and order agencies. There appears a surprising lack of overall strategy that includes both "hard" and "soft" approaches. While the government's political commitment appears unwavering, its response has mainly been confined to police action and court trials, from which the militants easily secure bail due to the prosecution's failure to produce an adequate number of witnesses and sufficient evidence.
A striking lack in Bangladesh's anti-militancy drive is a nationwide socio-cultural and religious campaign against militancy. Prime Minister Hasina had initiated such a campaign seven years ago. The idea was sound and timely, as it involved a cross-section of people in fighting the menace. But it petered out due to a lack of strategic direction.
As the government remains embroiled in the violence-ridden opposition agitation, it is anybody's guess how militants will exploit the situation to strengthen their foothold. However, it is clear to most that this is one battle Bangladesh must and, we believe, will win.
Mahfuz Anam is editor, 'The Daily Star', Dhaka
Source: http://indianexpress.com/article/opinion/columns/a-battle-bangladesh-must-win/
URL: http://www.newageislam.com/islam-and-politics/mahfuz-anam/a-battle-bangladesh-must-win/d/101914