By Madeeha Ishtiaque

9, May 2013

Sassi has emerged to be a liberal politician belonging to PPP, contesting from Thatta PS-85 constituency, whose moderate approach and particular activism for human and women's rights has earned her many acclaims.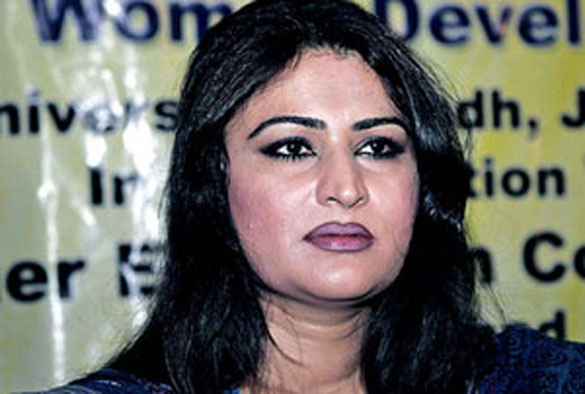 Here's a crisp question and answer session with her on PPP's election campaigning and how does it propose its eligibility to be voted for the elections 2013.
Q1) Considering the general negative opinion about PPP, how confident you are about winning elections?
Sassi Palejo: We are contesting for elections with the hope of winning it, for sure. I won't comment on the negative public opinion part, but what we see here is scores and masses of people coming to join and support us- people who believe in our ideology with open mind and heart.
Q2) Would you care to mention the achievements on the basis of which you think people will vote for you this time as well?
Sassi Palejo: See, there's no surety we will win but if you speak of our achievements, they are innumerable. This is the first time a government has completed 5 years' democracy in the history of this country.
The challenges we faced right in the beginning of our reign were numerous. Most importantly- Floods. Our critics don't realize how many years' floods push any developing country back. Continuous floods stabbed our agriculture to death and posed a huge hurdle in our way of effective planning and development. The heavy restoration cost, effort to bring life back, and most importantly, to feed people and to shelter them was enormous.
In those areas, we issued Watan Cards, not to mention Shaheed Mohtarma Benazir Bhutto's income support program, which facilitated millions of people who lost all they had. We gave them lands and even fertilizers and seeds. Do our critics realize where all of it left us? Do they realize when they comment on our achievements and success- the kind of setbacks our government had to face?
Even then, we passed numerous irrigation projects, improved infrastructure, and passed agriculture reforms, allotting land to a common person who could never have owned it otherwise. Then the women protection bills and improved connectivity in areas where it appeared virtually impossible. The legislative structure we set up- we were no dummies in the parliament- President Zardari passed down all his powers to the parliament, which was truly democratic of him.
Our triumph in overhauling organizations like Nadra- disposing 2 lacs forged entries that these parties would use to gain votes- all of it can surely not be ruled out. We have had our set of failures and we accept them. But running a government encountering the plethora of drawbacks we faced and still completing a democratic tenure was never easy.
Q3) Last time, BB was running PPP's election campaign and now it's virtually no one. All your election campaign is cantered around the Bhutto cult. It appears you're asking people to vote for you in the name of your deceased leaders.
Sassi Palejo: Well, that's a perspective and we have been heavily criticized for it. But honestly, should we let what happened to BB happen to Bilawal as well? We won't think it would be wise at all to be willing to risk and sacrifice that young blood on the altar of election campaigning.
Yes, I accept people have an ideological attachment with the Bhutto family and that's because the sacrifices this family has given for the country. And same is the case with most of us party members here. We, including myself, have been jailed and persecuted for our ideology and beliefs and so people are no blind that they don't understand it.
Q4) Does PTI's and PML-N's election campaigning put you in any doubt about your standing?
Sassi Palejo: They can see where we are coming from. We are no Lotas- we don't leave the country and let Martial law be imposed just so we could stay in the safe heavens of Saudi Arabia. Everyone knows how Nawaz Sharif attempted to sabotage BB's electricity project in his tenure and at several other instances. Also, with all due respect, how in Asghar Khan's case, Supreme Court's alleged discrimination has been observed and how our mandate was hijacked.
As far as PTI is concerned, it appears they have sympathy for TTP and religious parties whose extremism has been a threat to all of us. These mindless religious zealots keep propping every now and then, and threaten to kill us.
Initially, this time even I was doubtful if we would gain enough traction or not. But the way people are joining us in ranks makes my belief even stronger. It is because we are no Bhagoras. We have faced, we have sacrificed all we had, and we have a history to prove it.
Q5) If you do manage to come in power this time, what plan do you propose for Karachi since you never got to do much in MQM's presence?
Sassi Palejo: I would refrain from commenting on it- please see our budgets. How much we did allocate, and how much we still plan to allocate. I won't comment or ask MQM for the accountability for the money we allocated to Karachi but I want people to review the budget themselves.
Karachi is as dear to us as Thatta and we live here and we belong here. PPP is a joint party and unlike the popular notion, not for restricted to Sindhis alone. Even in our families, we are all mutli-ethnic and multi-lingual and so saying we couldn't do much for Karachi would be unfair. We initiated water projects in Lea Market for the area was even deprived of it. Our love for Karachi can never be questioned.
Q6) How do you intend to de-weaponise Karachi, especially since your government somehow failed to counter it the last time?
Sassi Palejo: Law and order situation because of terrorism primarily was very really challenging. We need to target terrorists on micro levels in order to rid them off completely. It's a long and complicated process and I accept we need to concentrate our efforts and improve heavily.
Source: http://blogs.thenews.com.pk/blogs/2013/05/why-vote-for-ppp-and-sassi-palejo/
URL: https://www.newageislam.com/islam-and-politics/madeeha-ishtiaque/why-vote-for-ppp-and-sassi-palejo?/d/11499