The State of Political Islam
By Lara Vergnaud
May 2, 2014
2014 is shaping up to be a critical year for elections in the Arab world, notably in Tunisia, Egypt, Algeria, Iraq and possibly Palestine. Non-Arabic nations Turkey and Afghanistan, too, held important ballots this year. To dissect the impact of these elections on political Islam, we spoke with Dr. Francesco Cavatorta from the University of Laval in Canada, who has done extensive research on Middle Eastern politics, including fieldwork in Tunisia, Jordan and Lebanon. (Check out our interview below.)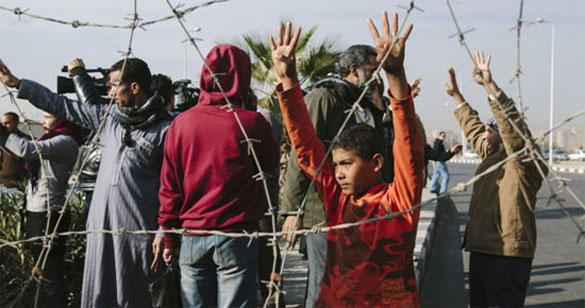 A boy makes the Muslim Brotherhood's four-fingered sign on Jan. 8, 2014 in Cairo, Egypt. (Ed Giles/Getty Images)
----------
Cavatorta highlighted an encouraging political model in Tunisia, which, since the ouster of its Islamist-led government this January, has been veering towards secular democracy, and noted the momentum behind the creation of new institutions driving the country's peaceful transition — quite the contrast with regional trends. Like in, say, Egypt.
Much has been said about the ouster of President Mohamed Morsi being the death knell for the Muslim Brotherhood, and indeed political Islam, in Egypt. To this, Cavatorta responds, "from an institutional point of view, obviously yes." However, while support for Islamist parties may have declined — remember that less than three years ago 70% of Egypt's electorate voted for Islamist parties, whether it was the Brotherhood or Salafist parties — it has not disappeared completely. Meaning that, says Cavatorta, Islamism will remain a tangible force in Egypt society – until, that is, conditions are ripe for the Brotherhood to make a new foray into institutional politics.
Hamas, which is effectively the Muslim Brotherhood's Palestinian branch, looks to be eyeing a similar comeback via reconciliation with its rival in the West Bank, Fatah. Cavatorta speculates that this conciliatory attitude may stem, in part, from positive lessons gathered from the Brotherhood's failures in Egypt. Like Ennahda in Tunisia (the Islamist group formerly in power), Hamas looks to have learned that being elected by a majority does not equal sweeping powers but rather, Cavatorta notes, "that you have to build a more consensual political system." With the dice stacked against the Palestinian reconciliation — see the outcry from the United States and Israel — it remains to be seen if Hamas' newfound pragmatism, sparked, perhaps, by the Brotherhood's downfall in Egypt, will be long lasting.
We capped off our discussion by touching on Turkey, which is sometimes overlooked in the narrative of contemporary political Islam. Though, Cavatorta notes, Turkey's autocratic Prime Minister Recep Erdogan looks to be more motivated by political ambition than by ideology, albeit while implementing increasingly conservative measures in recent years. In Cavatorta's words, Erdogan and his ruling AKP party are suffering from the "dominant party syndrome," i.e., less tolerant of dissent, and unwilling to compromise thanks to a large parliamentary majority — a condition that is not unique to Islamist parties, but rather a trend that can be identified beyond the Muslim world.
Asked about other potential trends, particularly in past and future 2014 ballot boxes, Cavatorta foresees an unfortunate one, noting that while socioeconomic issues should be at the forefront of elections in the Arab world, political parties, Islamist or not, may instead foster divisions among voters, whether by pitting Sunnis against Shiites, Islamists against secularists, rural constituents against urban ones, etc. "These elections may run the risk of being more divisive than anything else."
Source: http://blogs.blouinnews.com/blouinbeatpolitics/2014/05/02/video-the-state-of-political-islam/
URL: https://www.newageislam.com/islam-and-politics/lara-vergnaud/political-parties,-islamist-or-not,-may-foster-divisions-among-voters,-by-pitting-sunnis-against-shiites,-islamists-against-secularists-and-rural-constituents-against-urban-ones/d/76857