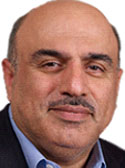 By Khalid Abdulla-Janahi
12 January 2015
I remember as a child growing up in Bahrain, the countries of the Middle East were alongside those of South America, Eastern Europe, Africa and Asia. We were all part of the same experience, poised on the verge of evolution into liberal, modern and democratic nations of citizens not subjects, with leaders rather than rulers.
Since the 1980s, I've watched as the world transformed from Argentina to Turkey to South Korea, during a thirty-year career in international business and finance. In this time it seems as though everywhere has undergone change, except for the part of the world where I am from, the Middle East.
Deliberate Process of Evolution
Although we keep talking about it we have yet to allow the slow, deliberate process of evolution to begin in the Middle East. This is worrying because if we don't allow it to start, the momentum will keep building to the point where it becomes explosive - then evolution will no longer be an option. This is the scenario we have, very vividly, already seen during the so-called "Arab Spring."
Across the region, we need to urgently begin to implement specific reforms to allow the process of evolution to start. We have already seen what the alternative looks like and I dread to think what the consequences of further delay might be. It may well be painful at times, but reform can no longer wait.
Evolution, not revolution, is an inspiring call to action and a principle upon which the people and rulers of our region seem to agree – but to succeed, we must be ruthless in eliminating all possible barriers including incompetence, corruption and whatever other social ills are holding us back.
Cultural Shock
We need a cultural shock strong enough to change our collective mind-set. It is critically important that we institutionalize a culture of accountability, where if people can't, or don't, deliver on key objectives they resign from their post.
The continued failure to reform is a symptom of perhaps our most dangerous weakness – a failure to think ahead, to look past our immediate short-term objectives and to recognize, and work towards realizing our strategic medium and long-term goals. Our focus on instant gratification is robbing us of our shot at real development.
To allow for evolution, we must think and act strategically. We must have the vision to recognize that change is inevitable, concessions necessary and compromise essential. Then, we must find the courage to quickly realize those changes. If we continue to focus on our immediate interests, refusing to relinquish any control and insisting on hoarding absolutely everything, then we might soon find we have nothing left.
When we do this, we begin to address the core issues that have plagued the Middle East and created fertile breeding grounds for dangerous and polarizing ideologies that dominate headlines. The current boogieman is, of course, ISIS – but this is really just another iteration of the same problem. Yesterday, it was al-Qaeda, and tomorrow it will be something else if we do not address, and fix, the underlying problems.
Many in the West, particularly in the United States, are under the misguided illusion that so-called "moderate" Arabs are the solution to all the region's problems. Moderate Arabs, both politicians and intellectuals, certainly have a role to play, but so do moderates in the West who, like us in the Middle East, must learn to look past immediate needs and work towards strategic goals. History is a harsh teacher, yet we continue to forget lessons from the not-so-distant past and repeat the same expensive mistakes. Supporting dictators to achieve immediate interests, for example, is tragically short sighted - particularly as it neglects the price that must, inevitably, be paid in the future.
Today, the world watches in horror as the terrifying threat of the Islamic State continues to grow, and although the West is repeating its calls for moderate Arab leaders to take charge, we are still not dealing with the main underlying issues. These are, of course, different for everyone, but they share a single common denominator: the need for people in the Middle East to have access to the same kind of equal opportunities, in a merit-based, reward-driven environment that much of the world enjoys.
Change is inevitable: if we do not embrace evolution now, all the indications are that we will be faced with a real revolution in the future.
Khalid Abdulla-Janahi was elected Vice Chairman of WEF's Arab Business Council (2003 to 2007). He was also the Co-Chair of WEF's Global Agenda Council on the Middle East up to 2011. He is the Group Chief Executive of Dar Al Maal Al Islami, a Chairman of Solidarity Group Holding and the Chairman of Naseej. Khalid is based in Geneva.
Source: http://english.alarabiya.net/en/views/news/middle-east/2015/01/12/The-Middle-East-needs-evolution-not-revolution.html
URL: http://www.newageislam.com/islam-and-politics/khalid-abdulla-janahi/the-middle-east-needs-evolution,-not-revolution/d/100981