By Kevin Holden
11 Apr 2013
Three years after predominantly Muslim Uighurs staged a major protest against government rule in the north-western Chinese province of Xinjiang, a small band of filmmakers and artists set out from Beijing for the restive region to take part in a joint exhibition - and to establish a cross-cultural rapport.
Creating a coalition crossing the ethnic and religious boundaries that separate the Turkic-speaking Uighurs from the majority Han Chinese would not be easy. An initially peaceful Uighur protest calling for equal protection under the law turned violent in July 2009, after security forces tried to crush the demonstration. The riots that followed in the provincial capital, Urumqi, led to the death of nearly 200 people, according to Chinese government accounts.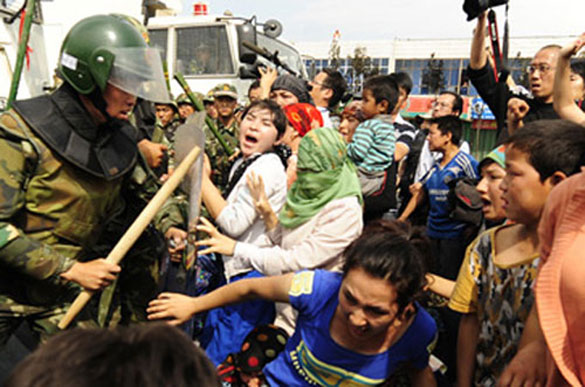 China's predominantly Muslim Xinjiang province has long been raven by ethnic tension and unrest [AFP]
-----------
The region had long been rocked by unrest. For centuries Xinjiang has been a borderland between different peoples and belief systems, and was the site of Buddhist-Muslim wars.
Yet during two decades of sketching slices of life in Xinjiang, Liu Xiaodong - who headed the journey to the province - said he had never directly encountered the anti-government animus that fuels the sporadic violence.
That changed just days after he touched down in Hotan, in southern Xinjiang, last June with a group of documentary filmmakers. While setting up a tent studio along the Kashgar River to sketch and paint jade prospectors in the area, the group discovered via China's version of Twitter that six hijackers were attempting to take over the cockpit of an airplane that had just left Hotan's small airport.
Although security officers ultimately overpowered the armed hijackers, rescuing the plane and its passengers, over the following days, "the army and police flooded into Hotan", Liu recounted.
After the incident, the Communist Party imposed martial law-like rule over the region. The artists continued their projects, however, and Liu later joined an art show with counterparts from Xinjiang.
Free-Speech Museum
This year, the artists are exhibiting their chronicles of life in Xinjiang. As the filmmakers project their footage, shot amid deserts and sandstorm-pounded oases, Liu shows his sketched impressions of Xinjiang: a young Uighur couple getting married, an imam chanting scriptures, and a now-destroyed mosque.
Liu also displays his daily journals from the trip. One day, the group encountered a military roadblock where Chinese troops wielding clubs and shields interrogated everyone passing through the checkpoint. A tour guide whispered to him, "There are many hidden terrorist dangers".
Armed police conducted nightly neighbourhood sweeps that included entering homes and checking the identity papers of each inhabitant.
Liu Xiaodong's work is being exhibited at the private Today Art Museum in Beijing [Kevin Holden/Al Jazeera]
These notebooks depicting life under military control in Xinjiang could never be exhibited in a Chinese government-run museum, and the private Today Art Museum in Beijing is pushing the boundaries on freedom of expression by displaying them.
Hou Hanru, a Paris-based curator who designed the exhibition, invited an array of experts on Xinjiang - including religious figures, writers and artists - to hold a series of dialogues with the public on Xinjiang's past and future.
This independent art centre could be likened to "an autonomous zone" where expanded freedom of speech can set the stage for alternatives to the system that persecutes Uighurs, Hou said.
Liu said the scholars taking part in discussions at the museum have been thanking him because inside Xinjiang, "opportunities to speak out are very limited".
Locking Down Xinjiang
After the mid-2009 uprising, the authorities quickly imposed a communications and information blackout across Xinjiang. All Internet access was blocked and international telephone lines were cut as security forces deployed to schools, mosques, and other public meeting places. Laptops and mobile phones were checked for any photographs of the protests or the government crackdown.
China's government says a heavy security presence is required in Xinjiang to fight what it calls religious extremism and terrorist violence.
"Within two weeks of the riots at least 4,000 Uighurs had been arrested," said Professor Colin Mackerras of Griffith University in Australia. "There were many cases of disappearance of suspects and breaches of due legal process, including torture."
In the wake of the violent street demonstrations, China stepped up joint military exercises involving fellow members of the Shanghai Cooperation Organisation, a security grouping that also includes Kazakhstan, Kyrgyzstan, Tajikistan, Uzbekistan and Russia. The body is aimed at preventing any "spread of Islamist influence and terrorism" across Central Asia, said Mackerras, who often travels to the region.
As part of the crackdown, the Chinese government has created a matrix of riot-proof surveillance cameras that now cover alleyways, buses, and mosques - even kindergartens - across Xinjiang's capital. Beijing has also channelled $100m into strengthening its deployment of paramilitary People's Armed Police across Xinjiang, while the Chinese military nationwide has expanded anti-terrorism training.
"Shutting down the Internet probably fanned discontent, especially among professionals in the cities, who are the ones taking part in the protests."
- Colin Mackerras, Griffith University
Pan-Turkic Union
China's leadership is bolstering security across the region not just to prevent unrest, but also to limit the spread of ideas about a pan-Turkic union under Islamic rule, said Mackerras.
Liu, the painter, said the Muslim-majority province has been transformed over the past two decades. "The ancient mosques are disappearing - the bigger the city, the fewer the mosques."
Also being buried in the government's campaign to modernise Xinjiang are traditional arts and architecture, and even the Uighur writing system. "Of course, every ethnic group wants to protect its traditions and beliefs and architecture, and would not be happy to see these disappear," Liu said.
Inside Xinjiang, security forces regularly monitor streets, schools and the Internet for any unapproved religious activities, while blocking dozens of websites operated by Uighur groups in exile calling for greater autonomy or human rights for their 10 million compatriots inside Xinjiang.
However, the government blockade on Internet access, imposed for nearly a year following the last uprising in Urumqi, may have backfired. "Shutting down the Internet probably fanned discontent, especially among professionals in the cities, who are the ones taking part in the protests," said Mackerras, author of China's Minorities.
During Mao Zedong's reign, until his death in 1976, the Communist Party tried to obliterate the languages, customs, religions and cultures of China's ethnic minorities. Later, the Party tried to create at least a semblance of religious freedom for Xinjiang's Uighurs in order to promote diplomatic ties with the oil-rich Middle East and Central Asia.
Yet strict controls on speech, religion and peaceful assembly across Xinjiang could be like trying to cap a volcano, delaying rather than preventing its next eruption, said Mackerras.
Hou, the exhibition's curator, suggested that "allowing greater freedom of expression could help solve Xinjiang's problems".
Any progress made towards fostering a peaceful interplay between cultures in Xinjiang, Hou said, could have "global significance in the context of geopolitical conflicts that are dominating everyday life and politics all across the world today".
The Xinjiang exhibition might travel to the Middle East later this year, added Hou.
Source: http://www.aljazeera.com/indepth/features/2013/03/201332185952560788.html
URL: https://www.newageislam.com/islam-and-politics/kevin-holden/the-art-of-dialogue-on-china-s-uighur-issue/d/11121