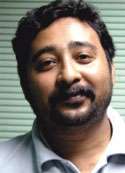 Rasel Dreamt of 'Banglakistan'
By Julfikar Ali Manik
February 19, 2014
He is a fan of Abdur Rahman, chief of banned militant outfit Jama'at ul Mujahideen Bangladesh, executed in 2007 for killing judges in Jhalakathi in 2005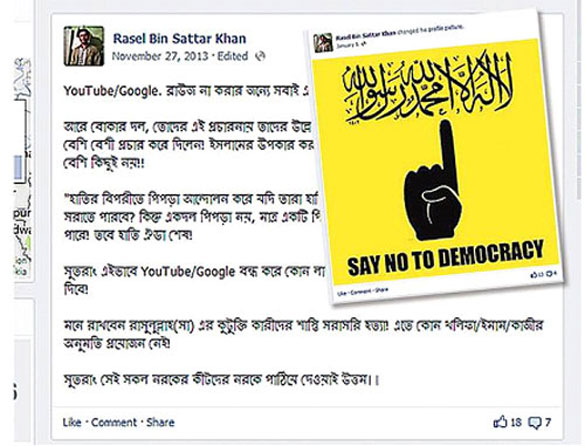 Facebook post of Rasel that he posted in his Facebook page Photo- Dhaka Tribune
----------
"Say not to Democracy" – that was the message in the Facebook profile picture of Rasel Bin Sattar Khan in January. It was in this very Facebook account where many things were posted in support of local and foreign Islamist militant groups, their leaders and that campaigned for killing those who made derogatory remarks about Prophet Muhammad.
Rasel was arrested early yesterday from Tangail allegedly for spreading al-Qaeda's much-talked-about audio clip on the internet. The clip called upon the Bangladeshi Muslims to wage a Jihad.
Law enforcers said Rasel was an administrator of "Basherkella," a Facebook fan page of Islami Chhatra Shibir, student wing of Jamaat-e-Islami. Basherkella, however, denied that Rasel was its administrator.
Rasel's Facebook account shows that he is a follower of the fan pages of Jamaat-e-Islami and Hefazat-e-Islam leaders. He also follows many other pages that contain posts glorifying slain al-Qaeda leader Osama Bin Laden, current al-Qaeda leader Ayman al- Zawahiri, the Taliban and other Jihadi campaigns.
He is also a fan of Abdur Rahman, chief of the banned militant outfit Jama'at ul Mujahideen Bangladesh, who was executed in 2007 for killing judges in Jhalakathi in 2005.
Rasel wrote that Abdur Rahman's only offense was trying to reestablish Islam following the path shown by Rasullullah (SM).
In one of his timeline posts, Rasel, 21, expressed his desire to start an affair with Pakistani teenager Malala Yusufzai and talked about "Banglakistan."
In 2012, Malala came under the attack of Pakistani militants for going to school and writing about the predicaments of Pakistani women under Taliban rule.
Quoting a news published by a Bangla daily, Rasel said Malala pressed her desire to join politics and become the prime minister of Pakistan. Since Rasel, who claimed himself to be a "soldier of Allah," also dreamt about becoming the prime minister of Bangladesh, he said together they could form "Banglakistan."
In the same post, Rasel also said Malala was a beautiful girl.
In another status on November 27 last year, Rasel wrote: "Remember, direct killing is the [only] punishment for those who make derogatory remarks about Prophet Rasullullah (S)! No permission is needed from Khalifa/Imam/Kazi for this [killing]."
"So it is best to send those insects of the hell [back] to hell," read that post.
He is also a follower of a number of pages that have been spreading radical contents including Zawahiri's latest audio message.
On November 13 last year, Rasel's status read: "We mourn the killing of Pakistani Taliban leader Hakimullah Mehsud in American drone attack."
His following list includes a page whose title could be roughly translated as "if only we could wake up one morning and learn that Sheikh Hasina has died."
Rasel got primary and higher secondary education in Gazipur. Currently, he is a student of the Textile Institute of Tangail, according to his Facebook account, which is still open.
He is also a follower of the fan page of the Ansarullah Bangla Team.
Members of militant group Ansarullah Bangla Team are known as followers of Anwar al-Awlaki, the "spiritual leader" of al-Qaeda in the Arabian Peninsula.
Source: http://www.dhakatribune.com/crime/2014/feb/19/rasel-dreamt-banglakistan#sthash.6A5cO3Oe.dpuf
URL: https://www.newageislam.com/islam-and-politics/julfikar-ali-manik/'say-not-to-democracy'-–-a-message-in-a-facebook-profile/d/35855