By Joseph D'Souza
01/21/20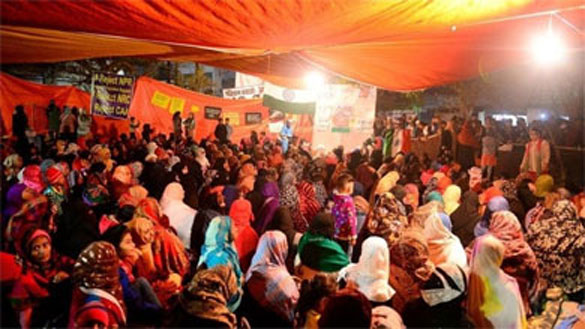 © Getty Images
------
Since Dec. 15, hundreds of Muslim women have been camping at a crossroads near New Delhi known as Shaheen Bagh. They have braved the frigid winter temperatures, the coldest in more than a century, to protest a law they believe discriminates against them as a minority in Hindu-majority India.
The Citizenship Amendment Act, passed on Dec. 12, grants citizenship to refugees from Afghanistan, Bangladesh and Pakistan but excludes Muslims. The law has triggered massive demonstrations across the country, many of them led by university students, but the protest in Shaheen Bagh has caught everyone's attention because it has become a unifying rally led by women in a fragmented society.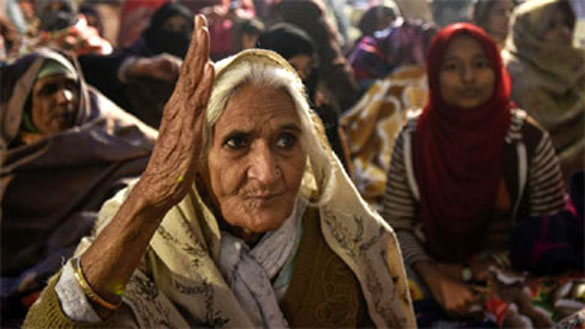 Shaheen Bagh Protest
------
The Shaheen Bagh protest remarkably has attracted Muslims, Hindus, Christians, Sikhs and other religious minorities. These women represent nearly 600 million Indian women who believe in the democratic foundations of free speech, liberty, equality and religious freedom — ideals that seem to have come under threat by the citizenship law.
On Jan. 12, tens of thousands of people flooded this crossroads, and multi-faith religious services were held there in solidarity. The protest has inspired other women across India, who have started similar demonstrations in Kanpur, Allahabad and Patna. But is the government paying attention?
The Shaheen Bagh protest reminds us that it is impossible to turn India's religiously pluralistic society into a one-faith nation, which many believe is the subtle motivation behind the bill. Those protesting are fighting for the long history of India as a religiously diverse nation. The protest was initiated by a diverse group of Muslim women, from septuagenarians to young mothers cradling their children. Some of them wear hijabs; others don't. And some are college-educated, while primary school is the highest educational attainment of others.
These women aim to expose the lies that religious extremists have circulated in recent years — mainly that India's democratic foundation has not worked for its multi-religious society and that Indians of minority faiths are anti-national.
For example, the Christian, Hindu and Sikh women speak of the warm street hospitality they receive from the Muslim women when they join the protest. There is no discord between these faith communities. They are united in their fear and determined in their aspirations. The women share tea and snacks and care for one another. The images and actions of this protest break the stereotype propagated by some in India that Indian Muslims are susceptible to extremism.
At the same time, these women leave little room for anybody to question their allegiance to India. They poignantly sing the national anthem and read out the preamble of the constitution while holding a picture of B.R. Ambedkar, architect of the Indian Constitution. In all of the protests across India, you'll find banners with pictures of this leader of India's lower castes known as Dalits. Ambedkar, whose work in the West was eclipsed by Mahatma Gandhi's fame, has become a unifying personality of modern-day India. He deserves recognition for his contribution to the world's largest democracy.
Prominent among the protesters are the young, educated Muslim women who articulate their patriotism and opposition to the Citizenship Amendment Act. This is a new defining development for India — the rise of young women. Across India, many of the protests against the law are characterized by young people who have formed their own groups and are distrustful of politicians and political parties. Student protests, such as those in Hong Kong, have become a hallmark of social movements in modern politics. Though the state can unleash arrests and even violence, it cannot contain them because young people are informed, mobile and committed to the cause of freedom and equality.
The local government may try to break up the Shaheen Bagh protest on the grounds that it is blocking public transportation and creating an inconvenience by increasing travel time around New Delhi. But a smarter approach would be to reach out to these women and listen to what they are saying. Their protest, like others around the nation, is a cry from Muslims who want to maintain their dignity as Indian citizens.
The Citizenship Amendment Act and the proposed National Register of Citizens have created uncertainty for millions of Muslims about their future as Indian citizens. This is alarming, particularly among the poor, who often don't have birth certificates to prove their citizenship antecedents.
As a Christian leader, my hope is that those who are in power will change the law and make it inclusive by including Muslims who have sought refuge from religious persecution in India. Persecution does not know a minority or majority; it knows only those who are different and stand up for freedom of thought and life.
Prime Minister Narendra Modi, a patriotic defender of India's culture, is more than able to reach out to the women of India and change the narrative by directing his government to change the Citizenship Amendment Act. By doing this, he would defend in front of a watching world Hindu culture's finest traditions: inclusivity and mutual respect.
Joseph D'Souza is founder of Dignity Freedom Network, which delivers humanitarian aid to the marginalized and outcasts of South Asia. He is archbishop of the Anglican Good Shepherd Church of India and president of the All India Christian Council.
Original Headline: Protesting women in India are uniting Muslims, Hindus and religious minorities
Source: The Hill
URL: https://www.newageislam.com/islam-politics/shaheen-bagh-protest-united-muslims/d/120858