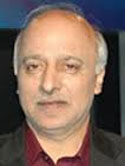 By Imtiaz Gul
02 Jan 2015
Visiting Dhaka in the middle of December can be emotionally quite a heavy and heart-wrenching experience for a Pakistani; the air resonates with the beats of Bangladesh's national anthem. Commemorative ceremonies and special radio/TV transmissions mark the Victory Day (Dec 16) and there are media debates on the cold-blooded executions of over 200 pro-independence intellectuals (Dec 14) by Pakistani forces.
The War Memorial and the National Museum offer reflections of what led to the creation of Bangladesh. Whether media or public gatherings, they all ring with the Awami League narrative on independence in 1971, accompanied by a continual criticism of Pakistan.
Most Bangladeshis call the conflict spanning nine months war with Pakistan, as Bangabandhu (Friend of Bengal) Sheikh Mujibur Rahman had declared independence from Pakistan on March 25 and from there on considered Pakistani troops there as "occupation forces."
The video documentary played to visitors at the National Museum also refers to Al-Badr and Al-Shams volunteers as "the beasts" who aided the Pakistani occupation forces.
And the special war-crimes tribunals are a living manifestation of an instrument aimed at fixing all those who opposed the freedom struggle. Prime Minister Sheikh Hasina set up the tribunal in 2010.
Some 23 defendants in 20 cases have been indicted to date, most from Jamaat-e-Islami, which had opposed independence. The tribunal has so far handed down verdicts on 14 defendants – all found guilty of offences including crimes against humanity, murder and rape. Eleven were sentenced to death, two to life in prison and another to 90 years in jail. Two of them have died in prison. The trials of the remaining eight are in progress.
On 23 December, a war crimes tribunal handed down death sentence to Syed Mohammad Qaisar, a former minister and leader of the Muslim League, for his involvement in multiple crimes such as mass killings, rape, torture, extortion and other crimes against humanity during the country's 1971 war of independence.
Qaisar, 73, had formed a vigilante group called Qaisar Bahini (Qaisar Force) to aid the Pakistani forces in committing atrocities, and was also a member of two other auxiliary forces formed by the Pakistan army, investigators said.
Earlier in November, a media tycoon Mir Quasem Ali and Motiur Rahman Nizami – both Jamaat-e-Islami key figures in Bangladesh's independence were also sentenced to death for heading a militia in 1971.
Nearly a year ago, Abdul Quader Molla, also Jamaat-e-Islami veteran, was executed on five of six counts of crimes against humanity by the International Crimes Tribunal (ICT). The 65-year-old Mollah, infamous as the "Butcher of Mirpur", was the first politician to be executed for massacre and rape during the war of independence from Pakistan.
As a whole, it seems, despite a lapse of 43 years, the word Pakistan remains an essential element of the ruling party Awami League's conversation; in fact, Pakistan is one of the divisive factors between Mujibur Rahman's daughter, prime minister Sheikh Hasina Wajid and Khaleda Zia; Wajid spares no opportunity in running down Ms Zia's BNP and her allies including the Jamaat Islami as Pakistan's collaborators.
"We all have to remain vigilant so that those Pakistani collaborators can't get back to power, kill people and play with the fate of the people", the prime minister told a discussion organized to commemorate the "Martyred Intellectuals Day" on Dec 14. The scars of the pre-liberation era are deep and refuse to heal, it seems. In fact, rather than try and seal them, the Awami League seems to be consciously only nursing them.
Ms Wajid often brands BNP as the companion of war criminals. She often accuses Zia's husband, General Zia ur Rahman of not only having stopped the trials of war criminals but also "rehabilitating and patronizing the war criminals in Bangladesh politics."
In an editorial, the daily Independent recalled the remarkable socio-economic progress that the country has made in some areas in 43 years but, it said, politics still remains a sore point in our national life…the country would have done much better if there was no politics of confrontation and violence. "It is unfortunate that the major political parties have failed to reach a broad consensus on some core issues."
The point being made in the Independent editorial, probably underscored this deep polarization that currently exists in Bangladesh, following the extremely controversial election on January 5 this year, boycotted by Ms Wajid's arch rival Begum Khaleda Zia.
The BNP and its weak allies remain at the receiving end of a political dispensation that critics say is all but democratic. Ms Wajid, riding on her economic performance and expansion of ties with India and China, seems determined to keep the fragmented opposition at bay.
By clubbing the BNP and Jamaat with Pakistan and dubbing them as Pakistani agents, she has on the one hand succeeded – at least for the time being – in painting the rivals black, on the other, her party has also kept the narrative born out of the 1971 events alive, essentially refusing to bury the past and move on.
In her treatment of the BNP and allies, Ms Wajid seems to be invoking the notorious phrase "You are either with us or against us".
And this implies that the entire non-Awami League political forces are anti-Bangladesh. Such posturing is clearly detrimental to the idea of normalization of relations between Islamabad and Dhaka.
The majority of Bengali intellectuals and analysts believe that an official apology by Pakistan over the tragic events that culminated in the creation of Bangladesh could possibly pave way for a forward path in the bilateral relationship.
The apology is unavoidably important, Farooq Subhan, a former foreign secretary and the president of the Bangladesh Enterprise Institute (BEI) said. Other Bengali participants at the workshop I attended, for instance, were all united in underlining that an official apology from Islamabad could be the starting point for the healing process.
But it is questionable too because if continuous detraction and bashing of Pakistan as a scapegoat constitutes the core of Awami League's national narrative, how could even an apology work. Also questionable is whether that will inject a sense of cooperation among Bangladesh's political forces, as pointed out by the daily Independent.
Viewed against this context, normalization of Pakistan's relations with a Bangladesh under the Awami League government remains a distant possibility. It could possibly come about only if the AL were ready to bury the past and move on by taking Pakistan out of its national narrative.
Source: http://www.thefridaytimes.com/tft/bangladesh-blues/
URL: http://www.newageislam.com/islam-and-politics/imtiaz-gul/bangladesh-blues/d/100802