By Imran Khan
21 August, 2012
IN THE aftermath of the attack on some youngsters 'partying' at a home-stay in Mangalore on 28 July, public pressure has forced the BJP government to arrest 22 activists of the Hindu Jagaran Vedike. While the attack is seen as a pre-poll strategy by the BJP to mobilise its core votebank, the home-stay attack signifies that the BJP's Hindutva project in coastal Karnataka has entered a new phase of extreme radicalisation.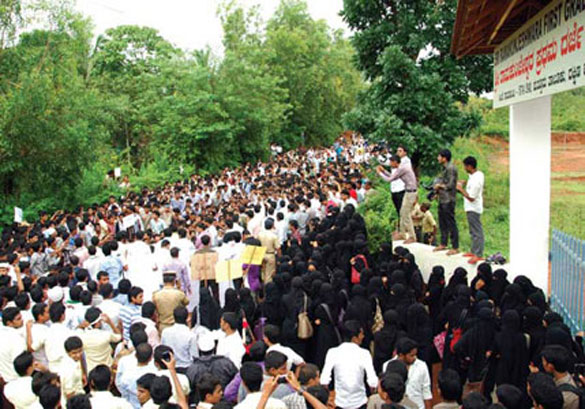 Last week, the Vivekananda Vidyavardhaka Sangha group of institutions (VVS Puttur, Dakshin Kannada) issued instructions to its students and staff to wear tilaks, earrings and bangles while attending classes. The diktat issued by the management extends to minority students and college staff. While wearing the tilak and bangles is encouraged by the management under the garb of promoting 'Indian' values, any display of hijab (headscarf ) or burqa is banned in the 41 institutions (from preschool to engineering) run by VVS, on the grounds that it is not part of its prescribed 'uniform'. VVS Secretary E Shivaparasad says, "Ours is an institution based on the principles and teaching of Swami Vivekananda. And it is our duty to promote and inculcate among our students a spirit of Indian values and culture." When questioned about the headscarf ban, he says, "It goes against the uniform dress code, hence could not be allowed."
For the past three years, several private institutions in coastal and Dakshin Kannada have disallowed Muslim girls from wearing the burqa, and now even the headscarf, though they have refrained from issuing any official instruction or mentioning it in their prospectus. Interestingly, the first to impose such a ban was a Christian institution, St. Agnes College, followed by St. Anne's and St. Aloysius College in Mangalore. A guest lecturer at Mangalore University, who was earlier offered the job of an Assistant Professor at St. Aloysius, says of her meeting with its principal: "They asked me to meet the principal Swebert D'Silva. He told me that as per rules, I cannot teach wearing the burqa. When I asked if I could wear a coloured scarf, he flatly said I couldn't."
When contacted by TEHELKA, Swebert D'Silva maintained that, "the ban is imposed only in the classes and examination halls. They are free to wear what they want in the campuses". Reasoning the ban, D'Silva says, "During examination, students can smuggle in gadgets and notes. As a rule, we have asked them to keep their heads uncovered." At the same time, he added that there should be uniformity in classrooms. Since 2008, more than 15 educational institutions have imposed such a ban in Mangalore district alone, including SVS College, Bantwal; Jain College, Mudibedre and Puttur Ramakunjeshwara College, belonging to the powerful Vishwa Hindu Parishad seer Pejawar Swamiji.
'Though our syndicate rules allow the burqa, private colleges dodge it,' says the V-C of Mangalore University
"Earlier, it was just the burqa that was banned, but later the ban was extended to even the headscarf," says Hadia Iqbal, a student of journalism and psychology at Alwas College, Moodabidri. Hadia, a victim of the ban imposed by the Jain College, in 2011, had to spend a year at home, missing her second pre-university classes. Says Hadia, "I had never violated the norms of the uniform. I covered my head with the uniform dupatta and did not wear a burqa." However, the college didn't relent. Out of fear of losing a year, she attended her final examinations without her head covered. "When Christians and Sikhs are allowed to maintain their identity, why is it denied to Muslims alone?" she asks.
In the case of Ramakunjeshwara College, more than 200 students (both Muslim girls and boys) had boycotted classes and sat on a week-long protest in July against the ban on the headscarf in college premises. The college authorities here too justified the ban to maintain equality and said they would not budge on religious grounds.
The ban has been campaigned for and aggressively imposed by the students' wing of the BJP, Akhil Bharatiya Vidyarthi Parishad (ABVP) and Bajrang Dal, the militant wing of the Vishwa Hindu Parishad (VHP), across colleges and universities in the region. Those opposing the ban have been intimidated, suspended, asked to leave college and in some cases, even subjected to physical harassment. Justifying the ban, Chinmaya Rai, secretary of the Mangalore unit of the ABVP, says, "We are opposed to the headscarf or burqa because we don't want discrimination among students in schools or colleges. We want to bring in uniformity, and avoid confusion." When asked to explain the confusion, Chinmaya says, "When the Hindu students look at fellow students in burqa, they get confused and start asking questions. So we have asked them to adhere to the uniform."
MANY BELIEVE the RSS' Hindutva project in Mangalore and coastal Karnataka can be roughly divided into three continuous but distinct stages. The first stage started in the 1990s with systematic grassroots level activism by RSS cadres that laid the foundation for the electoral rise of the BJP. The second phase was marked by the rise of extremist groups like the Bajrang Dal and the VHP. When the BJP government came to power in 2008, there was an explosion of violence in coastal and north Karnataka, with attacks on hundreds of churches with police complicity. From 2008 onwards, Hindutva vigilante groups began aggressively targeting young couples, especially Muslim boys and Hindu girls who were seen together. (According to the reports compiled by Komu Souharda Vedike, an anti-communal organisation, more than 150 cases of moral policing have been reported in the past two years alone) A nascent third stage can be said to have started over the past two years, with educational institutes in Dakshin Kannada preventing Muslim girls from wearing hijabs and burqas under pressure from the ABVP, and coercing them to wear bangles and bindis. "This is a small-scale experiment which, if replicated nationally, leads to the RSS' political utopia — a Hindu rashtra that can be achieved only by wiping out Islamic cultural identity and subsuming it within 'Hindu culture'," says KL Ashok, state general secretary, Komu Souharda Vedike.
"Most of these educational institutions are run like Hindu fiefdoms,'' says Pattabiram Somayaji, a lecturer in the Mangalore University College. The Vice-Chancellor of Mangalore University, TC Shivashankar Murthy, expresses helplessness in containing the situation. He says even though the university syndicate rules allow the wearing of burqa or scarves in campuses, private colleges do not adhere. Says Murthy, "Most of them circumvent it saying either it is a disciplinary issue or an internal matter. Even though we have been issuing instructions, there is no provision for taking action against them." In one particular case, Murthy says, when they wanted to take action against a professor of a government college for imposing such a ban, the state government intervened.
"Among other things, the upward social mobility of some Muslims is being seen as a threat by the Hindutva forces. The Muslims of Mangalore form a distinct community called the Bearys. They were mostly doing odd jobs until they ventured into fish-trading, timber and agriculture," says Somayaji. "With wealth came awareness to educate their children; hence you see many of them, mostly women, taking up studying. Burqa is a part of their traditional attire," he adds. Suresh Bhat Bakrabail, Vice-President, People's Union for Civil Liberties, and President of Karnataka Communal Harmony Forum, finds a sinister design in banning burqas from campuses. "Under the mask of college rules, the Hindutva forces want to prevent the Muslim community from getting educated''.
Imran Khan is a Senior Correspondent with Tehelka.
Source: http://www.tehelka.com/story_main53.asp?filename=Ne250812Forcing.asp
URL: https://www.newageislam.com/islam-and-politics/imran-khan/forcing-dress-code-on-muslims-part-of-bjp-poll-plan?/d/8355