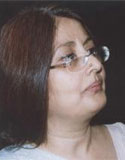 By Humra Quraishi
21 May 2020,
Those visuals of our workers and migrant workers going through the worst possible tragedies, hit. Continue to hit. Something snaps within, makes one wonder what's become of us, what are we getting reduced to, if the crying mazdoors pleading for food and water, get the cops' lathis!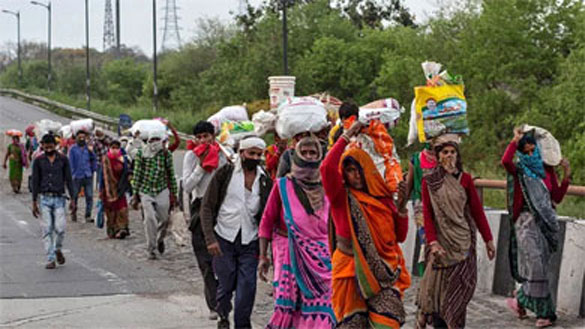 Photo courtesy- social media
-----
Mind you, all these inhuman tactics have been heaped on our workers in their own country, by their own Sarkar! There couldn't a bigger tragedy. Shameful and devastating and disgusting! All this taking place not in 1947, but in 2020!
In fact, it's about time we cry halt to those Sarkari moves to implement the CAA- NRC- NPR. If this government of the day cannot look after its own citizens, then how on earth is it dreaming of getting in some more! The existing rightful citizens of this country are perishing, rather are made to perish, so what will be the fate of those getting wooed back? They too will perish, in this no- food and no -water and no –employment and no- transportation scenario!
Also, it's time that we, the surviving citizens of this country, go beyond the mundane and reach out to our workers, directly and immediately. Before more workers go through many more disasters, its time we reach out to them and to their widows and orphans … Have you wondered who will look after the orphaned children - Krishna, Chandni, Vipin … ? Our dead workers' children left all alone or at the mercy of their poor relatives?
Till date one hasn't heard any of the Child Rights forums or the concerned ministries and commissions come out with any schemes for the orphans of our workers. And to say that the government run orphanages would be an 'okay' place for these orphaned children, shouldn't be acceptable. These orphans need reliable middle-class homes where they can be looked after with adequate comfort and cushioning.
I repeat it's about time, we, the still alive citizens of the country, reach out to our mazdoors and their families. And definitely to those orphans whose parents died in road accidents in these recent days, Giving food packets could sustain them for a day or two. What happens to them in future …with the summer heat peaking, many more will turn frailer and weaker and malnourished!
In fact, this brings me to write that way back in 2002, I had met a group of medical doctors in Srinagar who had set up an orphanage for children whose parents were killed in the Valley …It was a well maintained 'home' for several children and, mind you, it was manned entirely by these doctors…Who told me that they did not want to depend on any of the hollow government promises.
And in the midst of these ongoing Coronavirus tragedies, the communal virus continues…spread around by the Right –Wing politicians and the goon brigades they nurture and control. Yes, till date there seems no end to the hounding of the Tablighi Jamaat men. The treatment meted out to them raises many questions. After all , even those Tableeghi men who have completed their quarantine period are still not released from the quarantine centres and they are also not provided enough to eat during the Ramzan Sahri / predawn food before the fast , and Iftar/ breaking of the fast….It gets rather obvious that they are getting treated in that vicious communal way!
Now comes in another shocking news. News reports state that in these recent weeks many Muslim families were converted, from Islam to Hinduism, in two particular villages in Haryana's Jind and Hisar districts. Andalso, in a particular village on the Delhi - Haryana border, close to Haryana's Sonepat district.
What's going on in this country in 2020! Shouldn't there be a full- fledged apolitical enquiry into these conversions? Shouldn't the political mafia get exposed?
For This Upcoming Eid …
I know in this mounting gloom and absolutely tragic scenario there wouldn't be any Eid celebrations…Perhaps, apt to say that Eid will be observed and not celebrated.
In this context it gets relevant for me to detail one of my meetings with Khwaja Hasan Sani Nizami. He was one of the direct descendants of Sufi Sheikh Nizamuddin Aulia, and resided very close to the New Delhi situated Nizamuddin Dargah.
Several years back, on an Eid –ul - Adha evening, when I'd reached the Nizamuddin Dargah to meet him to convey my Eid greetings, I had to walk a short distance before entering his home. A well spruced- up tidy place with a courtyard. I was ushered in, towards a covered verandah where on the takht he sat reclining. Didn't look well but was receiving visitors. A few visitors were seated there. Soon a young man came with a tray full of kachoris, qeema with onion slices sprawled by its side, and a bowl full of siwain. The food spread gave me an excuse to ask him about qurbani…how many goats were sacrificed in his home that Eid morning?
"None." said Nizami sahib. And his answer took me by surprise. As all along, one had heard that sacrifice /qurbani was a must. Of course, for those who could afford it and surely this family could.
Perhaps, seeing me look somewhat bewildered, he continued, "For the last 74 years I haven't had any qurbani done. Because in keeping with the Sufi practice before the day ends we distribute all money so that when we retire for the night we're penniless ….we live day to day and with just the minimum. And whatever donations are given to the Dargah, they are distributed that very day, nothing remains for tomorrow. Who's seen tomorrow! Tell me who's seen tomorrow or the day after! This is what our forefathers have been practising all along. But, yes, our relatives whose wives have jewellery do not fit into this category. But I haven't married, and so there's no wife and no jewellery!"
What if there's an emergency…er, a no- money situation?
"It happened once, during the Partition upheaval. We had no money for even the daily food so had to borrow to survive, but, then, no matter what happens we continue to live on a day to day basis, like Hazrat Nizamuddin Aulia did …at times he had not a penny to him but continued.
After all, Sufis and Darveshes are not made of the average fabric …It's only the present that matters .I must tell you that the day after the Babri Masjid demolition, a senior diplomat from one of the Western countries was going around here in this area for what he called his 'own survey of the situation' and he asked me, 'Would you be able to see tomorrow's sun ?'' To that I'd retorted and told him that I'd left things to God and was confident of not just viewing the rising the coming morning's sun but of having morning tea with him!"
And that evening as my conversation with Nizami sahib went on and more visitors joined in, more snacks and sweetmeats were placed on the table, but Nizami sahib did not touch a thing. He didn't seem inclined to have anything beyond tea. At this point one of the visitors asked him whether it was viral fever that he was recovering from.
His answer made each one of us look taken aback. "No, no viral fever…no fever at all…. Actually one of my nephews, Salman, died just two days back … he died in Pakistan and I couldn't even travel for his burial. I have been feeling very upset after we got the news. He was young, left behind his children and a widow …he'd grown up in this very house, scribbled on these walls here…all those memories are coming back. "
Why he didn't tell us this? Why serve us all this fare?
"Why should my sorrow be a burden for you! Sorrow is anyway a very personal experience." He then went on to tell us more along the strain,
"Years back when my mother had been ailing and we had a guest who though was not staying with us but meals were taken for him by my father. Even the day my mother passed away, my father took the evening meal and as this guest inquired about her health my father replied, 'She is now resting.' Its only after that gentleman had finished eating, that my father broke the news of my mother's demise; adding that she's resting in her grave! His rationale was why burden or distress the other with your sorrow…. After all, sorrow is yours alone."
Alas, Nizami sahib passed away few years back, leaving behind his words of wisdom which are full of a great solace.
Original Headline: Lockdown, plight of migrant workers and Eid: We'll just be observing it, not celebrating the festival
Source: The National Herald
URL: https://www.newageislam.com/islam-politics/lockdown-plight-migrant-workers-upcoming/d/121932