Himanshi Dhawan
By Himanshi Dhawan and Anam Ajmal
Nov 8, 2020
Hum Ne Marriage Ki Hai, Naa Ki Hum Ne Koi Crime Kiya Hai. Why are you making this love jihad?" (We have got married, not committed a crime). This impassioned plea by Kanpur-based Shalini Yadav was posted on her Facebook page in August this year after videos surfaced alleging that the 21-year-old had been 'trapped' and 'lured' into changing her religion. This, even though she gave a statement to the police saying that she had eloped and married Mohammed Faizal of her own free will.

Not only that, Kanpur police set up a special task force soon after to investigate such incidents of "love jihad". Three state governments, Haryana, Uttar Pradesh and Karnataka, have also announced their intention to bring laws to curb this "social evil".
Yadav, who is on the run along with her husband, has been caught in a web of fake news that's been spreading wider of late. The idea that Muslim men systematically prey on docile Hindu women has been used since the 1920s by right-wing organisations, according to Delhi University historian Charu Gupta.
The term 'love jihad' itself came into popular discourse in 2009 after an 18-year-old eloped with her Muslim boyfriend in Karnataka, and has hit the headlines several times in the last decade, including the now famous Hadiya case in 2017. "The intermeshing of romance, marriage and conversions produces increased worry, deeply politicised representations and everyday violence, framed around the bodies of women," says Gupta.
Inflaming messages that were once propagated through handbills, posters, rumours and gossip have now turned into a concerted campaign on social media. The misinformation campaign is spread through Facebook pages like @beawarefromlovejihad that has over 2,400 members posting photographs of women claiming they have been converted to Islam, raped or killed by Muslims. Facebook page @BewareofLoveJihad describes it as a mechanism of coercing young women into changing their religion through various tactics and aims to "convert" Hindus who deny that this is a problem.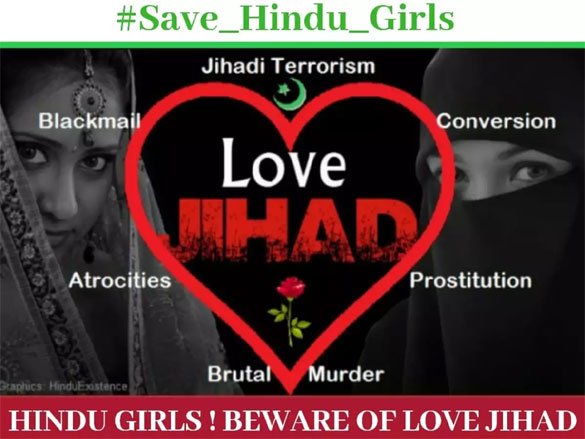 One Twitter handle @its_Dubey_ with 15.8k followers posts titles like "Aur kitni Hindu behne love jihad par balli chadhengi? #save_Hindu_girls (How many more Hindu sisters will have to be sacrificed at the altar of love jihad)" while @ASG100_ retweeted a picture of a woman in a burqa warning "Tomorrow your sister or daughter could be wearing this. We must learn from history and not let this conspiracy succeed!!"
Another Twitter handle shared three pictures on August 27 along with the claim that a Hindu girl died in a 'love jihad' incident. While the first picture shows a girl wearing Sindoor (vermillion) and dupatta (headscarf), the second has a woman wearing a hijab. The third picture shows a dead woman in a suitcase, surrounded by the police. The tweet received 9,600 likes and 5,300 retweets. Fact-checking website Alt News found that the woman with the vermillion was a resident of Uttarakhand's Dehradun who had married a Muslim against her parents' wishes but was living happily. The dead woman in the picture was from a separate incident altogether.
Alt News' Pratik Sinha says that the issue has become a 'trending' topic since the recent Tanishq advertisement which featured a Muslim mother-in-law organising a traditional baby shower for her Hindu daughter-in-law. Close on the heels came the Faridabad case in October where college student Nikita Tomar was allegedly shot by her stalker who is a Muslim. "It is not so much the number of videos or misinformation but the sheer spread of fake videos and posts that become viral very quickly which is a cause for concern," he says. The website has busted half a dozen videos since September.
The Logical Indian founding editor Bharat Nayak, who is also a fact-checker, says that love jihad videos proliferate on Instagram, Twitter, Facebook and YouTube. Debunking is a thankless task since videos that play on insecurity of people go viral in minutes while fact-checked content barely gets shared.
Even though the home ministry told Parliament in February that love jihad was not defined under existing laws and no such case had been reported by any central agency, the narrative continues to be spread.
In fact, besides being deeply patriarchal, it also encourages boycotting of Muslims socially and economically with videos and posts warning against patronising Muslim tailors or Mehndiwalas, and even avoiding salons as places where 'innocent' Hindu women are targeted. Parents are asked to morally police girls by keeping a check on their university timings and the places they visit.
While Twitter declined to comment on specific handles, a Facebook spokesperson says it has made significant investments to keep hate off of their platform. "(But) There is progress to be made and we will continue to improve our technology and processes to ensure groups remain places where people can connect and find support."
Divij Joshi, a Mozilla tech policy fellow whose research focuses on online speech, says that one of the biggest problems is the scale of content generated. "The problem of scale can be countered by constituting a regulatory body, which oversees how social media platforms moderate their content," adds Joshi.
Joshi also points out that hate speech laws in India are inadequate. "We need to set standards. We then need to have laws that hold these platforms accountable to these standards and rules," he adds.
Original Headline: How the myth of love jihad is going viral
Source: The Times of India
URL: https://www.newageislam.com/islam-and-politics/himanshi-dhawan-and-anam-ajmal/love-jihad-spread-of-fake-videos-and-posts-a-cause-for-concern/d/123447
New Age Islam, Islam Online, Islamic Website, African Muslim News, Arab World News, South Asia News, Indian Muslim News, World Muslim News, Women in Islam, Islamic Feminism, Arab Women, Women In Arab, Islamophobia in America, Muslim Women in West, Islam Women and Feminism