By Hasan Suroor
February 8, 2017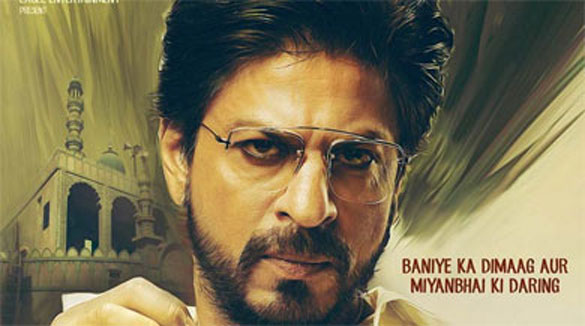 Shah Rukh Khan
----
Shah Rukh Khan plays a strong, in-your-face Muslim character in his latest film Raees (even subjecting himself to frenzied, blood-oozing self-flagellation in an elaborate Muharram scene). This has kicked off a rather distasteful debate with SRK being accused of using the film to flaunt his Muslim identity.
Normally, actors are accused of "appropriating" other cultural identities – for example, white actors playing black characters. But, here, he is under scrutiny for playing himself: a Muslim! Tea leaves are being read to infer what prompted him to take up a role that has his 'Muslim-ness' written all over it. By doing so, has he deliberately or inadvertently crossed a line in India's culture wars?
The debate illustrates a wider problem: the dilemma Indian Muslims face in relation to their religious identity vis-à-vis their national identity. It would seem there's an unwritten code of conduct that they're expected to abide by in order to be seen as loyal Indians. SRK has allegedly transgressed that limit in Raees. His offence, it appears, has been compounded by the fact that this is the third back-to-back film in which he has played a Muslim character after Ae Dil Hai Mushkil and Dear Zindagi.
In those two, he hovered around the implicitly acceptable limits of the "code" in playing characters who are only nominally Muslim. There was no hint of parading his faith. Critics claim he has abandoned his previous caution and done the full Monty in Raees. There is even a suggestion that the previous two films were a carefully rehearsed build-up to this one, where he finally blows his cover.
The liberal lover-boy who wore his religion ever so lightly has allegedly stepped out of the shadows to advertise his Muslim-ness, mouthing lines like "Miyan Bhai Ki Daring Aur Baniya Ka Dimaag". Which many have interpreted as a cheap jibe at Hindus that plays into the stereotype of a 'strong' and 'daring' meat-eating Muslim and the meek vegetarian baniya.
If so, then it is not just a cheap jibe but downright vulgar and must be condemned. But, SRK might turn around and say that he is actually acknowledging a Baniya's acumen – his brains. And that by referring to Muslims as Miyan Bhai he is deploying a slightly derogatory term often used to mock Muslims.
It is a silly debate. Confirmed by the fact that some have complimented SRK for sending a "brave message" by playing a Muslim in three successive films. "In a country where it is rare to find a Muslim or a Christian character as the lead in films, with minorities usually reduced to caricatures and stereotypes, the fact that the biggest star plays a Muslim in three simultaneous films is a strong message to a country, a rebellion that needs to be noticed and lauded," wrote commentator Rana Ayyub.
"Rebellion"? Rebellion against what? First it is not true that lead Muslim characters in Hindi cinema are "rare". Historically, some of the most memorable characters in Hindi films have been Muslim even if they were not always played by Muslim actors. The 60s and the 70s were dominated by the so-called "Muslim socials", including some based on strong historical Muslim figures.
Ayyub's comment is also troubling because it suggests that a Muslim actor needs to justify his decision to play a Muslim character when no such justification is needed in the case of a Hindu actor playing a Hindu character. We need to be careful reacting to right-wing provocations in a way that ends up playing into their hands.
SRK has rightly ridiculed the idea that he has done anything brave. "I did not even know what my name was in Ae Dil Hai Mushkil. I just went for two hours, did some shots and had fun with my friends," he told an interviewer. What people forgot was that he had played "55 Hindu characters".
On the Right, there's almost a sense of vindication. We told you so, they're saying: a Muslim no matter however liberal or secular remains a Muslim under the skin. It's a view coloured by prejudice and meanness, but unfortunately it is not restricted to the Hindu Right alone.
The idea that Muslims give primacy to their religious identity permeates even sections of the liberal elite. I have watched TV anchors with impeccable liberal credentials press Muslims to say whether they regard themselves as "Muslims first" or "Indians first". Even as a rhetorical question aimed at creating a TV "moment", that's insulting (recently a Muslim leader, when repeatedly pressed, said: "Patriot, first"). I was accused – including by my leftist friends – of behaving like a "Muslim" rather than an "Indian" voter after I wrote an article highlighting the limited credible choices available to Muslims in the assembly elections.
The SRK-Raees debate is to be seen in this wider context of how all Muslims are seen as being torn between their Muslim-ness and Indian-ness. To me, that's more troubling than SRK's role in one film.
Source: blogs.timesofindia.indiatimes.com/toi-edit-page/srks-new-muslim-roles-his-playing-a-muslim-in-three-successive-films-triggers-another-silly-edition-of-indias-culture-wars/
URL: https://www.newageislam.com/islam-and-politics/hasan-suroor/srk's-new-'muslim'-roles--his-playing-a-muslim-in-three-successive-films-triggers-another-silly-edition-of-india's-culture-wars/d/110015