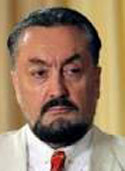 By Harun Yahya
8 February 2014
With the mention of terms like manipulated polls, one-party system, dictatorship and coups, the next thing that comes to one's mind is the Middle East. This image has become so ingrained in the psyche of certain elements in various countries of this region that if a move is made to break the mold; those favoring status quo — obviously to pursue their selfish interests — try to push the country into chaos using all means possible.
A slight mishandling of an issue turns the government into a punching bag for people who like to construe an administration's weakness or mistake as its failure. Instead of adopting a reconciliatory approach, efforts are made to overthrow the government.
That is exactly what is currently happening in Turkey. Despite a strong democratic past that saw Turkey emerging as a regional powerhouse, it continues to show those unpleasant traits perhaps unique to this region. The same old rotten mentality is evident since the anti-graft operation of Dec. 17, 2013. Instead of going to the polls with fresh ideas, this mindset stresses the need for getting results through the use of undemocratic methods. Such an attitude is indicative of a society wherein democracy has not taken roots and which does not know how to respect the aspirations of the masses. A similar debate is under way in Turkey. Another issue that has become a must during such debates is the presence of a parallel administrative structure in the form of Fetullah Gulen community.
Let us first discuss the much-trumpeted anti-graft operations that sent shockwaves around the world so much so that on the basis of this operation, political pundits are predicting the demise of the Justice and Development Party (AKP) government. Only time will tell how justified these claims are.
This writer does not wish to indulge into the details of those anti-graft operations that saw names of some ministers' children and top officials coming to the fore and the questioning of the trade ties between Turkey and Iran. Despite Prime Minister Recep Teyyip Erdogan's repeated assurances that these corruption charges would be thoroughly probed, the anti-government camp continues to raise a furor. In such a situation, it has become all the more important to analyze the situation carefully, as it is affecting Turkey.
An unbiased study of the post-Dec.17 events reveals that apart from the corruption allegations, many actions taken by certain quarters look rather conspiratorial. Interestingly, as many would assume only a single group could not be blamed for those.
Such a phenomenon is not new to Turkey, as it has endured years of a parallel state within a state. That deep state was unable to conceal its illegal activities in the past and everyone was aware of it apart from its name and knew that it manifested itself in targeted killings and other terror activities. However, this time around the situation is different.
Today the government is facing an alliance of elements of all hues. This "common opposition" is not acting as an organized entity with a well-defined hierarchy. It is more of a marriage of convenience between various anti-government forces against one common enemy. They appear to be following the principle: The enemy of my enemy is my friend. It is, unfortunately, always easy to establish such an alliance in the Middle East, where opponents always seek to bring down the government rather than bring in democracy. Such alliances easily gain support from natural opponents who do not know one another, from inside or outside the country.
The trend of opposition for the sake of opposition in the region and the Muslim world has been a major cause of our backwardness and social turmoil. Creative criticism helps a group or country grow. The right course is always to support the truth. Supporting the truth is possible by always concentrating on, and appreciating positive aspects while criticizing the negative ones. Under absolute opposition the ability to analyze a situation objectively is compromised and is replaced by an ultra-partisan spirit. The only outcome is conflict.
It is due to this ultra-partisan spirit; some people are unable to come up with an objective analysis of Turkey's situation. The geographical location of Turkey is unique, as it is simultaneously part of the Middle East and Europe. It has stretched out to all countries, from Myanmar to Somalia. It is a devout, democratic, libertarian but also conservative country.
As a democratic Islamic country, it has to be a role model and it goes without saying that it is very difficult to be the premier of such a country. Establishing internal and external equilibrium when there is war and conflict all around, bringing in democratization while strengthening the economy, building bridges and dams while at the same time adjusting the country to EU criteria and putting an end to terror, the country's greatest problem, is not easy.
Claims about the presence of a parallel structure in Turkey have caused considerable damage to the ties between the government and the Gulen community. It is true that some members of the community have joined in hands with other anti-government forces but one cannot blame the entire community for the actions of a few individuals. These individuals must not play into the hands of anti-Turkey forces whose primary aim is to bring down the government and to destabilize the country.
An unstable Turkey would spell disaster for the entire region, which is already up in flames. It is high time the media and the opposition forces acted wisely and adopted a reconciliatory approach, as it would benefit all. If we want peace and stability in the Middle East — and the world — we must use the language of love.
Harun Yahya has authored more than 300 books translated in 73 languages on politics, religion and science.
Source: http://www.arabnews.com/news/522421
URL: http://www.newageislam.com/islam-and-politics/harun-yahya/turkey--playing-dirty-will-serve-none/d/35668