By Ghulam Rasool Dehlvi, New Age Islam
19 July 2018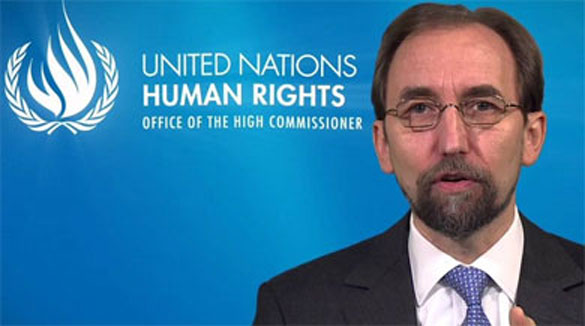 High Commissioner for Human Rights Zeid Ra'ad Al Hussein
------
A critical appraisal of the 49-page report on alleged human rights violations in Kashmir authored by the UN High Commissioner Zeid Ra'ad
It appears that the Office of the High Commissioner for Human Rights (OHCHR) is obsessed with its contentious report on the alleged human rights abuses in Jammu & Kashmir. In yet another dismissal of India's criticism of the UN Kashmir report, the OHCHR says it is 'deeply disappointed' at India's reaction to the first-ever UN report on Kashmir.
Over a month after the High Commissioner Zeid Ra'ad Al-Hussein released a report cataloguing alleged human rights violations in J&K, his office denies any collusion with Pakistani activists. It also criticizes the Indian media for clubbing a Canada-based Pakistani-origin imam Zafar Bangash's claim that the High Commissioner Zaid Ra'ad had been in contact with him while the report was being prepared. "Nefarious conspiracy", "Pakistan-authored report", "fallacious", "mala fide"—these are some of the accusations levelled by numerous Indian media outlets against the UN Human Rights Office for our publication last month of the first-ever UN human rights report on Kashmir", the OHCHR writes in its press briefing note on Kashmir.
(ohchr.org/EN/NewsEvents/Pages/DisplayNews.aspx?NewsID=23383&LangID=E)
Tellingly, India sharply rebutted the UN report on Kashmir as recently as July 9 in a debate at the Security Council, where Pakistan referred the matter. It lodged a formal complaint with the world body. After Pakistan raked up the issue at a UN session repeatedly in many weeks, India categorically stated that the report was "clearly biased" and not even fit to be considered by the members of the human rights body. India's deputy permanent representative to UN disparaged the report as "reflecting the clear bias of an official who was acting without any mandate whatsoever and relied on unverified sources of information". While the defence minister of India called the report as "baseless", the External Affairs Ministry deemed it violative of India's sovereignty and territorial integrity. Earlier, Indian army chief Bipin Rawat also issued similar remarks: "I don't think we need to speak on the United Nations report on Kashmir".
However, India was not alone in its rejection of the OHCHR report. Six more nations rejected the report; two from Asia (Bhutan, Afghanistan), one from Africa (Mauritius), one from Eurasia (Belarus), and two from Latin America (Cuba, Venezuela). The report was discussed and dismissed by all these countries during the 'General debate on the overall update of the High Commissioner on the situation of Human Rights worldwide and on the activities of his office' at the Human Rights Council.
The reason why India and many other countries took the report with a pinch of salt is not difficult to see. A critical appraisal of the 49-page report prepared by the UN Office of the High Commissioner for Human Rights (OHCHR) unravels its fallibility based on 'unverified information'. Both the motif and timing of the report were rightly questioned.
That this 'probe' into alleged human rights violations in Kashmir was headed by the Jordanian diplomat and the outgoing chief of OHCHR Zeid Ra'ad is the major cause of concern. While Zeid acknowledged the "political dimensions" of the dispute between India and Pakistan over Kashmir, it is disappointing to note that he has been close to the Organization of Islamic Cooperation (OIC) which unreservedly supports Pakistani stance on Kashmir. Moreover, he was recently photographed with the Syed Faiz of Pakistani Hurriyat and some other leaders from Pakistan and POK. Such occurrences led to question as to where his findings were coming from. The OHCHR's clarification that "individuals often ask to be photographed with the High Commissioner, and he often politely obliges" does not stand to scrutiny. Having acknowledged the "political dimensions" of the dispute between India and Pakistan over Kashmir, his one-sided personal ties and informal interactions are untenable. The UN High Commissioner's mandate clearly states that he should conduct his work respecting "sovereignty, territorial integrity and domestic jurisdiction of member states". But what surprised the global observers of the Indo-Pak conflict on Kashmir is that Zeid was seen with Syed Faiz Naqshbandi, the convener of All Parties Hurriyat Conference, Islamabad.
No wonder then, Naqshbandi appreciated the work of the High Commissioner for Human Rights and his Office in his latest oral statement submitted during the ongoing 38th session of the Human Rights Council. He said, "We are gravely concerned by the increasing pressure against human rights defenders in occupied Kashmir, for cooperating with the Office of High Commissioner for Human Rights." The full text of his statement can be accessed here:
(kmsnews.org/news/2018/07/04/naqshbandi-calls-for-protection-of-rights-defenders-in-iok/)
There are legitimate concerns about why Zeid is seen as an 'ally' in Islamic countries including Pakistan. He is arguably referred to as 'blue-eyed friend' and an 'avid advocate' for the cause of 'Aazad Kashmir' at UN.
On Mar 9, 2018, a Pakistani news channel Neo Tv Network published photos of Zeid R'ad al-Hussain meeting with Awais Ahmad Khan Leghari, a Pakistani politician and Special Envoy of the PM on Kashmir in his bid to highlight the Pak narrative of the Kashmir issue. Zeid thanked the Special Envoy for 'briefing' him on the human rights situation, as widely reported. Interestingly, the Pakistani TV channel concludes that the recent report which is first of its kind report released by the UN is an indirect outcome of the meeting between Zeid and Awais. It reports: "On the occasion of Burhan Wani's killing, Awais Leghari visited Geneva to meet with Zeid al-Ra'ad in order to brief him about Burhan Wani and the Kashmir issue. Only two months after this meet, the UN has broken its 50-year-long silence on the Kashmir dispute, and the credit goes to Zeid al-Ra'ad al-Hussain." (Source: youtube.com/watch?v=WmNMPrnOhRI)
This background of the OHRC report on Kashmir raises a pertinent question: Did Zeid look at Kashmir through the same prism as the OIC (Organisation for Islamic Cooperation) where Pakistan flogs off its story every year?
It is not just being a 'blue-eyed friend' of the OIC and Pakistan as well as a royal family member of Jordan that raises doubts about Zeid Ra'ad's suitability for being the OHCHR chief. Many other factors render him 'unfit' for this lofty position.
Jacob Mchangama, the director of a Copenhagen-based think tank focused on human rights and rule of law, details the reasons why Zeid is the wrong man for the job of a United Nations human rights advocate. In his piece for Foreign Policy on June 26, 2014, he questioned Zeid's credentials to defend free speech in the sphere of religion, where this right is constantly under attack at both the national and international level. "There are grounds for concern about how Ambassador Zeid will treat what is arguably the most consequential human right: the right to freedom of expression", he wrote. (foreignpolicy.com/2014/06/26/the-scandal-of-ambassador-zeid/)
More to the point, Zeid is a former member of the Royal Jordanian Desert Force (also known as the Royal Jordan Bedouin Force) which is reportedly responsible for border patrol and enforcement of Jordan's frontiers with its desert neighbours. According to Amnesty International's 2017-2018 report on Jordan, over 50,000 Syrian refugees forcibly held in the desert at the Jordanian border by its border forces.
A particular question had to be asked in this regard: why did the UN high commissioner for human rights make it a 'special report' so selectively, while it does not cite any resolution of the General Assembly, the Human Rights Council or the Security Council as the mandate for it? Worse, Zeid's report refers to LeT, JeM and Harkat-ul-Mujahideen as "armed groups" while they are all listed as terrorist organisations by the Security Council.
Rampant violations of human rights are being perpetrated in the Kashmir valley at the hands of extremist groups and separatist leaders who believe in Pakistan's two-nation theory. But the UN high commissioner brazenly overlooked all this in his 49-page report. Those who do not believe in the radical Islamic concepts like 'jihad-e-Kashmir'; global Islamic caliphate and Ghazwat-ul-Hind (Islamic battle against India) face fatal discrimination in Kashmir. Any traditional Kashmiri Muslim who rejects Wahhabism is targeted by extremist groups. But the UN human rights report maintained deafening silence on this grave violation of human rights.
Anything sagacious that Zeid has authored in this report is a bunch of thoughts like this:
"The political dimensions of the dispute between India and Pakistan have long been centre-stage, but this is not a conflict frozen in time. It is a conflict that has robbed millions of their basic human rights, and continues to this day to inflict untold suffering"…… "This is why any resolution of the political situation in Kashmir must entail a commitment to end the cycles of violence and ensure accountability for past and current violations and abuses by all parties, and provide redress for victims". (ohchr.org/SP/NewsEvents/Pages/DisplayNews.aspx?NewsID=23198&LangID=E)
But even in these lines, the UN High Commissioner for Human Rights has egregiously violated his mandate by wholly ignoring the scale of violence being peddled by extremist outfits.
One of the major reasons why human rights in Kashmir are in melancholy is religious militancy. Faith-based insurgents have perpetrated grave human rights violations in a large section of the clergy-controlled Kashmiri populace, where secular educational institutions are not welcome.
Ansar Ghazwat ul Hindi, an avatar of Al-Qaeda ideology in the valley promotes medieval concepts and exclusivist online narratives to radicalize the Kashmiri youths. Dukhtaran-e-Millat, an all-woman group advocates 'full-veiled jihad' to establish 'Islamic' rule in Kashmir and has supported Kashmir's two-decade long insurgency, declared secular education akin to Haram (forbidden) much like the Boko Haram which translates into 'western education is Haram'.
Recently, a school bus carrying children was attacked in militant-infested Shopian district of South Kashmir. Kashmir has potential to produce scores of Malalas, but the Kashmiri parents see an increased risk for their daughters, when schools in different areas of the state have experienced attacks from the militants.
Shujaat Bukhari, an acclaimed journalist, was the latest victim of such extremist designs. He began to speak for peace and reconciliation in Kashmir on international forums, thus he met the fatal death just as many other intellectuals have in the past. At this critical juncture, it is distressing to see human rights bodies like the UN human rights council undermine their own credibility by wholly ignoring the violent militancy in the valley.
Regular Columnist with Newageislam.com, Ghulam Rasool Dehlvi is a classical Islamic scholar and English-Arabic-Urdu writer. He has graduated from a leading Islamic seminary of India, acquired Diploma in Qur'anic sciences and Certificate in Uloom ul Hadith from Al-Azhar Institute of Islamic Studies. Presently, he is pursuing his PhD in Jamia Millia Islamia, New Delhi.
URL: https://www.newageislam.com/islam-politics/un-high-commissioner-zeid-raads/d/115877
New Age Islam, Islam Online, Islamic Website, African Muslim News, Arab World News, South Asia News, Indian Muslim News, World Muslim News, Women in Islam, Islamic Feminism, Arab Women, Women In Arab, Islamophobia in America, Muslim Women in West, Islam Women and Feminism