By Frank Tout
February 24, 2020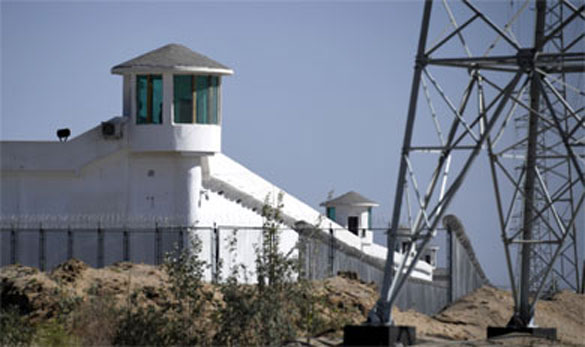 Watchtowers on a high-security facility near what is believed to be a 're-education camp' where mostly Muslim ethnic minorities are detained in China's Xinjiang region. It is estimated that 1-2 million people are detained in such camps. (Photo: AFP)
------
Fresh reports have emerged about the extent of the crackdown by Chinese authorities against Muslim Uyghurs in the central region of Xinjiang after a leaked internal Communist Party document was obtained by German media.
And on Feb. 21 Amnesty International released case studies showing how China is systematically harassing Uyghurs and other Chinese Muslim minorities overseas.
The newly leaked document, known as the "Qaraqash Document" or "Qaraqash List" in reference to the Xinjiang town referred to in the document, shows that detainees were put into what China described as "re-education systems" for offenses related to common religious practices such as growing a beard or wearing a veil.
It also describes how authorities are using advanced surveillance techniques — millions of cameras are installed across Xinjiang — to track "every face, every family and every movement" of Muslim-minority Uyghurs, Deutsche Welle said.
Other people have been incarcerated for applying for a passport and not leaving the country and even having too many children in violation of China's One Child policy, even though most ethnic minorities had traditionally been excluded and the policy has since been relaxed.
The Qaraqash Document provides confirmation of the veracity of eyewitness and survivor testimony, especially the reasons for detention, the systematic reliance on guilt by association to deprive individuals of their liberty, and the sorting of detainees into "standard," "strict" and "maximum" detention protocols, according to a report by the Uyghur Human Rights Project.
It also confirms local implementation of key features of the intensive and brutal Uyghur crisis, particularly the regular use of the Integrated Joint Operations Platform for surveillance and control, the "Becoming Family" program as a tool for identifying Uyghurs who should be detained, and identification and harsh punishment of "two-faced" officials deemed to have betrayed the Communist Party after being appointed to serve it
"We shouldn't really ask about what the Chinese government says is happening: we now have enough evidence," said Amnesty International's East Asia director Nicholas Bequilin.
Speaking about Amnesty's case studies, Patrick Poon, its China researcher, said: "These chilling accounts from Uyghurs living abroad illustrate how the far-reaching shadow of repression against Muslims from China extends far beyond its borders.
"Even when Uyghurs and members of other minorities flee persecution in Xinjiang, they are not safe. The Chinese government will find ways to reach them, to intimidate them and, ultimately, attempt to bring them back to face a grim fate — including by pressuring other governments to return them."
Amnesty analyzed information from about 400 Uyghurs, Kazakhs, Uzbeks and members of other predominantly Muslim ethnic groups living in 22 countries across five continents between September 2018 and September 2019.
In 2019, leaked internal documents showed how the campaign against Uyghurs in Xinjiang, which began in earnest following July 2009 sectarian riots, has been stepped up under the leadership of Xi Jinping.
In 2014, the Chinese president called for a "struggle against terrorism, infiltration and separatism" in Xinjiang. The documents showed how Xinjiang party secretary Chen Quanguo ordered local officials to "round up everyone who should be rounded up" after taking charge of the region in 2016.
Construction of the 21st century's first mass concentration camps began shortly afterwards and various estimates from rights groups, helped by satellite imagery, have estimated that 1-2 million people have been interned.
Yet many countries who rely on Chinese trade and investment, including much of the Muslim world, have either remained silent or been guarded in their comments about the camps where more than 100 people have been documented to have died and where torture and rape have been reported to be commonplace.
Now there are fears that the Covid-19 virus may take hold in the camps after a rise in prison infections elsewhere in China.
While official figures have shown fewer than 100 people infected in Xinjiang and one death, the World Uyghur Congress said it was very concerned "that if measures are not taken to further limit the spread of this virus, it could rapidly infect large numbers of people" in the region.
Original Headline: Document confirms brutal treatment of Uyghurs in China
Source: The UCA News
URL: https://www.newageislam.com/islam-politics/leaked-evidence-shows-that-muslims/d/121163