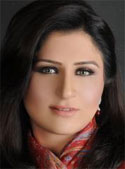 By Fe'reeha Idrees
January 22, 2014
For months Pakistani leaders have been sitting in a stasis, in utter confusion on how to proceed further in tackling the deadly Taliban who are fast succeeding in gaining foothold in certain parts of the country, in particular KPK and FATA regions. That the Taliban and their offshoot are getting stronger is not a mystery anymore. There has been a bloodbath almost every day in the past week. The question, however, is how and why did we allow a lull period which resulted in regrouping and reemerging of the terrorists? The answer is woven in the intricate pattern of Pakistani politics. Elections were held last year; it goes without saying that elections need promises and at times far-fetched theories and dreams. Since it is assumed that all is fair in love, war and election, the election year started becoming a propeller of Pakistan's policy on terror with All Parties Conferences (APCs) and political point-scoring marring the actual facts.
It all started with a collective narrative carved by the political parties vowing for the government trying to prove anything and everything that happened under the last government as a complete failure. With time, Pakistani public was made to understand that the collective failure of the last five years needed to be changed but with the slogans of change emerged a new thesis simply comprising an apparently straightforward but in essence very misleading theory as the new post-election solution for terrorism in Pakistan. The theory said since you have not been able to tackle the terrorists by fighting, so let's negotiate. If the former took us nowhere, surely the new stance would make a few changes. It did. Only in the change of governments in KPK and Federal post-May 11 elections. The rest resulted in a confused solution based on popular rhetoric and jargon.
Ground realities remain as confused as ever today with death toll on the rise. Fighting terror has been on the agenda since we became allies of the United States in the war against terror after the atrocious attacks of 9/11, yet many in Pakistan still refuse to own this war which has killed thousands of their countrymen and women.
The complex reality remains that the national security narrative carved by Pakistani political leadership emerged out of a lot of misunderstanding and a massive mistrust of the military era. The newly elected government in KPK led by Imran Khan's fast emerging party Pakistan Tehreek-e-Insaaf (PTI) has been at the forefront of denying the war in Pakistan as their own war followed zealously by Jamat-e-Islami and Jamiat Ulema-e-Islam. Their policy and political mantra consist of a narrative which claims the war has been imported by the USA to Pakistan, finding easy passage by dodgy dealings of a military government first and later a government formed by PPP as a result of a politically maneuvered understanding called the National Reconciliation Order (NRO) between Pakistan, USA and UK. Imran Khan believes that he can stop bloodshed in Pakistan by negotiating with the terrorists. "They are our own people, we need to talk to them", he has stressed in hundreds of gatherings attended by millions.
This jargon became so popular that other right wing parties in Pakistan were pressurized to follow suit. Imran Khan's main competitor and now the party running the federal government, the PML-N soon joined hands in carving a similar narrative where they accused the PPP and their coalition parties of fighting a futile war for USA where 'their own people were being killed'.
Whether we own the decade long war or downright deny, it exists; the war in Pakistan has been an expensive and repulsive affair. More than 40,000 people have lost their lives, civil liberties have been hugely curtailed due to the constant fear of a bomb attack and Pakistan's economy has deteriorated due to the colossal damage done to the infrastructure. Investors feel insecure to invest in a county where life is not safe.
In the midst of such madness, the dreams of a war free country seemed like the sound of a glorious tomorrow and the general elections results showed people across Pakistan had favored the parties that had promised to change that.
It was a utopia shown by the parties struggling to come to power. We all believed - because we wanted to believe in it. But the lurking fear was that the idea of peace talks with the death messengers was probably implausible and shoddier than it looked. The last six months lethargy and incapacity has been an affirmation seal on that gnawing fear.
It is like the political leaders, now in power, have been struck by paralyses. Voices that hurled protest at Pakistan Army running the show are now sitting idle and incapacitated.
Soon after taking power, an APC was called by the newly elected government where all the parties signed a resolution that negotiations should be held. Days passed and no progress was made public. It seemed the whole government machinery had frozen into a stasis where we were neither moving forward nor backward. Pakistan also suffered a massive attack on a church in Peshawar and martyrdom of brave soldiers including a General during this peace negotiation era. But none of these attacks proved deterrence to the state. However, the loudest sounds of protest came when a drone attack killed Hakeemullah Mehsud.
"We were about to reach the final rounds of the talks when this attack derailed everything", lamented the Interior Minister, Chaudhry Nisar Ali Khan.
This sounded like a sadly lame excuse from someone at the forefront of the deadliest of all wars. War is not politics. It was becoming fast apparent for the newly elected parties. Perhaps even for PTI whose leader recently sent a powerful message on twitter to TTP.
"I condemn TTP for Bannu attack on our soldiers. Such attacks, along with government having no holistic counter-terror policy are making dialogue difficult."
The times in war are never easy and they are most difficult for the ones in power. The present government promised peace to the people of Pakistan but peace will not come with easy decision and half cooked plans. The security policy is a welcome step but the clocks are ticking fast. What we need is a serious and concerted effort with definitive plans by the ones at the helm of affairs. The method to proceed further is to have a grand plan with contingency margins so we do not go into national mourning every time external powers intrude and try to topple your designs. In the grand scheme of the art of war, every nation protects its interest, and we must too. The lame excuses of USA derailing the peace process are sounding as lame as ever. If serious efforts and an obvious direction are not shaped on the issue of war on terror soon, we will be compelled to believe that the government actually has no direction at all. Perhaps it never had. They promised peaceful days to the people of Pakistan. It is time now to deliver just that.
Fe'reeha Idrees is the host of Eight PM with Fe'reeha Idrees on Waqt News.
Source: http://www.nation.com.pk/columns/22-Jan-2014/paying-the-price-of-indecision
URL: http://www.newageislam.com/islam-and-politics/fe-reeha-idrees/pakistan-is-paying-the-price-of-indecision/d/35380