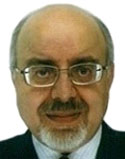 By Eyad Abu Shakra
14 June 2014
I hesitated a bit before choosing this dramatic title for my article. My hesitation was due perhaps, first, to my hope that I may be mistaken; and, second, I did not want to seem like I was copying Francis Fukuyama's thesis in his book, The End of History and the Last Man, which he had to reconsider.
Whatever the cause may be, I can assume that the region's Arab identity is being buried, dead or alive. In particular, this has been the case after Mosul, one of the cradles of Arabism and Islam; fell to the invading forces of an armed organization that is far from being Arab or Muslim. This sorry incident comes one month after the fall of the Syrian city of Raqqa—the "second capital" of Caliph Harun al-Rashid, after Baghdad—to the same group which threatens Deir Ezzor and Hassakah in Syria, and the one that has taken full control of Ramadi and Fallujah in Iraq.
It is also the case when an army—one that boasts a slogan that names them 'Guardians of the Homeland' and adopts secular pan-Arab rhetoric—seeks the help of blatantly sectarian militias loyal to a non-Arab power in destroying two of the world's oldest cities and centers of Arabism, Homs and Aleppo.
My thesis still holds as non-Arabs take hold of political decision-making in Iraq, Syria and Lebanon, and while Yemen collapses between the hammer of Iranian-backed Houthis marching towards Sana'a and the anvil of the Al-Qaeda-linked factions spread across the Southern parts of the country, where Iranian influence is on the rise as well.
The above applies equally when Palestine becomes nothing but forgotten strips of land being constantly nibbled away by the Israeli occupation—and this is not to mention the foreign-backed infighting devastating Palestine's national unity. Indeed, the Palestinian ordeal has ceased to be a priority for many Arab countries, each overburdened with its own woes. Furthermore, the Palestinian cause is no longer of pivotal significance to many Arabs, because some Palestinians allowed themselves to believe that they were the only Arabs in a difficult situation, and so they never really sympathized with the misfortunes of their brethren.
War on the 'Infidels'
Finally, this holds true when deviant extremist Muslims declare anyone who opposes them an "infidel," an act distortive and degrading to the true and tolerant message of Islam—not to mention the animosity they stir up towards Islam from global powers. Such beliefs and practices have turned many Muslim regions into a hotbed for the worst forms of violent extremism, serving the best interest of those plotting against the Muslim people, homeland, identity and destiny.
As is the case during dark times such as ours, many today believe in conspiracy theories, but I personally believe that we first need to understand history. We Arabs still lack the knowledge needed to read history well. It is no wonder, then, we do not learn from its lessons.
It is natural that decades of oppression practiced by tyrants produced feelings of hatred on the part of the public. It is also natural that this public discontent found foreign sponsors, who exploit it in a bid to promote their interests.
In the absence of sound party politics in what resemble republics, which have actually always paid mere lip service to the values of democracy, it was logical that the public felt revulsion toward the fake slogans and non-democratic practices of these regimes. Actually, nobody has harmed the idea of Arab unity like those who cheapened it through overuse. No one has done as much harm to socialism as those who amassed fortunes by stealing from their people and plundering national resources. No one has done as much harm to the dream of liberating Palestine and other occupied Arab lands as those who compromised everything and turned their countries into colonies.
The Fall of Arabism
The fall of Arabism as an ideology, together with the absence of freedom of expression, assembly and organization, has prevented the establishment of serious political and unionist institutions, and thus encouraged the public to resort to Islamist religious ideology. Here came the invisible powers that exploited this phenomenon and nurtured its development and promulgation under different names and with varying degrees of extremism.
Yes, the presence of political and theological incubators has contributed to a large extent to the emergence of jihadist and Takfirist groups that have spiraled out of control, producing several offshoots of their own. However, mere personal empathy on the part of individuals or governments is not enough to enable these groups to do what they are doing in Syria, Iraq, Yemen or North Africa. The operations of these groups that are overrunning Arab cities and villages surely require huge logistic infrastructures that cannot be sustained solely by donations. We should remember that salaries such groups pay their fighters by far exceed the budgets spent on professional military factions, such as the Free Syrian Army, as reports from north Syria have suggested.
Another point that should be tackled seriously relates to these groups' theaters of operations. The Islamic State of Iraq and Syria (ISIS) has been battling the Free Syrian Army and other Syrian rebel factions over the past few years, without once targeting the regime of Bashar al-Assad. In turn, the Syrian government—which did not hesitate to shell Syrian cities and villages with all sorts of lethal weapons, including ones prohibited under international law—never targeted ISIS strongholds.
A third inevitable point is that ISIS and other ideologically similar extremist factions have become a burden on the very causes they claim to be fighting for. We have seen how the West and the international community more generally have used such groups as a pretext to justify the betrayal of the peaceful Syrian revolution at a time when it was still peaceful. I very much doubt this fact has escaped the mind of any wise leader, if any such people exist, of these groups. Nevertheless, ISIS continues its atrocities, killing people, ransacking businesses, and forcing the evacuation of entire cities and towns.
The displacement of the people in the Mashreq region currently taking place is not an arbitrary phenomenon. Rather, it is indicative of a conspiracy threatening the Sunni presence in this area. Such a conspiracy is no less catastrophic than the cleansing of Andalusia of its Arab and Muslim populations or the uprooting and displacement of the Palestinians.
The motives behind the displacement of the residents of Homs, Aleppo, Raqqa and Deir Ezzor in Syria and Mosul, Ramadi, Fallujah and Samarra in Iraq is too clear to ignore. What is becoming clearer is the identity of the perpetrators of such acts. It is not a sheer coincidence or a pointless act. Rather, I reckon that a plot has been hatched on the highest levels in the world's major capitals to redraw the map of the Middle East. This is a much more serious issue than just a bunch of brainwashed, zealous volunteers angered by Iran's atrocious sectarian acts in the region or fed up with the incompetence of Arabs to liberate Palestine.
To wrap up, I would say that the current political scenario requires the wise leaders in the Arab world to consider the facts and not be lost to delusion. The betrayal of the Syrian people was perpetrated by the international community almost unanimously. The conspiracy to destroy Iraq's social fabric was cooked up in those international political circles that approved of the idea of the Mashreq being under Iranian control.
Eyad Abu Shakra (also written as Ayad Abou-Chakra) began his media career in 1973 with Annahar newspaper in Lebanon. He joined Asharq Al-Awsat newspaper in the UK in 1979, occupying several positions including: Senior Editor, Managing Editor, and Head of Research Unit, as well as being a regular columnist. He has several published works, including books, chapters in edited books, and specialized articles, in addition to frequent regular TV and radio appearances.
Source: http://english.alarabiya.net/en/views/news/middle-east/2014/06/14/The-end-of-the-Arabs-and-the-fall-of-Arabism.html
URL: https://newageislam.com/islam-politics/the-end-arabs-fall-arabism/d/87562