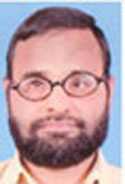 By Dr. Mohammad Ghitreef (Shahbaz Nadwi), New Age Islam
May 3, 2013
For the last one year, India has been witnessing an unprecedented public outburst. Until recently, there was a huge protest against corruption led by Gandhian Anna Hazare and IAS officer turned politician, Arvind Kejrewal. The whole civil society -- men and women, boys and girls, university teachers, students and school going children, human rightists and social activists -- all had participated en masse. Delhi's Rajghat, Ram Lila Ground and Jantar Mantar witnessed a sea of humanity. These huge protests erupted against the widely prevalent corruption in bureaucracy and political corridors. For example there were biggest financial scandals and scams by ministers and politicians like A Raja, Kani Mozhi and others. When these scandals and scams were exposed by media, the public outrage surged in the streets of not only of New Delhi and Mumbai but other metropolitan cities as well. Soon this outcry swept away small Indian towns and villages. This Jan Andolan (people revolution) subsequently gave birth to the Aam Admi Parti, the party of the common people.
Then there were country-wide protests that still are going on against the heinous crimes against women and girls in the streets of Delhi and other states. One such infamous and barbaric case was the rape and murder of a 22 years old medical student Damini or Nirbhaya as the media named her who fought doe life for several days and eventually succumbed to her severe injuries and died in a Singapore hospital. After that there were wide-spread wave of protests and demonstrations in which public outrages was poured in against the culprits, the police and the politicians of the country as well. Men, women and young boys and girls came in the streets, holding candles in their hands and demanding harshest punishments to the culprits.
Amidst all this hue and cry everyone would have noticed one thing, that something is missing; a Muslim voice. This is a serious question. Muslims are a part and parcel of our secular democratic fabric. And they rightly cite this when they are victim of any injustice. Why then, whenever an innocent Dalit is killed in cold blood by the upper caste people, when a young girl or an innocent girl child is raped and molested, all are seen in anger and in protest excluding a Muslim voice?. Every now and then, Muslim clergy, muftis and imams in mosques say loudly and vehemently that Muslims are the best people (Khaire Ummah) as they have been sent by Allah almighty for the benefit of the world. Why then don't they act as the saviour of the whole humanity rather than the representatives of the Muslims alone? There are many Muslim organizations, institutions and movements who consider themselves to be the sole representative and mouthpiece of Muslim community, but none of them raises a voice against any injustice done to a non-Muslim in the country or in the world.
Muslims are nearly 15 percent of the total Indian population, potentially a sound vote bank, which, if electoral card is played tactfully, will turn into the king-maker. But secular democratic polity is all about active and enthusiastic involvement in national life and not passively sitting on the margins. Generally Muslims are very active participants in terms of voting a political party in or out of power. But this voting game is only a part of national life. Active participation demands from its citizens an active part in every activity, every joy and sorrow and every challenge and accomplishment of the nation as A G. Noorani rightly and aptly said: "Secularism demands not detachment but involvement in the entire range of the nation's activities—economic, social, political and constitutional. The course they have followed in recent decades has furthered the fortunes of the thugs in New Delhi who claim to be their "leaders", earned them favours and marginalised Muslims. The BJP would not have travelled as far as it did, nor would the Babri Masjid have been demolished if the Muslims of India had lent their shoulder to the cause of secularism".
Dr.Mohammad Ghitreef is the director of Foundation for Islamic Studies, New Delhi, he can be contacted on: mohammad.ghitreef@gmail.com
URL: http://www.newageislam.com/islam-and-politics/dr-mohammad-ghitreef,-new-age-islam/why-no-muslim-voice-against-any-injustice-done-to-a-non-muslim-in-the-country-or-in-the-world/d/11402