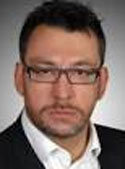 By Burak Bekdil
September/19/2014
It is more than relieving that we have a prime minister who thinks he can end the half-century-long dispute over Cyprus just by having a spot of tea with his Greek counterpart on both sides of the divided island. Why did the whole world not think of this before?
Does Prime Minister Ahmet Davutoğlu also think that he can snatch the 49 Turkish hostages from the Islamic State of Iraq and the Levant (ISIL) by having a cup of "mırra" with the jihadist leaders in Raqqa and a cup of Turkish coffee in Ankara? He does not, this columnist hopes. We journalists may criticize Mr. Davutoğlu, but we always want him alive and in good health.
Turkish optimism often comes in two flavors: mere naivety and a version that aims at propaganda/pretension/pragmatism. When politics is involved, it's often the latter. No matter how newspaper headlines or commentaries may try hard to play the 21st century reincarnation of Goebbels, Turkish optimism often conflicts with "real news" and makes amusing pages.
Just a month after a pro-government columnist portrayed three leading Turkish universities (including, proudly, mine) as "willing agents of other cultures" and argued that they should be "destroyed," the prestigious Quacquarelli Symonds listed the exact same three universities among the world's top 500.
But that was hardly good news for a country whose leaders boast that it is the world's 17th biggest economy and Europe's fastest growing. But that's just three universities in the world's top 500.
To borrow, once again, Shelby Foote's line with a minor revision, "A Turkish University, these days, is a group of buildings around a library and a small mosque."
The other optimist of the week was Deputy Prime Minister Bülent Arınç, whose remarks that "Turkey is working on a three-stage action plan to accelerate its accession process with the EU" conflicted – amusingly – with another piece of news that told readers that the European Court of Human Rights had concluded that the Turkish education system was "still inadequately equipped to ensure respect for parents' convictions" and violated the "right to education."
The court ruled: "Turkey has to remedy the situation without delay, in particular by introducing a system whereby pupils could be exempted from religion and ethics classes without their parents having to disclose their own religious or philosophical convictions."
Mr. Davutoğlu's response to the ruling was: "Even an atheist should have religious knowledge." Right? Right. What about forcing Muslims pupils to attend classes that teach the virtues of atheism? Does Mr. Davutoğlu think even Muslims should have knowledge on atheism? If not, why this asymmetry? Well, we all know. In 2001, Turkey had 71,000 students enrolled in religious imam schools. Now, there are 670,000.
Such de facto abuses are perfectly normal in a country where the entire education system is based on Islamic indoctrination – or on the idea of "raising devout generations," in the words of President Recep Tayyip Erdoğan. It was not a coincidence that Education Minister Nabi Avcı recently admitted that a total of 45 students who had taken the transition exam from primary to secondary school were "mistakenly" enrolled at the imam schools – although they had not chosen these schools.
Apparently Turkish computers used in the ministry's automation system have become Islamist devices. More amusingly, the 45 students who the ministry decided to make Turkey's future leaders by enrolling them at imam schools against their (parents') will included a few from Turkey's tiny Christian minority. Had the families not objected, Turkey would be the first country in the world to have recruited Christian imams!
Sadly, the Islamist indoctrination, despite all systematic government efforts, does not seem to be working. Last year, a report, released by the British Council's Education Intelligence research service, found that 95 percent of Turkish students would like to study at universities overseas. Apparently, younger Turks are not impressed by more than 175 groups of buildings around a library and a small mosque in their country.
The Turkish youth's preferred destinations to study do not match with Mr. Erdoğan's Islamic ideals either. The survey found that 80 percent of all Turkish students dream of having a university education in overwhelmingly Christian countries.
Funny, Turks force their students into imam schools and graduates wish to study in Christian countries.
Source: http://www.hurriyetdailynews.com/the-worlds-first-christian-imams.aspx?pageID=449&nID=71899&NewsCatID=398
URL: http://www.newageislam.com/islam-and-politics/burak-bekdil/the-world's-first-christian-imams/d/99159