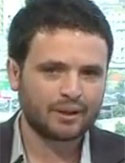 By Avi Asher-Schapiro
June 30, 2016
Every Ramadan, Hussein's grandmother cooks him fatayer, a savoury pastry stuffed with cheese or meat and baked in an oven. This year, she replaced the filling with grass and cooked the dish on a fire of burning plastic. "I promise you, it tasted better than it sounds," Hussein told me last week, just after he broke his fast.
Hussein, whose name I have changed to protect his safety, lives in Madaya, a small town just outside Damascus. It's one of a few rebel-held enclaves near the Syrian capital, and Hezbollah, the Lebanese militant group allied with Syria's president, has besieged it for a year. Land mines surround the town, and those brave enough to hazard escape often lose limbs. International aid convoys bring in a meagre supply of bulgur, rice, sugar and baby formula at irregular intervals every few months, barely enough to keep the 40,000 civilians trapped inside alive.
Among the litany of calamities incubated by the Syrian civil war — the rise of the Islamic State, a refugee crisis that spans the world, a death toll of about 400,000 — the international community seems to consider the slow grind of life behind a blockade a second-order problem. But starving civilians to gain a military advantage is a war crime under the Geneva Conventions, and wasting away under siege can be just as traumatic as barrel bomb attacks and public beheadings.
Hussein is one of the 590,000 Syrians who the United Nations says live under siege. (Some estimates say that more than one million civilians are enduring siege like conditions.) A vast majority of those trapped are, like Hussein, penned in by forces loyal to President Bashar al-Assad, though the Islamic State, the Qaeda-linked Nusra Front and some rebel groups have also imposed sieges on civilian populations.
On June 21, Stephen O'Brien, the United Nations' under secretary general for humanitarian affairs, reported that nine million Syrians are "food insecure." It's hard to overstate the psychological and physical devastation food deprivation unleashes during Ramadan, a holiday organized around the ritual of fasting all day, and feasting with family all night. Throughout the holy month, I have spoken with starving civilians across Syria. They have told me that they try to scrape together what they can find to observe the rituals, but there's little to celebrate this holiday season.
"Fasting has already been imposed upon us," Jihad, who lives in the blockaded neighbourhood of Al Waer, in Homs, told me. This Ramadan, he spends hours haggling in the market, trying to exchange his dwindling savings for canned goods. Mohammad, who lives in Daraya, a suburb a few miles south of Damascus, told me that he rarely leaves his basement. He's afraid he'll be killed by one of the barrel bombs that are dropped almost daily by government helicopters. But he still puts together a meal of bulgur and rice every night. Since the beginning of Ramadan, the Syrian military has been shelling the fields just a few hundred meters away where he used to forage for vegetables.
Though intermittent aid convoys organized by the United Nations and international aid organizations help keep mass starvation in check, not a single siege has been lifted over the past three months, even during a partial cease-fire, according to Siege Watch, an advocacy group. Besieged communities live at the mercy of the armed men encircling them, and the Syrian government must approve any relief deliveries. According to the United Nations, soldiers routinely remove food and medicine from trucks, and have even attacked civilians waiting for convoys.
I first began talking with Hussein after his cousin, Munir, messaged me from Turkey in January, when I was writing an article about stalled humanitarian convoys. "Scared, bored and hungry all the time" is how Hussein described his life under siege during our first conversation.
Madaya is run by Syrian rebels loyal to the hard-line Islamist group Ahrar al-Sham, but Hussein says he has never picked up a gun. He has little in common with the rebels. Bookish and curious, he tries to break the monotony by reading histories he salvaged from his father's bookstore, which burned down in 2012 when protests turned violent.
In January, he sent me a photo of the boiled grass and weeds he'd eaten for dinner. "I love chicken," he told me. "So, eat some for me if you can." Over the winter, Hussein lost 50 pounds. He was one of the lucky ones: 46 civilians starved to death in Madaya in December and January, Doctors without Borders reported.
So far there has been no international initiative to address Syrian sieges that matches the gravity of the problem. In April, the International Syria Support Group, a coalition that includes Russia and the United States, said that the Assad regime must stop blocking humanitarian deliveries. It set a June 1 deadline for the free flow of aid. The coalition and the United Nations even promised that they would support airdrops of supplies if food isn't allowed in.
The deadline came and went. The Assad regime permitted the Syrian Red Crescent to deliver aid to Daraya on June 10 — that city's first food convoy in over four years — but the trucks were allowed to bring in food only for 2,400 of the 4,000 to 8,000 civilians trapped there. So far, the only airdrops have been in Deir Ezzor, a regime-held city that is surrounded by the Islamic State.
After five years of civil war, the international community is no closer to solving a vexing problem: A vast majority of starving civilians are being besieged by the Assad regime, but humanitarian aid groups cannot enter blockaded territories without regime approval, and they must stage their convoys from regime-controlled Damascus.
This state of affairs shows no sign of changing. The forces loyal to Mr. Assad will continue to encircle populations when they can't or won't drive out rebels. "There are no negative consequences for enforcing these sieges," said Valerie Szybala, the executive director of the Syria Institute, a think tank in Washington.
While the brutality of the Islamic State has provoked a multinational military campaign, the persistence of sieges seems to produce only strongly worded statements. Were it the Islamic State, and not the Assad regime, responsible for keeping so many Syrians starving, the men manning the barricades might find themselves in the cross hairs of an American warplane. But for now, the United States finds itself in an awkward alignment with Mr. Assad in the fight against the Islamic State, empowering a government that starves its own citizens.
Before the war, Ramadan was the happiest time of year in Madaya, Hussein recalls. Each family would cook a different dish and share it with neighbours at sunset to break the fast. Now there's no food to offer, and besides, people are too drained, after a year of nearly starving to death, to walk the streets and greet their neighbours. "This month is just like the last," Hussein said. "One meal a day."
Avi Asher-Schapiro, a freelance journalist, covered the Syrian civil war for Vice News.
Source: nytimes.com/2016/07/01/opinion/in-syria-starving-instead-of-fasting.html?emc=edit_tnt_20160630&nlid=71783194&tntemail0=y
URL: http://www.newageislam.com/islam-and-politics/avi-asher-schapiro/in-syria,-starving-instead-of-fasting/d/107818