By Arshad Alam, New Age Islam
08 March 2017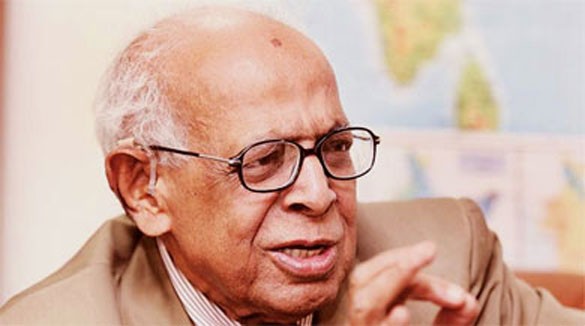 Syed Shahabuddin: A career bureaucrat, a politician and a chronicler of Muslim times
--------
A career bureaucrat, a politician and a chronicler of Muslim times are some of the ways in which one can describe Syed Shahabuddin. A risk taker, he resigned from his job in the Indian Foreign Service to become a full time politician, something which was a rarity those days, especially for someone who was a Muslim. A man with middle class moorings, it must have required great courage and conviction to leave his job and try to dabble in politics. But in the end it was his conviction that it was only through politics that he could better serve the community and the country which led him to make decision. There was no looking back since. From Rajya Sabha to consecutive terms in the Lok Sabha, he represented his Muslim majority constituency of constituency of Kishangunj. An educated and much read man, Shahabuddin represented a promise: a promise which ultimately failed owing to a complexity of factors. In his demise, one is reminded of two separate registers: a register of hope and promise and a register of utter failure. If his plunging into politics was hope and promise of a new dawn in Muslim politics, what ultimately happened to that promise is also the study of what is fundamentally wrong with Muslim politics today.
A product of modern education, Syed Shahabuddin was also known for his instrumentalist use of Islam. Whether it was his opposition to reform in Muslim Personal Law, his framing of Babri demolition as a Hindu Muslim issue or his demand for banning Salman Rushdie's Satanic Verses, Islam always played a privileged role in his politics. Issues of employment and access for Muslims did appear on his political radar but much after his symbolic politics of Islam had almost consumed the possibility of a secular Muslim politics. Without doubt he was aided by a willing political context, in which Congress was the dominant force, but then his perspective needs to be underlined as his alone.
His interventions framed Muslim discourse for many decades. The demand to ban Satanic Verses (India was one of the first countries to so so) came from him and we can see the consequences of such a demand. Commentators at that time rationalised this ban in the name of hurt Muslim sentiments, little realising that the same trope could be used by other religious groups later on. It was not much after that the Hindu Right also started talking in terms of hurt sentiments, whether the excuse was the publication of a book or a painting which were deemed offensive. There was no way one could defend M F Hussain against the Bajrang Dal while condoning the ban on Satanic Verses.
1984 was perhaps one of the finest moments of Syed Shahabuddin. But then again, in criticizing the Supreme Court judgment on Shah Bano, he opened up a rhetoric which would later be used by those who demolished the Babri Mosque. In the floor of the House, Shahabuddin made the issue of alimony to a Muslim widow into an affront on the religious rights of Muslims in India. He argued that no court, not even the Supreme Court had the power to adjudicate on matters of Muslim personal law as it was an issue of faith which was beyond the jurisdiction of the courts. A pliable government under Rajiv Gandhi, already under ferocious siege from the Mullahs, overturned the court judgment through a legislative fiat. Islam won the day; Muslim women are still facing the pernicious consequences of that victory. That same logic was put to victorious use by members of the Hindu Right when they started arguing that the existence of a Ram temple beneath the Babri Mosque was a matter of their faith and that no court can adjudicate on matters related to faith. Muslim and Hindu communalism can only feed on each other and this was perhaps one of the best examples of their mutual exchange of political rhetoric. Those who still argue that the bigger threat (Hindu communalism) needs to contained first and that the lesser threat (Muslim communalism) might be condoned for a while would do well to revise their thesis.
But the story does not end here. After the demolition of the mosque, Syed Shahabuddin formed the Babri Masjid Action Committee and impleaded the courts on behalf of Muslims. It never occurred to these self-appointed leaders of the Muslim community whether their action was detrimental to the community itself. Through the actions of this committee, what should have remained an issue for Indian secularism was reduced to a Hindu-Muslim issue. What was happening simultaneously was also to be ominous for the Muslim community. Politicians like Shahabuddin were courting conservative Muslim religious heads in order to boost their own legitimacy. In the process, they were responsible for representing Muslims as primarily defined by clergy and their antediluvian understanding of Islam.
Syed Shahabuddin saw the Muslim community as a monolith. In one of his essays, he would tell us why he uses the word 'Muslim Indians' instead of 'Indian Muslims'. For him it was the religious identity which was primary for Muslims living anywhere in the world. It was this understanding which made him oblivious to cultural and linguistic differences among Indian Muslims. During the 1990s, he started a campaign of 'reservations' for Indian Muslims. Partly egged by the then Congress regime and partly the realization of the pitiable socio-economic condition of Indian Muslims, the campaign thoroughly negated the idea of caste and gender hierarchy among Indian Muslims.
One may have differences with his politics, but his painstaking work in bringing out the famous 'Muslim India' was indeed commendable. Syed Shahabuddin was one of the first to realise the need to document the activities of Indian Muslims, to create a veritable data mine which can be accessed future generations. Through very limited means, he was able to create an archive of 'Muslim time' and he deserves to be remembered for this tireless effort alone.
Arshad Alam is columnist with NewAgeIslam.com
URL: https://newageislam.com/islam-politics/syed-shahabuddin-failure-promise/d/110330
New Age Islam, Islam Online, Islamic Website, African Muslim News, Arab World News, South Asia News, Indian Muslim News, World Muslim News, Women in Islam, Islamic Feminism, Arab Women, Women In Arab, Islamophobia in America, Muslim Women in West, Islam Women and Feminism