By Alan Davis
19 September 2017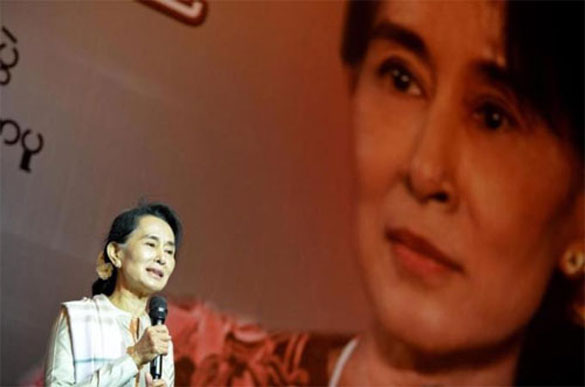 Aung San Suu Kyi
------
Aung San Suu Kyi's PR account might as well have been managed by Bell Pottinger in recent weeks. Pro-democracy icons and Nobel peace prize-winners are not supposed to have hearts of stone and turn out to be, well, racist. They certainly aren't supposed to be de facto leaders of countries charged with ethnic cleansing.
Speaking for the first time on the targeting and displacement of the country's Muslim Rohingya minority on Tuesday, Aung San Suu Kyi told Myanmar's parliament that "There have been allegations and counter-allegations … We have to make sure those allegations are based on solid evidence before we take action." It was an attempt at catch-up – and yet it is likely that the move to speak came as a result of a huge flurry of diplomatic activity and pressure from international donors rather than from personal inclination. Her behaviour was the same in January, when she was silent for days after the assassination of Ko Ni, her own party's top lawyer and constitutional adviser, who just happened to be a Muslim.
Of course, she remains in a hugely difficult position, a secular leader in a nation still dominated by its military. Yet all leaders in transitional states face balancing a multitude of interests and factions as they map out the best way forward. The Myanmar army, the Tatmadaw, retains huge influence and power across the country – but so too does Aung San Suu Kyi herself.
And she has not simply been silent too long on the immediate situation faced by the Rohingya. She has also failed to speak out against the growing number of villages in Myanmar that have been putting up "No Muslims" signs, alongside other instances of hate speech and prejudice. My own organisation, the Institute for War and Peace Reporting, documented these as part of a two-year project that has just finished there.
Allow hate speech to thrive, absent yourself from any kind of moral leadership, and you must surely expect to reap the whirlwind. So it is not as if Aung San Suu Kyi can – or should – escape a degree of blame. To those who might argue that she is doing the best she can under the circumstances, the rejoinder has to be: for whom? The majority Buddhist Bamar, or the whole country?
Given her longstanding ties to Britain, criticism in this country has been particularly loud. The foreign secretary, Boris Johnson, urged her to use the "moral capital" she has built up to stop the persecution. Aung San Suu Kyi – the Lady, the Iron Butterfly, a Nobel laureate, a pro-democracy icon and the Nelson Mandela of Myanmar – has turned out to be very different indeed from her South African counterpart.
But just like Mother Teresa of Kolkata, Aung San Suu Kyi has probably been held in too high regard by too many people for too long. More than Mother Teresa, or Princess Diana even, Aung San Suu Kyi had legions of fawning diplomats, journalists and celebrities queuing up to meet her over the years.
I have been a fan since I first went to Myanmar in 1991, when it was completely isolated internationally and few had heard of or cared for her. I was briefly detained at Insein jail for taking photos on the day of Aung San Suu Kyi's release in 2010. But I have been unnerved by the adoration heaped upon her over the years.
A London-born and Bangkok-based photographer friend of mine, Nic Dunlop, took one of the most iconic photographs of her, in black and white, looking sideways with her arms folded across her white blouse. It's a brilliant photo – but a disconcerting symbol. How much did we in the UK, and the wider international community, help create the legend of the Lady, whose every word was a BBC sound bite, and who could do no wrong?
Lest we forget, she has always been her father's daughter. General Aung San founded the Tatmadaw and led his country to independence, though he was assassinated before it was finally achieved. This probably explains why there is a certain air of entitlement about her – and it comes across not just in her demeanour. It has long been known that she rules her party, the National League for Democracy, in a somewhat dictatorial style.
Do we, then, bear some degree of responsibility for the situation today? Are we partly to blame for putting her on a pedestal and not asking enough of her? Quite possibly. For the past 25 years or so, Myanmar has been boiled down to a simple dilemma of the Lady against the generals. Free Aung San Suu Kyi, went the story, and all would be well.
I remain an admirer, and can only imagine how any of us might change, fold or buckle under the kind of pressures she has been subject to. The woman who became, aged 70, state counsellor of Myanmar is not Mandela – but who really is? There is a lesson here for the media, civil society, diplomats, Barack Obama, Hillary Clinton and even U2. It is that we cannot afford to rely on simple narratives. To do so is to risk being unprepared for often messy realities. In order to truly secure freedom and democracy – and to protect human rights – we need a whole lot more than symbols.
• Alan Davis is Asia and Eurasia director of the Institute for War and Peace Reporting and recently completed a two year anti-hate speech monitoring project in Myanmar
Source: theguardian.com/commentisfree/2017/sep/19/west-aung-san-suu-kyi-saint-nobel-rohingya
URL: https://www.newageislam.com/islam-politics/the-west-wanted-aung-san/d/112589