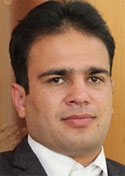 By Ahmad Hasib Farhan
Nov 20 2014
The Islamic State of Iraq and Syria (ISIS) or Daesh, the most extreme among all the terrorist groups, has arrived in Pakistan.
The Pakistani media reported recently that a group of 10 commanders from ISIS are currently in Baluchistan to seek allegiance of Tehrik-i-Taliban Pakistan (TTP) and the Baloch freedom movement. This happened just a few weeks after a group of TTP under Maulana Fazlullah, voiced support for the terror group and swore allegiance to ISIS leader Abu Bakr al-Baghdadi.
However, it was not only Maulana Fazlullah who teamed up with ISIS, another local group called Jamaat ul Ahrar, also declared its support for ISIS. Jamaatul Ahrar's leader, Ehsanullah Ehsan, was quoted by Reuters as saying: "We respect them. If they ask us for help, we will look into it and decide." According to the Daily Mail, the spokesperson of TTP and six senior figures have declared loyalty to ISIS.
The presence of ISIS was also confirmed by the Pakistani government. A Pakistani security official was quoted by Pakistani media as saying: "We came across them 22 days ago and we are aware of their presence here… Pakistani security agencies are working on the Pakistan-Afghan border and have arrested a number of Taliban fighters and recovered CDs, maps, literature in Persian, Pashto and Dari. We will not permit them to work in our country and anyone who is involved in this will be crushed by the government."
Why ISIS Chose Pakistan?
The presence of ISIS in Pakistan and allegiance of TTP groups is truly a disturbing news and is likely to have serious consequences for a country that is already in turmoil due to incompetent governance, economic crises and political tension. However, this is not the sole reason behind ISIS desire to start operations in Pakistan. There are multiple encouraging points that brought ISIS to the country that is already in turmoil.
• Large parts of Pakistan, Baluchistan and FATA are at the age of bifurcations. ISIS support to the freedom fighters of Baluchistan and jihadis of FATA will accelerate the freeing process of these provinces which will eventually become basis for ISIS in the region.
• Pakistan not only sheltered the world's most wanted terrorist, Osama Bin Laden, but also protected him for several years inside its military town, Abbottabad.
• Pakistan also protects Ayman Al Zawahiri, Jalal din Haqqani, Mullah Omer and many others. Abu-Bakr al-Baghdadi will be also greeted warmly.
• Pakistan has thousands of radical madrasas (Muslim religious schools) that can easily produce as many warriors for ISIS as they want.
• Pakistan has radical mullahs (preachers) that can easily justify ISIS's mission and activities in Pakistan.
• Pakistan has the potential to produce and supply as many suicide bombers as needed.
• Pakistan's military establishment is a terrorist friendly entity that considers terrorist groups as strategic assets for proxy wars in India and Afghanistan.
• Ongoing sectarian violence in Pakistan's Baluchistan and Khyber Pakhtunkhwa provinces offer greater opportunities for ISIS to operate in Pakistan.
• Pakistan has some unprotected new clear weapons. ISIS certainly has eyes on that and beyond any doubt it will strive to reach those weapons.
Will ISIS Get Hold of Pakistan's Nuclear Weapons?
The global leaders certainly understand that the extreme threat to global security is the risk that terrorists could get a hold of nuclear weapons and start new terrorism. Although world leaders especially Americans hold several international conferences on addressing this immediate and extreme threat, there is no guarantee that terrorist organization such as ISIS won't acquire nuclear weapons. Al-Qaeda struggled for several years to obtain nuclear and chemical weapons but they failed. However, ISIS is much stronger than Al-Qaeda and was able to hold some sort of chemical weapons in Iraq which they used against the Kurds.
In the 16 years since Pakistan emerged as an active nuclear weapons state in 1998, there has been no reliable report of a terrorist seizure of nuclear weapons in Pakistan. Nevertheless, the risk that terrorists could acquire new weapons in Pakistan cannot be ignored.
Among all the nuclear states Pakistan is the only country that leaked and transferred nuclear technology to the countries that are still under UN and US sanctions. It is also the only nuclear state that shelters and protects terrorist organizations such as Al-Qaeda, the Taliban, Haqqani Network and many others. The Pakistani nuclear scientist Abdul Qadeer Khan, leaked nuclear secrets to North Korea, Libya and Iran.
Abdul Qadeer Khan not only accepted the full responsibility for transferring sensitive technology to mentioned stats but he also revealed in 2004, that the former military ruler, General Pervez Musharraf was involved neck-deep in nuclear proliferation. However, after that incident Pakistan enhanced protection of its nuclear weapons, but still ISIS will strive for acquiring nuclear weapons in Pakistan. This means even if ISIS don't fight for it, there are elements in Pakistan that may sell either nuclear technology or nuclear weapons to ISIS.
How to Protect the World from Nuclear Terrorism in Pakistan?
If ISIS obtains nuclear weapons in Pakistan a new chapter of terrorism will emerge, and ISIS will turn into an invincible force. This time the world will have to deal with nuclear terrorism in Pakistan which will be fuelled by drug money from Afghanistan and oil money from Iraq. It will certainly have severe consequence not only for Pakistan but for the region and international community.
It is important for world leaders to secure Pakistan's nuclear weapons and make sure ISIS never gets hold of them. This bears considerable weight on the United States because America is a pioneer of the nuclear technology, and a close ally of Pakistan. Moreover, the US is a prime target of terrorism from Al-Qaeda and ISIS.
There are only two options that will work to make sure ISIS and other terrorist organizations do not obtain Pakistani nuclear weapons. First, the US takes control of Pakistan's nukes and disarms Pakistan. In return, Washington can provide security guarantees to Pakistan similar to how it did with South Korea.
The second option is to help Pakistan increase protection of its nuclear arsenal. Although it will incur a high cost for such an action, it can't be more than the cost of combating nuclear terrorism. However, the first option seems more feasible than the second option.
Ahmad Hasib Farhan is a graduate of Kabul University and holds a Master degree from Japan in Public Policy and Economics. Farhan is an Afghan analyst and commentator on political and socioeconomic affairs in Afghanistan.
Source: https://www.opendemocracy.net/arab-awakening/tahir-zaman/political-islam-in-neoliberal-times
URL: http://www.newageislam.com/islam-and-politics/ahmad-hasib-farhan/the-world-must-prevent-isis-from-obtaining-pakistani-nukes/d/100139