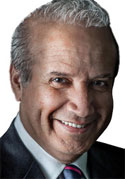 By Abdulrahman Al-Rashed
22 May 2015
Geography has been a constant factor in Yemen's relations with Saudi Arabia for three centuries, and still is. Yemen's northern border is 1,600 km long, of which 1,300 km are shared with Saudi Arabia. This is why he who governs Yemen today or tomorrow, friend or foe, cannot but deal with Riyadh. For example, after the civil war ended in the 1960s, the new republic's rebels soon became the Kingdom's allies.
I disagree with statements that Yemen may represent an existential threat to Saudi Arabia. This is because it is very far from vital Saudi positions. It is more than 800 km from Makkah, and 1,300 km from the Kingdom's oil-rich zones in the northeast. However, I agree that Riyadh cannot accept two things regarding Yemen, which is three times bigger than Syria: chaos, and foreign — including Iranian — domination over it.
The special relation between Yemen and Saudi Arabia has a long history. Yemenis are the biggest Arab community in Saudi Arabia. The Kingdom had direct relations with Yemen's tribes, especially those in the north, and took care of them. This was because the government in Sanaa could not impose its authority on more than one-third of the country (the capital and some other cities). Other areas were always under tribal control, so Riyadh was used to dealing with everyone.
Therefore, the tripartite relation remained good for 40 years, except for some painful surprises due to the acts of Yemen's then-President Ali Abdullah Saleh. For example, he backed late President Saddam Hussein during Iraq's invasion of Kuwait, shocking and betraying the Saudis. After years of estrangement, relations improved with a very important border agreement signed in 2000.
Saudi Arabia accepted most of the Yemeni explanation for the border dispute, and back then Saleh considered the agreement a great achievement. By signing it, Saudi Arabia eliminated any justification for future disputes. However, Saleh violated it and let Yemeni groups ally with regimes opposed to the Kingdom — such as Libya's Moammar Qaddafi — allowing them to carry out armed assaults against it.
Then Al-Qaeda in the Arabia Peninsula surfaced, and Yemen became a security threat to Saudi Arabia. However, despite Saleh's denial of the problem and his reluctance, he later cooperated, especially after the US government became involved and considered fighting the terrorist organization one of his duties.
The final chapter began after the Arab Spring erupted in Yemen. The situation became more dangerous following an assassination attempt against Saleh, who sustained partial burns.
Gulf officials suggested an idea that was accepted by both sides in Yemen. The proposal stipulated that Saleh leave the presidential post but be allowed to remain in politics via his party. The proposal also suggested forming an interim government that organizes elections under UN supervision.
Saleh was treated in the military hospital in Riyadh, but after he returned to Yemen, he conspired to take back power by force in partnership with the Houthis, Iran's allies. Saleh and the Houthis took over several Yemeni cities, including Sanaa. They then put under house arrest the legitimate interim president, who later escaped to Aden and whom they pursued in an attempt to kill him.
Then Iran's dangerous role appeared via the Houthi minority, which is governing the capital for the first time in its history. This would have meant Iran besieging Saudi Arabia from the north via Syria and Iraq, and from the south via Yemen.
Saudi Arabia will certainly have to renew its relations with Yemeni forces and tribes — as it did in the past — as there is no central authority governing the entire country. When there is one, it will need exceptional political and economic support.
There is nothing to prevent a Saudi victory, as most Yemenis — from tribal leaders to ordinary citizens — are more linked to their northern neighbor than to any other country. No other country, including Iran, can replace Saudi Arabia, no matter how hard it tries.
Source: http://www.arabnews.com/columns/news/750291
URL: http://www.newageislam.com/islam-and-politics/abdulrahman-al-rashed/yemen-crisis--problem-and-solution/d/103118