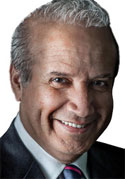 By Abdulrahman al-Rashed
8 July 2014
Until a few weeks ago, the Islamic State of Iraq and Syria (ISIS) was only known in some areas of Syria. But today, the entire world is in a state of alert due to the threats posed by the organization, which expanded to Iraq and reached the borders of Turkey, Jordan and Saudi Arabia. Due to its propaganda and on-the-ground victories, its army may quickly grow from 5,000 fighters to 50,000 fighters capable of threatening countries in the region and the rest of the world.
The United States has put its entire security services in a state of alert. It restored and expanded its security measures at airports. European Union countries also mobilized their security services to pursue suspects linked to calls for jihad in Syria.
The hypothetical question which hasn't crossed anyone's mind yet is: Can ISIS, which declares war on everyone, force enemies to unite against it? For example, will Iran and Saudi Arabia - the two major regional rivals in the region - meet together and agree on cooperating against ISIS and other al-Qaeda factions?
Fading Rivalries?
Rivalries do not last forever. Iran's repeated signals to cooperate with Saudi Arabia regarding Iraq and other issues points at Tehran's readiness for rapprochement due to its different reasons. Saudi-Iranian competition and even fighting on the military, diplomatic, media and religious levels is no secret. Iran took up the mantle of confrontation after it used to enjoy violating the region's sovereignty under fake Arab and Muslim slogans. It did so via the Syrian regime, Hezbollah and Hamas.
That phase has ended and it has been replaced by a new one. It's no longer possible for the Assad regime to stay in power in Syria. Hezbollah's domination will not continue to reign over the entire Lebanese people. Hamas no longer has the ability to compete with the Palestinian authority and Nouri al-Maliki's government in Iraq will no longer have the same ability and power to eliminate half of the Iraqi people.
State Of Defense
Iran is in a state of a defence. It realizes that it is confronting a new political reality which will affect its security and stability now that its regional agents have been struck by chaos. Between complete loss and partial loss, Iran can ensure the safety of its borders, participate in providing regional security and support parties loyal to it. It can achieve all this through cooperation with the region's major powers. But this must happen within the context of accepting the new reality. Cooperation calls for abandoning three figures: Bashar al-Assad, Nouri al-Maliki and Hezbollah's leaders. Iran's alternative is to cooperate in order to enable and empower mixed systems - systems that represent all national powers except terrorist and destructive forces. This means accepting the Arab Sunnis in Iraq and the Alawites in Syria.
Some may think that Saudi Arabia does not have the upper hand or the ability to propose a new regional system in the region because it is itself threatened by ISIS from its Iraqi and Yemeni borders. This is not true! ISIS and the other extremist Islamist parties are only capable of destroying areas where there are political vacuums or exhausted by military rivalries like Afghanistan, Somalia, Yemen, Syria and Sunni provinces in Iraq. After all, ISIS is an organization used to spread chaos and deepen crises. It can threaten Saudi Arabia's domestic security, as al-Qaeda did before, but it's not capable of threatening the state itself.
If the Iranians really want to reach a consensus in Iraq so they don't lose influence over it, they can do so by recognizing the Arab Sunnis and engaging them in politics. They must also abandon the policy of domination which saw the Iranian government enabling certain individuals and groups to dominate an entire country. They did this with Maliki, via the Assad regime. Chaos and threats provide an opportunity to cooperate in order to restore stability in the region and end the cold war between Saudi Arabia and Iran so the circle of fire does not expand.
Abdulrahman al-Rashed is the General Manager of Al Arabiya News Channel. A veteran and internationally acclaimed journalist, he is a former editor-in-chief of the London-based leading Arab daily Asharq al-Awsat, where he still regularly writes a political column. He has also served as the editor of Asharq al-Awsat's sister publication, al-Majalla. Throughout his career, Rashed has interviewed several world leaders, with his articles garnering worldwide recognition, and he has successfully led Al Arabiya to the highly regarded, thriving and influential position it is in today.
Source: http://english.alarabiya.net/en/views/news/middle-east/2014/07/08/Will-ISIS-unite-Tehran-and-Riyadh-.html
URL: http://www.newageislam.com/islam-and-politics/abdulrahman-al-rashed/will-isis-unite-tehran-and-riyadh?/d/97986