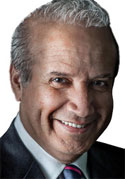 By Abdulrahman al-Rashed
28 September 2014
The Muslim Brotherhood has adopted Turkey's initial stance of opposing international military intervention against the Islamic State in Iraq and Syria (ISIS) and issued statements condemning the anti-ISIS alliance. However, Turkish President Recep Tayyip Erdogan and Prime Minister Ahmet Davutoglu later announced that the government had changed its stance and was ready to take part in this military intervention. We now expect the Brotherhood to alter their stance as well so as not to miss the party!
It seems Turkey's initial stance was a mere manoeuvre to convince ISIS to release the Turkish hostages the former had detained after the Turkish government began to restrain the activity of fighters crossing to Syria through its land. Another reason Turkey altered its stance was that it had been waiting to see the results of popular stances in Arab countries.
Most objections to the anti-ISIS alliance and to the war against ISIS have come from Iran. This is positive because all decisions that Iran rejects are being accepted by most Arabs as a result of the severe divisions and the increased hatred between both parties, particularly over Syria. Other than that, objections to this war against ISIS have been insignificant.
The opposing statements from the Muslim Brotherhood, which once led public opinion, are no longer of any significance either.
Syria's Muslim Brotherhood
Syria's Muslim Brotherhood is known to be smarter than the rest of the international organization. It avoided getting involved in political stances that weaken them and it worked separately from the organization's major branches in Egypt and Jordan. The latter branches did not adopt a stance against the Syrian regime, neither before nor during the revolution. Their stance thus harmonized with the Iranian stance which represents the real compass of the Brotherhood's activity in the region and they only adopted a frank stance in support of the Syrian people during the last days of deposed Egyptian President Mohammad Mursi. I think Syria's Brotherhood made a strategic mistake when it said it objects to the international plan to fight ISIS in Syria, using the excuse that it wants to have "the first bullet in Assad's head!" I think it's a strategic mistake because they are aware of the complications of the international situation and they're supposed to know that whoever rides the wave of confronting ISIS is more likely to end up in Damascus! Their excuse is defending the extremist group of Ahrar al-Sham which is as controversial as ISIS when it comes to its extremist ideology – though it hasn't used knives to slaughter people and hasn't recorded footage of its victims.
Turkey, as a state and NATO member, has commitments to keep in any war that NATO approves in exchange for NATO'S responsibility of protecting Turkish territories from the repercussions of regional and international struggles, including fears from Iran and Russia. This NATO membership does not force the Turks to participate in the war against extremist Islamist organizations in Syria and Iraq; however, not participating will automatically mean depriving Ankara of the benefits from the results of the war, including political decisions such as the future of governance in Syria and the situation's arrangements in Iraq. This is why Erdogan chose to alter his stance. It's why he announced that he does not only support these international efforts against ISIS but is also willing to send military troops.
Of course, Erdogan's excuse that "the world left Turkey alone to confront the Syrian regime" has not convinced anyone because the Turks have actually done nothing to confront the Assad regime other than hosting refugees like Lebanon and Jordan. Its political statements against the Syrian regime have not at all affected the latter.
However, Turkey's engagement in the war against ISIS would practically boost the chances of victory since Turkey is a major conduit for these extremist groups and, geographically speaking, it's the closest to them when it comes to fighting them and surrounding them. Last but not least, there would be great pressure on the West to make it adopt a stance in support of political change in Damascus.
Abdulrahman al-Rashed is the General Manager of Al Arabiya News Channel. A veteran and internationally acclaimed journalist, he is a former editor-in-chief of the London-based leading Arab daily Asharq al-Awsat, where he still regularly writes a political column. He has also served as the editor of Asharq al-Awsat's sister publication, al-Majalla. Throughout his career, Rashed has interviewed several world leaders, with his articles garnering worldwide recognition, and he has successfully led Al Arabiya to the highly regarded, thriving and influential position it is in today.
Source: http://english.alarabiya.net/en/views/news/middle-east/2014/09/28/Turkey-joins-the-anti-ISIS-coalition-s-war.html
URL: http://www.newageislam.com/islam-and-politics/abdulrahman-al-rashed/turkey-joins-the-anti-isis-coalition's-war/d/99321