By Zahid Qureshi
Aug 23, 2014
The water in the cistern at Futi Masjid in Dariapur has not tasted sweeter in over 500 years of its existence. Had it not been for AMC's decision to cut off water supply to Central and North Zones for two days -- due to ongoing work to merge water supply lines in the area — such exemplary display of communal harmony may not have been witnessed by the city on Friday.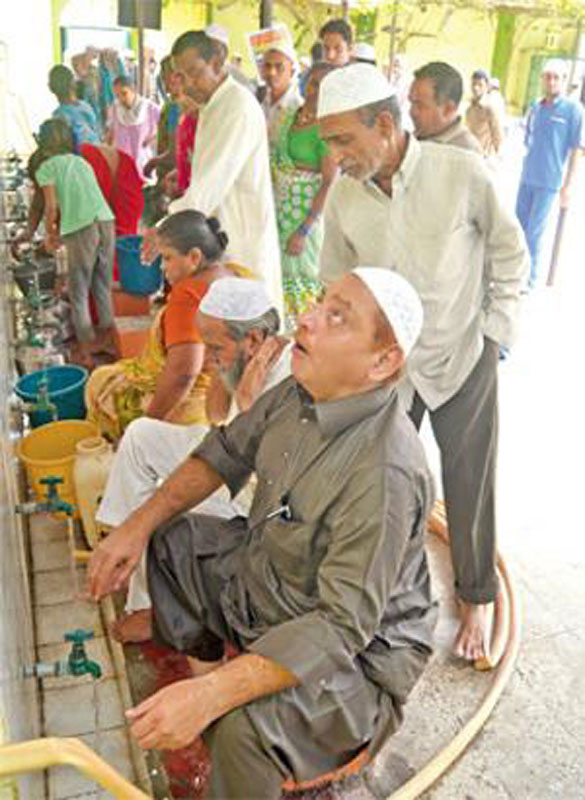 At one end of the cistern, Muslim men performed the Wazu (washing hands and feet before offering the Namaz), and at the other, Hindu women queued up to fill buckets, visibly overwhelmed by the large-heartedness of people they had never known before.
The 14th century Masjid is surrounded by Hindu localities namely Lodhwad, Rupapara, Ambedkar Vaas, Vankar Vaas and Mena Vaas. Not a single Muslim family lives in these localities. The Muslims who visit the Masjid to offer Namaz come from Naginapole, Limbdi, Dabhgarwad, Mastan mohalla and other places.
Since the Hindu residents learnt about AMC's decision to cut water supply only on Friday morning through the newspapers, they could not stock up on water the previous day. The Masjid trustees, who realised how difficult it would be for the residents to go without water for two days, offered to provide them water from the Masjid's Wazu Khana between 2 and 5 pm. They also put up a board outside the Masjid in the morning, announcing the same.
This came as a huge respite to the Hindus in the area who were worried how they would go about with their daily chores without water. Carrying buckets in hand, the sari-clad women entered the Masjid's compound for the first time with prayers of gratitude on their lips. By the time the Namaz began at 5.30 pm, more than 2,000 women had carried home several thousand gallons of water in their buckets.
Aziz Gandhi, the Masjid's caretaker, says there is no worship higher than serving people."When God does not differentiate between people when giving them sunlight and rain, who are we to make any distinction?" said Gandhi. "Ideally, women are not allowed in the Masjid, but we decided to allow them till the Wazu Khana so that they could fill water in the buckets. At a time, 32 women could fill up the buckets," he added.
Rafik Nagri, one of the trustees of the Masjid, said, "We filled the tank with water from the bore well so that it was sufficient for both Hindus and Muslims. It feels great to be of help to people. We are all human beings first." Hansa Mena, a local resident, said had it not been for the kindness of Masjid trustees, she would have found it extremely difficult to feed her family of four. "I really do not have words to thank them. I believe that such acts of kindness are more powerful than prayers we offer to God," she said.
Gauri Ravat, another resident, said that she was surprised to learn about the Masjid's initiative. "We live in times where even brothers think twice before helping each other. So, I didn't believe it initially," she said. Kapila Ravat, a resident of Lodhwad, said, "It was divine intervention. How else do we explain getting water from God's house when we needed it so badly? I would like to return the favour to my Muslim brothers some day."
Source: http://www.bangaloremirror.com/news/india/Gujarat-model-of-harmony-Water-thicker-than-blood/articleshow/40811766.cms
URL: https://www.newageislam.com/islam-and-pluralism/zahid-qureshi/gujarat-model-of-harmony--water-thicker-than-blood/d/98780