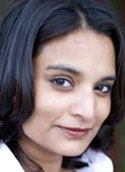 By Pallavi Aiyar
April 14, 2014
A Buzzing Life
Indonesians agree on little, but there is near-unanimity on the defining characteristic of Jakarta: the traffic jam. For much of the day, the groaning infrastructure of this city of 10 million faces near-collapse as commuters crawl about. There is one unlikely beneficiary of this: Twitter. Sitting in stationary cars, or waiting endlessly at bus-stops, Jakarta Vasis send out more tweets on average than residents of Tokyo, London or New York. This Twitter obsession has spawned new industries, with companies paying "buzzers" (people with a substantial Twitter following) tiny fortunes to tweet brand promotions. New professions include buzzer scouts, who try and find the right fit between companies and haute Twitterati.
Amongst the city's most avid tweeters is Indonesian president Susilo Bambang Yudhoyono, who made Twitter history last year when he resorted to the social media platform to make foreign policy. Not for him stodgy note verbales or other conventional weapons of the diplomatic arsenal. When (thanks to Edward Snowden) it came to light that Australia had been tapping his phone, the president's immediate response was to tweet his displeasure at Australian prime minister Tony Abbot's lack of a feeling of guilt. Yudhoyono didn't mince his words, saying he "deplored" his Australian counterpart's behaviour and that he was intent on "protesting loudly". So loudly, in fact, that all his 4.7 million followers heard it.
Joko Unmufflered
Not quite in the two-term president's Twitter league yet, the popular governor of Jakarta, Joko Widodo, has 1.3 million followers. But he has almost as many journalists covering him, with a permanent posse of political paparazzi parked outside his residence in central Jakarta's leafy Menteng neighbourhood. The Indian ambassador's residence is next to the governor's home, with the happy side-effect that every party the ambassador throws gets great press coverage. Bored of hanging around Widodo's house, journalists turn up for free lunch next door and have become au fait with the fine distinctions between Rasmalai and Rasogulla.
The number of free-lunching hacks at the Indian embassy looks set to spike given that Widodo has just been nominated as a candidate in the upc­o­ming presidential elections in July. Polls predict he is a shoo-in for the post. The Jakarta governor's popularity stems from a combination of his anti­-corruption crusading, his refusal of the trappings of power like an official car, and his penchant for mingling with the Aam Admi by making almost daily visits to local markets and slums to take in conditions first-hand. Sound familiar? Well, luckily for the fashion-conscious, Widodo is never seen with either a muffler—or any kind of headdress. He has been known to sport a leather jacket though, as when he attended a Metallica concert last year, or performed a song in front of a huge audience at British band Arkarna's Jakarta show.
Muslim Vishnus
Although Indonesia is a Muslim majority country, it has a long Hindu-Buddhist history. So the quotidian here is intertwined with the imagery and idiom of Hindu epics. My local mechanic is called Rama Repairs, and my Muslim banker is named Wisnu (Vishnu). I discover a nationwide charitable foundation for twins called the Nakula and Sadewa Society, and a support group for Indonesian women in mixed marriages named Srikandi (Shikhandi).
Just driving around Jakarta's streets is an education in the Mahabharata. Buses are painted with large advertisements for an energy drink called Kuku Bima, which promises Bhima-like endurance. Opposite the city's main national monument, Monas, is a kinetic statue of Arjuna being driven by Krishna to battle on a chariot led by eight horses. Further west, one of the most congested arteries is Gatot Subroto, named after a much-feted army general. An appropriate name as it turns out the name Gatot is a diminutive for Ghatotkacha, Bhima's fearsome half-demon warrior son.
Lingua Sanskrita
People here pepper their conversations with words like Karena (because), Manushya (humanity) and Bhoomi Putra (son of the soil). The national museum's nickname is 'museum Gajah' after the statue of an elephant on the front lawn. The national language, Bahasa, has lots of Sanskrit-derived vocabulary, the word itself for one. But the familiarity should not be taken for granted. If you hear people discussing Chinta, for example, there's no need to pass them the Prozac. In Bahasa, Chinta means love rather than anxiety. And it's common to be offered some Susu at parties and restaurants—not because Indonesians are closet Morarji Desai fans but because it's the Bahasa word for milk.
Double Take
I was intrigued by a car sticker I spotted outside the Ministry of Religious Affairs that seemed to say: 'I Love Madrasis'. It turned out to be: 'I Love Madrasas'.
Previously based in Beijing and Brussels, Pallavi Aiyar is the author, most recently, of Punjabi Parmesan
Source: http://www.outlookindia.com/article.aspx?290063
URL: http://www.newageislam.com/islam-and-pluralism/pallavi-aiyar/report-from-indonesia--my-local-muslim-mechanic-is-called-rama-repairs,-and-my-muslim-banker-is-named-wisnu-(vishnu)/d/76655