By New Age Islam Special Correspondent
25 December 2013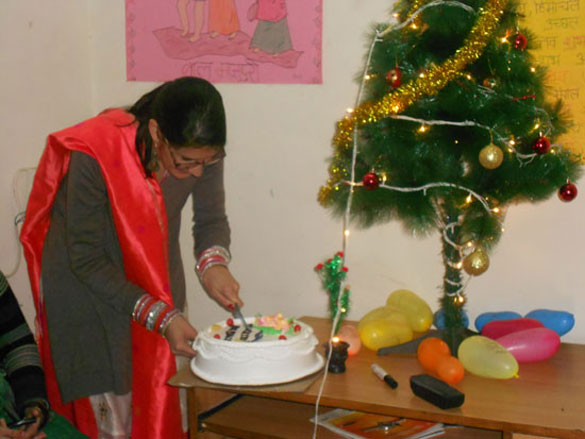 A Photo of the Cake-Cutting Ceremony
--------
Education for Peace, a New Age Islam Foundation educational and social initiative, organized a Christmas Day Ceremony in its Premises
Education for Peace, a New Age Islam Foundation initiative to educate and enlighten children of all religious confessions and especially from Madrasa background, organised a Christmas Day program in its premises on 25th December of this month.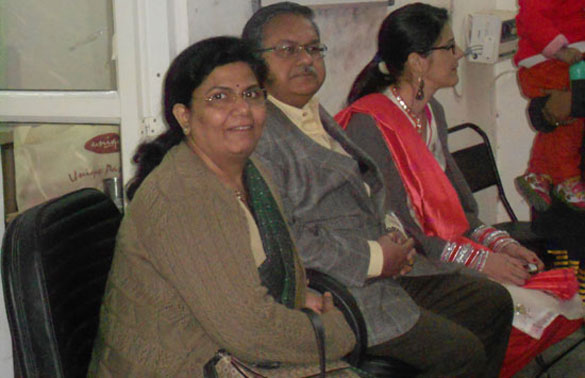 Mrs and Mr Sultan Shahin, Editor New Age Islam and French scholar Ms. Muriel Potherat
-------------
In this event a French scholar, now based in India, Ms. Muriel Potherat, was the chief guest. The meeting was chaired by the Managing Trustee of the Foundation Mr. Sultan Shahin, Editor New Age Islam. The priest of Mar Thoma Church, Banoji K. Mathew, was cordially invited but he could not attend due to his engagement at the Church. A great number of Education for Peace institute's female and male students aged between 15 to 18 consisted of the wide audience present in the ceremony. The staff members of both NAI Foundation and Education for Peace jointly hosted the occasion, cut Christmas cake, lit candles of peace and expressed Islam's inclusive messages of religious harmony, national solidarity, social integration and Hindu-Muslim-Sikh-Christian bonds by holding one another's hands.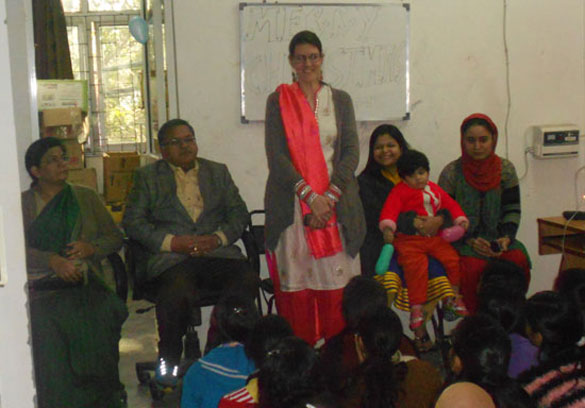 Ms Muriel Potherat addressing the NAI Foundation's Happy Christmas Ceremony
-----------
Initiating the NAI ceremony of Happy Christmas, Ms Muriel Potherat said peace was the collective message that all religions and prophets brought to humanity. No religion of the world, she added, allows the use of violence, intimidation, coercion and extremism. She made it clear to the students that not only Christians believed in Jesus Christ (PBUH) but also all Muslims of the world held him in high regard considering him a great Prophet of Islam. Narrating the story of Jesus and recounting some anecdotes from his life, she concluded saying that it should be a prime concern of all faiths and their followers to spread interfaith harmony in order to maintain the peace and order of the world.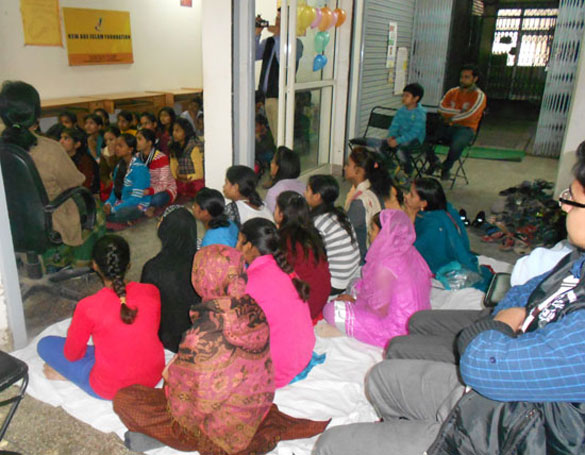 A Group Photo of the Celebration
-----------
In his address specially meant for the students of Education for Peace Institute, Mr. Ghulam Rasool Dehlvi, a regular contributor to New Age Islam, enumerated a brief story of Holy Mary, virtues of her parents Imran and Hannah, her first encountering with Allah's angel Jibra'il (a.s) who brought her a good tiding from God, till he recounted the miracle birth of Jesus Christ (peace be upon him), his childhood days and his later life and prophetic career. Transforming his monologue into a lively and interactive dialogue with the students from all religious backgrounds, he put up questions and asked them in turns whether they exactly knew who were the Prophet Jesus Christ, Holy Marry, Imran and Hannah, Zakariya (Zachariah), an illustrious Prophet of the Israelites, Joseph the Carpenter (Fiancé of Virgin Mary), the angel Jibra'il (a.s) and what caused the strongest brotherly relation between the Prophet Muhammad and the Prophet Isa or Jesus Christ (peace be upon them).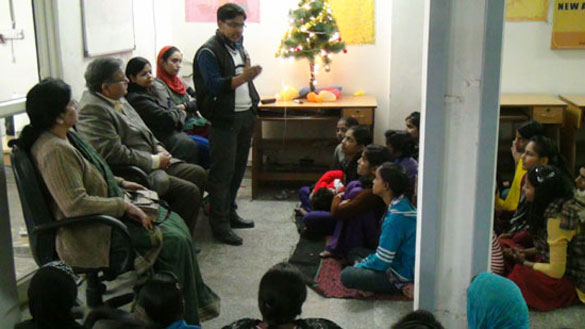 Mr. Ghulam Rasool Dehlvi addressing Education for Peace Students
------------
Mr. Dehlvi said the holy Prophet (peace be upon him) and Jesus Christ laid down their entire lives for the promotion of peace and love in the world. He pointed to Prophets' bond with one another and quoted one of the beautiful and, yet, most forgotten Hadiths (Prophetic sayings) in which the Prophet is reported to have said: "Both in this world and in the hereafter, I am the nearest of all the people to Jesus, the son of Marry. The prophets are paternal brothers, their mothers are different but their religion is one." "(Narrated by Imam Bukhari and Imam Muslim, whose compilations of Hadiths are considered the two most authentic of all)
To substantiate his point, Mr. Dehlvi also presented the following Hadith:
The Prophet's companion Hazrat Abu Hurayrah reported Allah's messenger as saying: "I am akin to the son of Mary among the whole of mankind and though prophets are of different mothers, they all are of one religion, and no prophet was raised between me and him (Jesus PBUH)".
Mr. Dehlvi went on saying that the two aforementioned Hadiths remind us of the eternal divine that all the messengers of Allah, the Almighty are sent to mankind to disseminate the same sacred message; "God is only one" and thus, they all share a strong bond of fraternity and brotherhood in faith. The difference, if any, he expounded, was not in the core essence of their confession, but in its offshoots which are termed as Shari`ah in Islamic terminology.
In his concluding remarks, he stressed that Islam honours all prophets and messengers of God and gives them equal amount of importance in terms of their basic message. The Holy Quran has mentioned Jesus Christ 25 times with high regard for him. It calls him as Isa or the Messiah, Sign of Allah, Spirit of Allah, Word of Allah, a servant of Allah, the son of Mary, a prophet of Allah and as a last apostle to the children of Israel, he averred.
He further elaborated that "a Prophet (called 'Nabi' in Arabic), according to Islam, is a man sent by God, but not with a special dispensation or book; while an Apostle (called 'Rasool' in Arabic) is one who comes either with a special dispensation or to whom a special book has been revealed. All apostles are prophets but not all prophets are apostles."
"Jesus Christ was both Prophet and Apostle according to Islam. So, given his prophetic position highly elevated in Islam, it is important that both Muslims and Christian brethren know how well Islam speaks of Jesus Christ. It will help both Christians and Muslims develop mutual respect and enhance spiritual ties between them", he concluded.
By organizing such events and ceremonies, Education for Peace, a New Agr Islam Foundation initiative, aims at creating the atmosphere of peace and harmony in the country and eliminating the creeping bias, hatred and hostile attitude, particularly from the young and impressionable minds, towards people of other religious communities. Though it is not an easy- job, NAI Foundation is actively engaged in its struggle of spreading Islam's message of peace and inclusiveness.
The New Age Islam Foundation is working, through various means, to bring together all threads of religious commonalities and bridge the widening gaps among various faiths by removing misunderstanding and confusion. Spreading peace to the today's turbulent world is, no doubt, a daunting task but NAIF pools all its limited resources together to achieve it to the extent possible through a number of initiatives.
The Christmas Day Ceremony was one such event, but, Mr. Sultan Shahin, Editor New Age Islam said that similar events on the anniversaries of other previous prophets of Islam are also being planned. He also intends to bring together spiritual leaders from other Ahl-e-Kitab communities on the next birth anniversary of Prophet Mohammad (saw).
We must present Islam as an inclusivist religion, Mr Shahin pointed out, briefing the New Age Islam staff and close supporters. Of course, no religion teaches hatred of the other or exclusivism and supremacism, but also no other religion other than Islam, to the best of my knowledge, - I will be happy to be corrected - , specifically asks its followers so clearly, so repeatedly, and so strongly to be inclusive, to treat all the tens of thousands of prophets of Islam who came to all parts of the world with equal respect, and says that they all enjoy the same stature as Prophrt Mohammad (saw). Like the concept of complete human equality before One God, inclusivism should be our USP.
URL: https://www.newageislam.com/islam-and-pluralism/new-age-islam-special-correspondent/it's-time-we-remind-ourselves-of-prophets'-brotherly-bonds-with-one-another--speakers-in-the-christmas-day-ceremony-organised-by-education-for-peace,-a-new-age-islam-foundation-initiative/d/35003