Mohammed Wajihuddin, Times News Network
October 8, 2011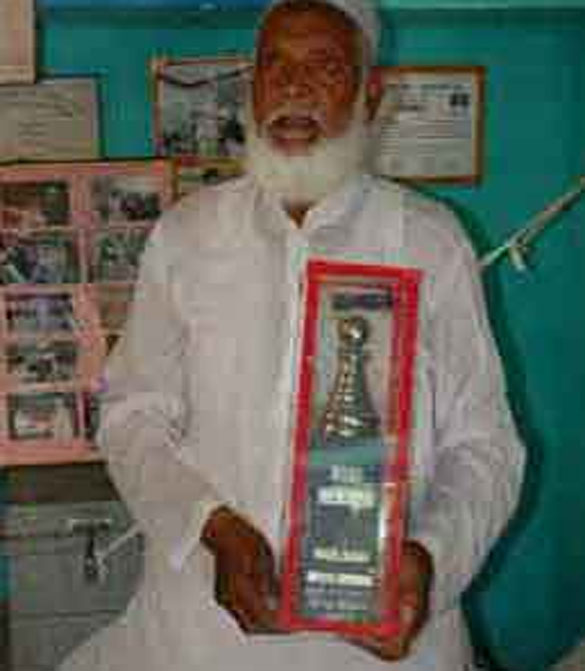 A few kilometers before it reaches the holy city of Ayodhya, the ancient river Saryu passes through Faizabad, founded by Awadh Nawab Shujaudaullah who also made it the province's capital. Faizabad doesn't have Ayodhya's aura or its festering religious controversy - neither does it have Lucknow's political skulduggery to keep it in the national eye. But thanks to a frail 70-yearold called Mohammed Sharif, the town has lately been acquiring some recognition.
Sharif, an ordinary Muslim clad in traditional white kurta-pyjama and skull cap, is Faizabad's most famous Good Samaritan. This pious Muslim takes unclaimed Hindu corpses to a burning ghat and thinks nothing of stoking the burning pyre with a bamboo pole, something which is part of Hindu funeral rites. He does the same for unclaimed Muslim corpses as well, giving them a decent burial. "I believe every human being deserves the dignity of a funeral. I try to accord this to the unclaimed corpses that would otherwise rot in morgues or be thrown to the elements, " says Sharif, sweating profusely from the heat of a pyre. Little wonder then that every Faizabadi, whether from the crowded narrow streets of the chowks or the clean, leafy Civil Lines area, knows and loves "Sharif chacha".
There's a story behind why Sharif, who earns his bread from his small cycle repairing shop, turned to his uncommon mission. In 1992 his eldest son Rais, then 22, died under mysterious circumstances in Sultanpur district, some 60km from Faizabad. A month later, the cops gave him a packet containing Rais's clothes, without offering any clue about how the boy died and whether he had received any last rites. "That day I decided that no unclaimed corpse in my town would be denied last rites, " says Sharif, tears welling up in his eyes.
The elderly man has so far performed the last rites of 700 Hindus and 800 Muslims, a figure that can be verified in the dog-eared register he carries in his satchel. Like a devoted registry clerk, he keeps a record of all the bodies he's disposed of. The diary also carries some important numbers - of police stations, hospitals and senior district officials, including the district magistrate and superintendent of police, and a couple of donors to whom he turns in times of need.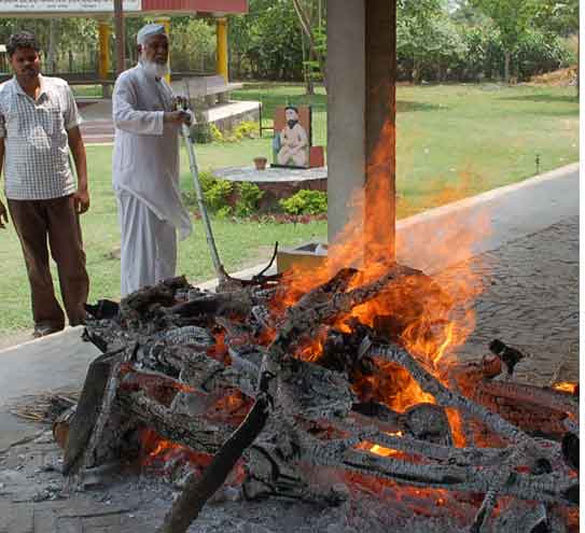 When Sharif initially began scouring hospitals, he looked for only unclaimed Muslim bodies. But he soon dropped the religious restriction and started claiming corpses of all "Allah ke bande (God's subjects)". Today, four rickshaw pullers transport the bodies to the burial or cremation ground - a job that Sharif used to do himself before kidney disease struck him. He has a small room at the kabrastan where, within two locked trunks, lie the shrouds for Hindus and Muslims respectively. While Muslim bodies are ritually bathed according to Islamic tenets in a tub, the Hindu corpses are carted away to the ghat where Sharif has a Pandit, Santosh Mishra, to chant mantras before the pyre is lit. "Sharif chacha keeps us on our toes. He has inspired us to do something for unclaimed bodies, "Mishra says.
In the last few years Sharif has begun attending to the living too - those who require help when sick or in an accident. A few years ago, an accident on the Faizabad-Lucknow highway claimed an entire family except one young man whom Sharif extricated from under the overturned jeep and rushed to hospital. Little wonder then that the district authorities conferred on him the Shan-e-Awadh award.
Jasbir Singh Sethi, a local corporator, like everyone else in the town, is all praise for Sharif. "Just seven kilometers from here is Ayodhya's disputed site where Hindus and Muslims are fighting over a piece of land," he says. "But here we proudly flaunt our Sharif Chacha as a paragon of communal harmony and national integrity." And, more importantly, a great humanist and guardian angel of the unclaimed dead.
Source: The Times of India, New Delhi
URL: https://www.newageislam.com/islam-and-pluralism/faizabad-s-last-rites-performer-doesn-t-worry-about-religion-of-the-dead/d/5301